With so many of New Zealand's top attractions, adventure activities and scenic wonders on offer in Queenstown, planning a holiday for a week can be a bit of a time challenge.
What are the best things to do in Queenstown? Where are the best places to eat that can't be missed? And how do you choose the right accommodation? Well we are here to help, read on for all of the best insider tips and local insight on how to make the most of Queenstown, no matter how long your stay.
7 Days of Adventure In Queenstown
At the top of most people's 'Queenstown Bucket List' are its world famous adventure activities. While many people are drawn instantly to the excitement of the world renowned Queenstown Bungy jumps, there are full range of adrenaline pumping outdoor activities to choose from. 
Take a look below for our top picks for 7 days of adventure filled fun. We have used our local knowledge, tricks and tips to fit the most adventure into each day – see if you can complete them all!
Day 1. Hang Gliding And Paragliding 
SkyTrek are CAA approved operators and offer both tandem hang-gliding and paragliding – perfect if you want to squeeze both activities into one day. Jump from the highest launch site in New Zealand and enjoy the sights and sounds of Queenstown from above.
A Courtesy Shuttle Bus provides easy transport to the launch site at Coronet Peak, keep in mind hang gliding and paragliding are a weather dependent activities.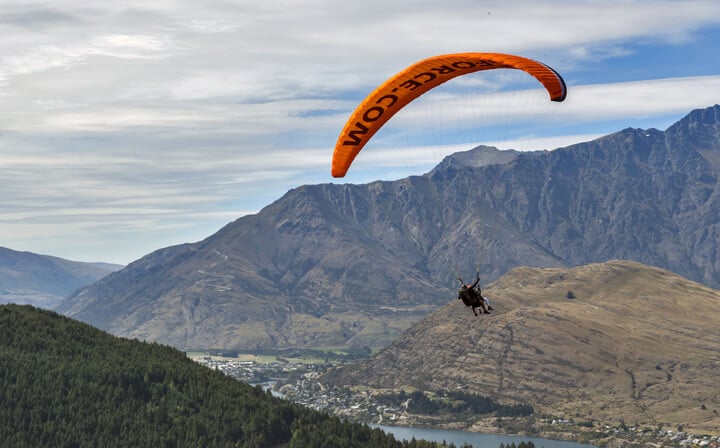 Day 2. Ziplining, Mountain Biking, The Luge And Stargazing
Skyline Queenstown is the place to be for a Ziplining experience with an eco-friendly twist. Take it up a notch with some fun on the 800 metre Luge track, hire a bike and hit the Queenstown Bike Park trails and then finish the day off with dinner at the Skyline's Stratosfare Restaurant right at the top of Bob's Peak. Add in a stargazing tour after dark and you have the perfect day for the whole family.
Skyline Queenstown provides a Gondola assisted bike lift so it is easy to get your gear to the top, there are over 25 different trails to choose from with varying degrees of difficulty.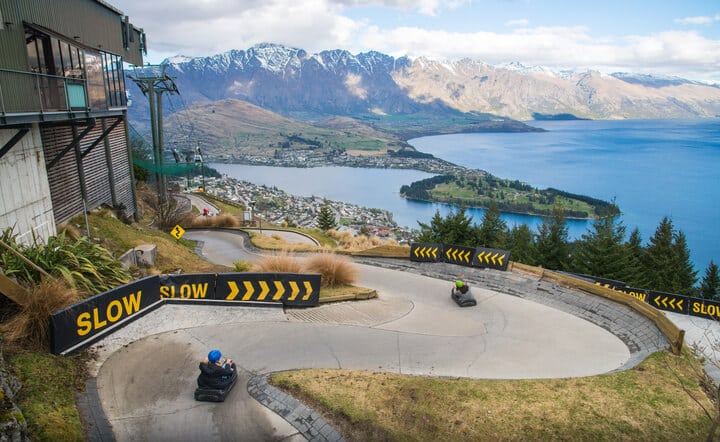 Day 3. The Giant Nevis Swing And Bungy
Think big here; the Giant Nevis Swing completes a 300 metre arc high above the Nevis Valley, make it your own and do it upside down, backwards or in tandem.
Add on New Zealand's highest bungy jump and you have got yourself an action packed day in the Nevis Valley. If you can only choose one bungy jump in Queenstown then this is the one to do.
Day 4. Skiing And Snowboarding In Queenstown
With four great ski fields to choose from all within a short drive from Queenstown it is really up to you which slopes you choose to hit, we recommend Cardrona for beginner and intermediates, Coronet Peak to try your hand at night skiing, Treble Cone for the ultimate in back country skiing and The Remarkables for family friendly fun.
A few things to keep in mind when skiing or snowboarding in Queenstown are; the ski season lasts from June through to October, transport to and from the ski fields is available on request and gear hire is readily available in Queenstown and at the ski fields.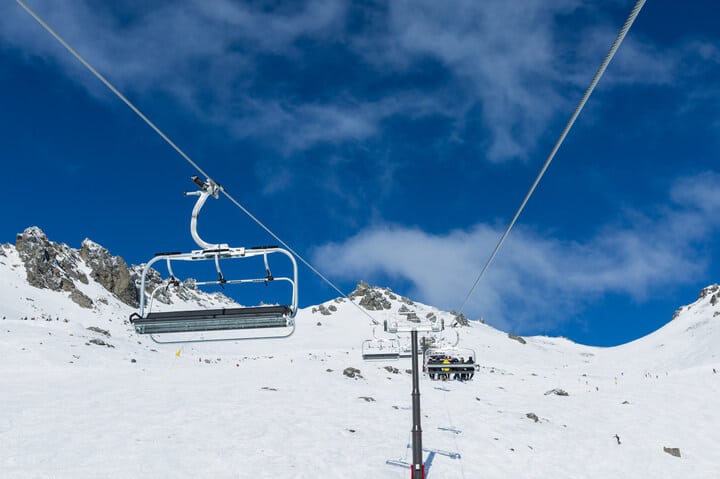 Day 5. Hot Air Ballooning And Scenic Flights
See the team at Sunrise Balloons for what some say is the best way to see the beautiful scenery Queenstown is so famous for. Drift high above the valleys between Queenstown and Arrowtown, see Lake Wakatipu, take in the stunning mountain ranges and get some of the best photos.
After Hot Air Ballooning at dawn, get on board a different sort of ride and enjoy a scenic flight across Queenstown and beyond. See some of the New Zealand's most stunning mountain ranges, lakes, glaciers and National Parks from above. Helicopter flights are the most popular form of scenic air transport in Queenstown, there are multiple options available to suit all budgets and requirements, take a look here for a list of the current scenic flight options in Queenstown.
Day 6. Jet Boating And Canyoning
Jet Boating is one of Queenstown's iconic activities and there are several operators who offer this great activity, but for the best jet boating experience in Queenstown we would go with the Skippers Canyon Jet Boat Tour. These guys offer the full package including a guided tour on the way in, 30 minutes on the water and high speeds through some of the narrowest parts of the Shotover River.
Water is the theme for the day and if speeding along in a jet boat wasn't wet enough for you then Canyoning will certainly hit the mark. The Kawarau Half Day Canyon experience from the team at Canyonning New Zealand is an excellent place to start. Abseil through waterfalls and slip and slide down naturally formed rock water slides as you make your way between the canyon walls.
Day 7. Horse Back Riding And 4 Wheel Driving
Looking for a different way to connect with nature and enjoy the great outdoors in Queenstown? Why not go horseback riding with the team at High Country Horses in Glenorchy. Ride over the tranquil valleys and hills of the Glenorchy basin, cross rivers and even make your way to a few of the locations made famous in the filming of the Lord of the Rings.
Take it up a notch with some 4WD adventure to explore a little further afield in the Glenorchy area with the team at 4 Wheel Drive Expeditions. While offering the usual 4×4 guided tours, they also provide "Tag Along" services where you get to drive by hiring your own 4 Wheel Drive vehicle from Queenstown. See here for more information on 4 wheel driving in New Zealand.
7 Days Of Fantastic Food In Queenstown
While finding somewhere to eat in Queenstown is not difficult, knowing where the best places to eat are, and when it is best to visit them can be tricky.
Where you choose to eat can be influenced by your budget, dietary requirements, the members of your group and the day's activities. We have put together this seven day guide to the best places to eat, that can't be missed when visiting Queenstown.
Day 1. Fergburger
You simply can't visit Queenstown without a trip to the famous Fergburger restaurant – home to the best burger you will ever eat according to its many devoted patrons. Yes, there are almost always long lines, but the wait is worth it. For around $13 to $20 you can get one of their delicious burgers, and they are huge!
Ferburger is open from 8 am to 5 am, seven days and is located on Shotover Street, the busiest times are around lunch and dinner, however there are always lines no matter what time of the day. Phone ahead to order if you can, this will speed up the process.
Day 2. Jervois Steak House Queenstown
Open from 5 pm till late, this is a simply meat lovers paradise. One of Queenstown's best options for fine dining, the Jervois Steak House will not disappoint. Choose from a handpicked selection of carefully prepared grass-fed New Zealand beef and lamb, as well as some great chicken and fish options.
A six course degustation menu is available for $120 per person, or make you own way through the menu with popular mains going for around $50 – $60. Don't miss the Truffle Steak Fries and Smoked Bone Marrow entrée for something a little bit different! Book ahead to guarantee a table.
Day 3. Vudu Larder And Café
One of the best places to go for breakfast in Queenstown, the Vudu Larder and Café offers up an excellent breakfast menu with gluten free, vegan and dairy free options as well as only using free range eggs and free farmed chicken and pork.
The coffee is excellent and the Cinnamon Pancakes are simply the best you will ever eat, also one to try is the Brioche French Toast Sandwich – you will find yourself going back again and again. Vudu is open from 7.30am till 6pm 7 days a week and is located on Rees Street. It can be very busy around breakfast and lunch so plan accordingly.
Day 4. Habebes
A wee hidden gem for those who need an easy lunch on the go that won't break the budget. Situated in a small shopping arcade just off Shotover Street in central Queenstown, Habebes has a great selection of middle eastern influenced food including salads, pies, wraps, soups and sweets.
Gluten free, dairy free, vegetarian and vegan eaters are well catered for and they also serve coffee on site. Phone your order ahead to avoid delays, or just pop in on your way past. The Café is mostly takeaway but there is a few tables in house. Opening hours are 8am to 5pm, seven days a week.
Day 5. Erik's Fish And Chips
Now there are a tonne of great fish and chip shops in New Zealand, but if you want the real deal then head on over to Erik's Fish And Chips food truck on Earl Street – just 100 metres from the waterfront.
Serving the traditional NZ classics like battered fish, onion rings and hotdogs, they also offer up scallops, mussels, deep fried and battered cauliflower bites, chips gravy and cheese and a bit of kiwi ingenuity – the deep fried kiwifruit.
Everything is available gluten free (celiac friendly) and there are even Halal options. Online ordering makes choosing easy and best of all Erik's can deliver your fish and chips right to your door – the perfect end to an action packed day of adventure in Queenstown.
Day 6. Yonder Queenstown
If a restaurant with a difference is what you are looking for then Yonder is the place to be. Whether its breakfast lunch or dinner Yonder serves up a great selection of foods in a fusion of international cuisines.
Dietary requirements are well catered for in both the cabinet foods and the everyday menu. While the menu changes frequently, there is always something for everyone with things like the gorgeous 'Tuna Plate', 'Pork Belly Bites' and good old 'Brisket and Chips' top of our list of things to try. Mains are reasonably priced at around $25 to $30. Yonder is located on Church Street, and is open daily from 7.30 am till late.
Day 7. Eichardt's Bar
Round off your busy day in Queenstown at the perfect spot for tapas and cocktails on a cold winters evening. Eichardt's Bar offers up a touch of luxury by the waterfront, enjoy the upmarket ambience while indulging in some of their specialty cocktails, excellent New Zealand wines and mouth-watering morsels.
The legendary seafood chowder is definitely well worth a try, along with the roast beetroot and ricotta salad, add in the Calamari in squid-ink tempura batter and the pork cheek croquettes in wild thyme and you will never want to leave! Eichardt's Bar tapas menu is available from 12 pm onwards, tapas plates are around $12 – $16, cocktails are approximately $20.
7 Days Of Accommodation In Queenstown
Finding the best accommodation in Queenstown to suit your budget and requirements can be a time consuming task, to give you a helping hand we have compiled this list of seven great choices ranging from budget, backpacker, and family friendly through to high end luxury accommodation.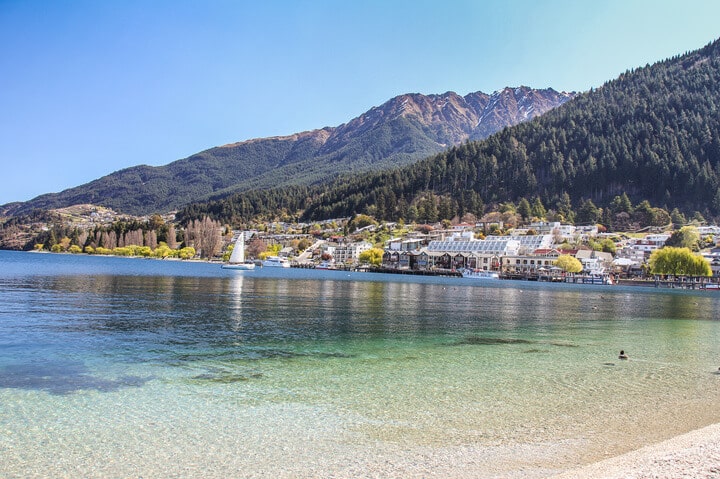 Budget Accommodation – Around $210 For 7 Nights
For those on the tightest budget the best opwtion is to look for backpacker/hostel style accommodation in central Queenstown. Prices come in at around $30 per night, per person; this usually covers a bunk style bed in a shared dorm style room with shared bathroom and kitchen facilities.
Single sex dorms are also an option, along with private rooms with or without ensuite. Here are some quick links to the main backpacker accommodation providers in central Queenstown (Prices are given in NZ dollars, weekly rates may be available on request and prices are per person per night)
Mid Range Motel Accommodation – Around $1200 for 7 nights
Motel accommodation in New Zealand is often the first choice for families, couples and self-drive travelers. Expect to find different configurations of private rooms (all in one, 1 or 2 bedroom) with kitchen basic facilities, own bathroom and in-room TV's.
In a motel beds are made up and towels, complimentary soaps, tea and coffee are usually provided. Room rates can vary considerably, and expect prices to be higher during peak seasons. Motel rates in New Zealand are based on two persons sharing, weekly rates are almost always available – it is definitely worth inquiring by phone.
There are a good range of motels available in Queenstown and its surrounds, too many to list here but the following are a few of our top picks.
High End Hotel Accommodation – Around $2100 For 7 Nights
Hotel accommodation in New Zealand tends to be at the higher end of the price range. Hotel rooms will include all linen, complimentary toiletries, basic tea and coffee making facilities and usually have an onsite bar and/or restaurant as well as other leisure facilities like a gym, pool or spa.
Hotel rates are usually based on two people sharing and the majority of room configurations will be either a large Queen or King bed or two singles. Interconnecting rooms can sometimes be arranged, along with the addition of temporary portable beds (for children or an added extra).
Queenstown is home to some stunning hotel accommodation complete with the views to match here are our favourites.
Luxury Accommodation – Around $3,500 For 7 nights
Luxury accommodation in Queenstown is well catered for both within the city limits and its surrounding mountain and valleys. There a number of exclusive resorts and hotels each with its own unique views and facilities. See below for our top two luxury places to stay in central Queenstown.
Sofitel Queenstown. Hotel & Spa Hotel. Sophisticated, luxurious and situated right in the heart of Queenstown's dining and entertainment precinct. Standard rooms at the Sofitel go for around $500, and go up to over $8000 for the Penthouse suite.
Eichardt's Private Hotel. World class, luxurious accommodation at its best, Eichardt's offers premium accommodations for the discerning guest. Apartment rooms are available for around $1300, the Penhouse suite reportedly goes for $10,000 per night.
Enjoy the best Queenstown has to offer, indulge, feel inspired and step off the beaten track with a holiday in New Zealand's adventure capital – Queenstown. Need more inspiration on things to do in Queenstown? Check out our Queenstown attractions and activities pages here.