Auckland is New Zealand's biggest city making it a vibrant metropolis. Commonly known as the "city of sails", it lies between Hauraki Gulf and the Waitakere Ranges. It encompasses four cities and three districts in one large urban sprawl. Auckland city makes a great base for exploring North Island scenic highlights such as The Bay of Islands, Cape Reinga, Coromandel, Waitomo Caves, Rotorua and Taupo. Grab your rental car and hit the road to experience some great attractions on a Kiwi road trip.
Auckland Attractions
Auckland is home to stunning scenery, picturesque beaches and secluded islands, world-renowned food and shopping, plus buzzing cafes and nightlife. The city provides great access to hundreds of activities and events throughout the year so there is always something to do.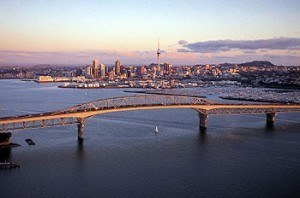 Head to Glenfern Sanctuary located on Great Barrier Island to experience a native New Zealand forest and encounter some of our unique wildlife. Or check out New Zealand's biggest collection of animals at the award-winning Auckland Zoo. For a pure adrenaline rush, take a walk along the edge of Auckland's famous Sky Tower, or if you're feeling really brave, leap off! If relaxing is more your thing, head to Viaduct Harbour for excellent shopping, restaurants and cafes.
Auckland Road Trips
Heading north, you can explore the Bay of Islands which is a great location for fishing, sailing, diving or simply catching a beautiful sunset. The Bay of Islands will be a highlight of any New Zealand road trip, so it should not be missed.
Keep going north and you'll eventually get to Cape Reinga. It is the northwestern most tip of the Aupouri Peninsula, at the northern end of the North Island. Cape Reinga is located over 100 km north of the nearest small town of Kaitaia. From the Cape Reinga Lighthouse you can watch the incredible tidal race, as the Pacific Ocean and Tasman Seas clash to create a maelstrom of unsettled waters.
Heading east from Auckland city, within an hour and a half drive, is the scenic Coromandel region. It is blessed with natural hideaways for people to go for a swim, take a lunch trip, sea kayak, and witness the amazing seascapes. You can dig your own hot spa pool at Hot Water Beach or cruise the offshore islands by boat.
Heading south from Auckland, enjoy the world-famous Waitomo Caves boat ride lit by thousands of magical glow worms. Discover the existence of these tiny creatures radiating their luminescent light as expert guides provide you with informative commentary on the Caves' historical and geological significance.
Going further East or South, you'll be in the vicinity of the towns of Rotorua and Taupo. Rotorua is a popular location to experience a variety of wonderful traditional Maori cultural tours and spectacular geysers and lakes. Taupo offers kayaking and rafting experiences, skydiving and bungy jumping adventure, and scenic strolls around the great lake.
Auckland is a great car rental hub from which to explore hundreds of wonders of the North Island, there is much to do and see all year round.
Auckland Travel
Getting around Auckland is easy with a rental car and there are plenty of options for you to choose from.
New Zealand Rent A Car has car rental locations throughout New Zealand and the North Island, including three handy Auckland car rental depots in the central city, at Auckland Airport and on the North Shore, offering a wide range of reliable affordable rental cars to suit all budgets.
Related Articles:
Auckland: Top 5 Tourist Attractions