If you only have a day or two in Auckland a road trip out to the West Coast beaches is a must. Pick up a rental car, head out towards Piha and discover the beautiful native bush and spectacular beaches of the Waitakeres. Take the scenic route through Titirangi, and make your first stop for brunch at one of the lovely cafes here and pick up supplies for a picnic. Carry on through the village and take the Scenic Drive turnoff at the roundabout and drive about 7km to the Arataki Visitor Centre. Here you will find very helpful staff who have loads of information and history on the Waitakeres plus maps of the area and walking tracks. They can tell you what tracks are open, what the surf is like and local conditions for the day.
Fairy Falls is a favourite track of mine, which to reach you need to drive past the Piha turnoff and carry on for another 8km. The walk down to the falls only takes about 35 minutes but maybe a little longer coming back as some of it is quite a climb.  The track is well maintained with board walks and steps where necessary. It's a great place for a picnic and swim on a nice day.
If you are not going to the Falls after leaving Arataki carry on North along Scenic Drive, about 6km and veer left onto the Piha Road. This will lead you to three amazing west coast beaches, Anawhata, Karekare and Piha. All are beautiful, but part of the drive to Anawhata is down a metal road. You will also need to walk for a bit once you reach the car park, downhill in, and quite steep out. Because of the extra effort it takes to get to Anawhata there are less people to share it with.
My favourite beach, Karekare is the next beach off Piha Road. From the car park it is a meandering walk along the stream, taking about 10 minutes to reach the water's edge.
If you don't feel like a stroll down to Karekare stay on the road until you get to Piha. Piha is a renowned surf beach and when the surf is good there are a lot of surfers out, and life guards are on duty throughout the summer. The beach has very strong currents as do Anawhata and Karekare and you should only swim in the patrolled area. Walking along to the north end of Piha and back takes about an hour, a definite soul restorer, or you can climb part the way up Lion Rock for some stunning views. If you're game maybe try a surf lesson with the Piha surf school.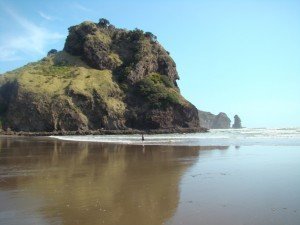 There is an art gallery at Piha, opening from Wednesday to Sunday and the local cafe has outdoor dining, views out over the water and extended hours through the summer. If it's later in the day and you are heading back to Titirangi you could stop off at the Refreshment Room which is about a kilometre past the Arataki Centre on your left. Their focus is on fresh local cuisine, has outdoor seating and fantastic views over Auckland, a great way to finish your day out in the Waitakeres. If you have more than one day investigate walking the Hillary Track or drive in the other direction from Titirangi out to Whatipu, my most favourite place, at the end of the Manukau Harbour.
Auckland Car Rental
If you need to arrange transportation, you can get a great deal on car rental at NZ Rent A Car. We have three handy Auckland car rental depots in the Auckland Central City, at Auckland Airport and on the North Shore, offering a wide range of reliable, affordable rental cars to suit all budgets.
Happy Travels!
Heather
NZ Rent A Car