One of only five settlements in the Mackenzie Basin area, Lake Tekapo is a very popular holiday destination for tourists and locals alike. Great glacial lakes, snow-capped mountains and stunning local attractions keep visitors coming year after year.
Just 3 hours drive from Christchurch and Queenstown (3 and a half from Dunedin), Lake Tekapo's central alpine location provides a spectacular back drop for a multitude of outdoor activities. Some of these include fishing, hiking, horse riding, skiing and snowboarding as well as a few more relaxing ways to pass the time like star gazing and soaking in the purpose built Tekapo Springs hot pools.

Experience The Best Of Lake Tekapo
Visitors to Lake Tekapo will find a good selection of local shops, cafes, restaurants, accommodation and things to do – all within easy reach of the main Tekapo Village area. If you cant find what you need, the locals are always more than willing to offer a helping hand.
Accommodation choices range from boutique motel/resort style rooms, through to holiday cottages, back packers and camping grounds. Regular prices can vary from around $300 for two people per night in a motel style apartment down to $50 per night for a powered tent site at the local camping ground.
Of course as with most accommodation providers in New Zealand, booking in advance will ensure availability and may secure a cheaper rate. There are also several luxury accommodation options in Tekapo, notably the Lake Tekapo Lodge, Peppers Bluewater Resort or the Lakeview Tekapo Studios on the outskirts of Tekapo.
Top 7 Lake Tekapo Activities
Once you have your accommodation sorted, you'll be searching for the best things to do in Tekapo, here are the absolute must-do activities we think top the list.
1. The Mt John Observatory
Head up to the Mount John Observatory, look to the skies and catch a glimpse of Mount Cook on a clear day or wait till the sun goes down and find out why Tekapo offers some of the best star gazing in the world from within this designated Dark Sky Reserve. 
Home to New Zealand's largest telescope, viewing the stars is possible both during the day and at night at the Mount John Observatory. Various Earth & Sky observatory tours are available at night where visitors are treated to some amazing star gazing opportunities as well as the chance to check out the moon, the Milky Way and gain some insight into the life of astronomers in New Zealand. The Mount John Observatory is also one of the top locations around the world for seeing the popular Southern Lights phenomenon.
Some observatory tours are weather/season dependent and may be cancelled at late notice. Tours generally run from 1 to 2 hours in length, departure times are available on the Earth & Sky website.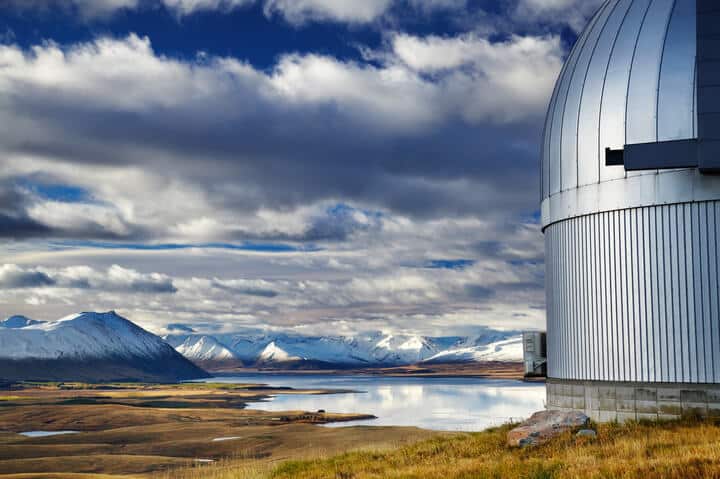 2. The Church Of The Good Shepherd
Visiting the Church of the Good Shepherd is simply a must while in Tekapo, luckily it is easy to do as it is perched prominently on an outcrop of land near the centre of the Tekapo Village, overlooking the Lake (access off Pioneer Drive).
Built in honour the pioneers of the Mackenzie Country back in 1935, the church offers regular interdenominational services throughout the year and stands as an iconic landmark to the region. Its walls are built entirely from natural rock sourced within a five mile radius and the building was constructed without disturbing its surrounding landscape.
Nearby, visitors will also find the statue of a bronze sheepdog, built in 1968 as a tribute to New Zealand farm dogs who served and continue to serve a vital role in the lives of the people in the MacKenzie area.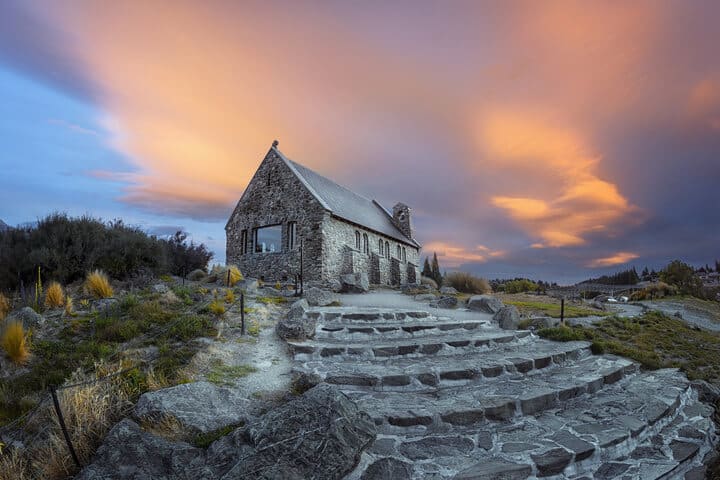 3. Flightseeing With Air Safaris
Flightseeing in New Zealand is a very popular way to see some of the best of the country's rugged alpine terrain with minimal amount of effort. Air Safaris operate three air bases, one at Mt Cook, another at Franz Joseph and the third at Lake Tekapo.
From Tekapo visitors are able to choose from scenic helicopter flights around Mt Cook and the Mackenzie Basin or a range of fixed wing aircraft flights over the southern alps. See the stunning blue waters of Lake Tekapo from above, fly over high country sheep stations, ancient glacial deposits, rugged mountains and passes and even enjoy an alpine snow landing.
The Air Safaris Tekapo base is located two minutes south of Tekapo Village on State Highway 8. Flights are weather dependent and minimum numbers will apply.
4. Tekapo Springs
More than just a place to relax and unwind in hot pools, Tekapo Springs has evolved into a world class visitor attraction offering ice skating, tubing, star gazing, day spa facilities and even an inflatable water slide during the summer months.
Enjoy the beautiful views out over Lake Tekapo and up into the mountains as you soak away the cares of the day in one of the purpose built hot pools, or take a late night dip and enjoy the natural beauty of Tekapo's starry night sky. For a luxurious touch, grab a massage or a facial at the on-site Day Spa.
Tekapo Springs is the ideal Tekapo destination for family fun, entertainment and relaxation. Don't forget to check out the on-site fully licensed Tahr Bar & Café for some tasty snacks and meals – the perfect way to top-up for the day.
5. Skiing And Snowboarding In Tekapo
A trip to Tekapo in the winter is not complete without hitting the slopes for a bit of skiing or snowboarding. There are two main commercial options for visitors basing themselves at Tekapo Village.
Roundhill. A very family orientated ski area, Roundhill offers up a very impressive learner's space complete with a Platter Lift and two beginner style Rope Tows. There is a licensed cafe onsite along with a fully stocked equipment rental facility. An International Snowsports School, a tricked out 'Central Park' for the freestylers and the world's longest and steepest rope tow complete the list of impressive Roundhill ski area features.
Mt Dobson. A short 40 minute drive from Tekapo lays the Mt Dobson ski area. Equipped with an onsite cafe, fully stocked equipment and clothing rental facility and a Snow School the Mt Dobson ski area offers up some of New Zealand's best natural snow and sunny ski terrain. Special deals are available for school groups and first timers, along with beginners lift and rental packages. The Mt Dobson ski lift services operate daily from 9am to 4pm.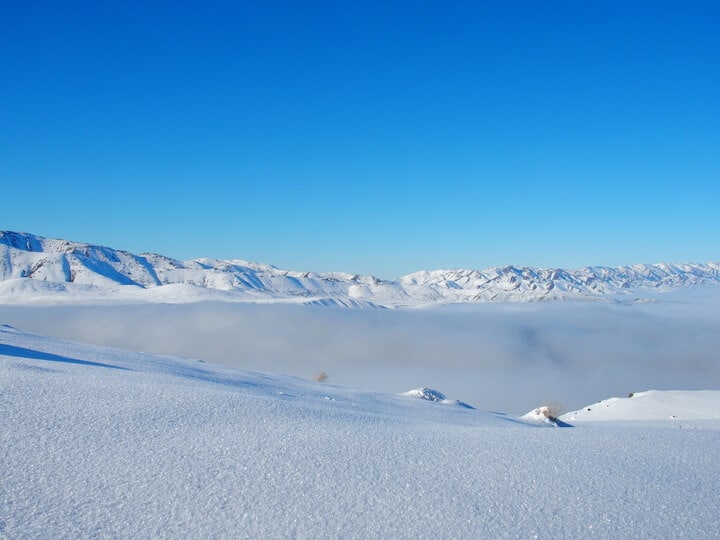 6. Lake Tekapo Regional Park
If hiking, walking or cycling is more to your liking then Tekapo has something for everyone. The Lake Tekapo Regional Park covers a sprawling 165 hectares (400 acres) made up of well-formed mountain biking and walking trails for all ages and abilities.
Set on the shores of Lake Tekapo the 24 kilometres of Regional Park trails offer up plenty of choice for mountain bikers and walkers alike as well as a fully enclosed 2 hectare dog park for our furry friends to enjoy.  
Access to the Park is from Lilybank Road or on foot along the lakes edge. Cross country skiing is possible after a decent snowfall in winter, along with some informal Orienteering – grab a map from the Tekapo Information Centre. During the warmer months swimming is enjoyed by many in the shallower areas of the Lake along with various boating activities.
7. Lake Tekapo Day Trips
While there are many day trip options when based in Tekapo, visiting New Zealand's highest mountain – Mount Cook is top of the list. Roughly an hours drive from Tekapo village, Mount Cook is surrounded by the Aoraki Mount Cook National Park which offers up an outdoor enthusiasts dream vacation destination.
Some of the Mount Cook region's activities include 4 Wheel Driving, boating, fishing, superb scenic flights with snow and glacial landings as well as a large number of walks and trails. Local guiding company Alpine Guides offer once in a lifetime mountain experiences that include back country skiing and single and multi day alpine trekking expeditions. Not for the faint hearted, these guided tours will require a reasonable level of fitness, and cover a range of terrain styles.

Weekend getaway, family holiday or adventurous outdoor trip, whatever your plans Lake Tekapo provides all the accommodation, restaurants, facilities and world class attractions you will need for a one of a kind New Zealand adventure.