My daughter is vegan, and two of my sons are also vegetarian, so eating out as a family can sometimes be a little challenging but we do have our favourites. If you prefer to eat vegan or vegetarian and are travelling to Auckland, jump in your rental car and check out some of these favourite eateries. This is what my daughter calls her "Big Vegan Day Out", especially useful if you've had a fun Saturday night and need some nourishment on a Sunday.
These eateries are all centrally located in Auckland so you can co-ordinate your sightseeing activities with your dining. Start by travelling in your rental car to Kokako Café at 537 Great North Road, Grey Lynn. Here they roast their own organic fair trade coffee and it's particularly good. A lot of food on the menu can be made to accommodate vegans. Their blueberry vegan muffin is delicious, and also the vegan wraps served with a side salad. And if you have a sweet tooth their vegan cakes are sublime. We normally purchase an extra slice or two to take home for later.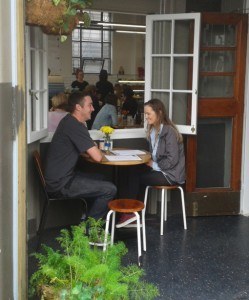 Another favourite not far from here is Queenie's Lunchroom, serving up lovely food which is a little different to your average café and with fantastic décor including a 'paint by numbers' mural on the inside wall. It's on the corner of a quaint area of Freemans Bay, surrounded by small older cottages, with little traffic so seating outside is excellent. Street parking is not too hard to find for your hire. Their coffee is great.
Vinyl Coffee Shop on Dominion Road makes a great tofu burger, with tamarind marinated tofu and homemade relish, served with curly fries.
Alternatively choose the vegan burrito with jalapenos, tofu, avocado, greens and salsa. Lots of people with the most amazing tattoos visit Vinyl Cafe so you can also see some great artwork while there. The coffee is also very good.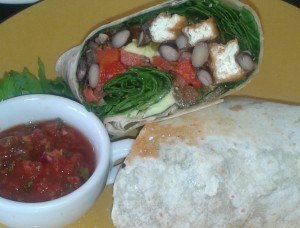 For dinner we like Banzai, a small Japanese restaurant at 583 Dominion Road (just south of the Dominion Road Balmoral intersection). The quality of the food here is amazing and priced really well. They have the best sushi, Green Green, which is avocado and broadbean, which can also served spicy – rolled in chilli flakes. This is delicious and even the meat eaters in the family really enjoy this. There are also great choices in the stir fry noodle selection for vegans. And for the non-vegans the tataki is sublime, and has turned my teenage son onto raw fish.
Also on Dominion Road is New Flavour Restaurant which is highly rated by vegans. If you've decided on fine dining Hector's Restaurant at the Heritage Hotel has a dedicated menu for vegans which my daughter highly recommends, the food is amazing and there are loads of choices.
Auckland Travel
Pick up your Auckland hire car from one of our friendly branches at Auckland Airport, Auckland Central or the Auckland North Shore and enjoy a day out exploring these great eateries.
Happy travels!
Heather
New Zealand Rent A Car