Auckland is one of the best cruise ship ports in New Zealand, docking right at the city centre means disembarking and making your way around the best the City has to offer! Plenty of public transport, an airport within easy reach and affordable car hire at your finger tips means you can explore at your own pace and enjoy your visit to New Zealand your own way.
Choose to stay close to the ship, head out for a day trip or take on an over night road trip – there is no shortage of things to do and places to see. Not sure where to start? Here is our round-up of the best things to do near the waterfront and in greater Auckland and beyond.
Top 4 Auckland Waterfront Shore Excursions
The good news is the port at Auckland is right at the forefront of Auckland City – you quite literally disembark right on the City's main waterfront precinct either from the Queens Wharf or the adjoining Princess Wharf. From here you can easily explore the waterfront cafes and restaurants, shopping, activities and community spaces on foot while also having access to a large amount of activities further afield.
1. Queens Wharf
So here's the rundown on Queens Wharf – it is a popular public space for soaking up the waterfront atmosphere and of course the views out to the Hauraki Gulf. Queens Wharf is also home to a couple of Auckland's most unique buildings; The Cloud and Shed 10.
The Cloud. A very modern structure, The Cloud was originally built to for the 2011 Rugby World Cup but has quickly become an iconic piece of Auckland's waterfront skyline. Built in the shape of a long white cloud, the building was designed by Jasmax inspired by the Maori name for New Zealand – Aotearoa, meaning the 'Land of the Long White Cloud'.
Shed 10. The only original building remaining on Queens Wharf after its transformation from working Port to public space, Shed 10 is a now the primary cruise ship terminal for Auckland. Along with The Cloud, Shed 10 also functions as a premium events space.
5 Best Cafes At Queens Wharf
Sit back and relax with a coffee, dinner or snack from the rustic pop-up Queens Wharf Village and nearby Downtown Ferry Building before heading back to the ship after spending the day exploring, or grab an early morning coffee before hitting the road.
(The Botswana Butchery, Island Gelato and The Shucker Brothers are housed in the Downtown Ferry Building).
What's On At Queens Wharf Today?
Want to see if there are any local events on while you are here? Click here to see a list of current events at Queens Wharf.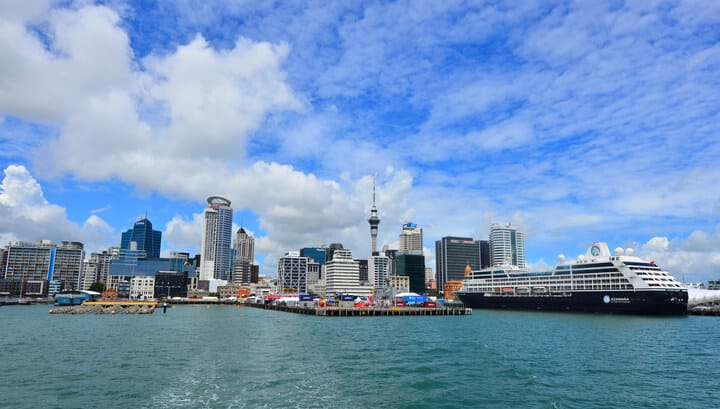 2. Princes Wharf
Nestled on outer edge of the Viaduct Harbour, the Princes Wharf is home to a good mix of bars and restaurants as well as the Hilton Hotel Auckland which sits prominently at the end of the wharf. Make sure you take a stroll down the Wharf to find the public viewing area looking out over the Waitemata Harbour upstairs at the far end of the Hilton Building.
8 Best Bars And Restaurants At The Princes Wharf
Of course Princes Wharf is known for its wide array of cafes, restaurants and eateries – take your pick or try them all! These are our top 8 picks.
What's On At Princes Wharf Today?
Don't want to miss any of the exciting local events while you are here? Click here for a list of current events at the Princes Wharf.
3. The Viaduct Harbour
The Viaduct Harbour is the place to be for best nightlife and partying in Auckland. Perched right on the waterfront next to the Princess Wharf, its great mix of open spaces, function centres, charter boats, restaurants and bars are what brings people here – not to mention the vibrant atmosphere!
5 Best Places To Eat At The Viaduct
Need to fuel up while you are down at the Viaduct? We have handpicked the very best places to eat – just for you.
What's On At The Viaduct Harbour Today?
Want to see whats on while you are here? Click here to see a list of current events at the Viaduct Harbour.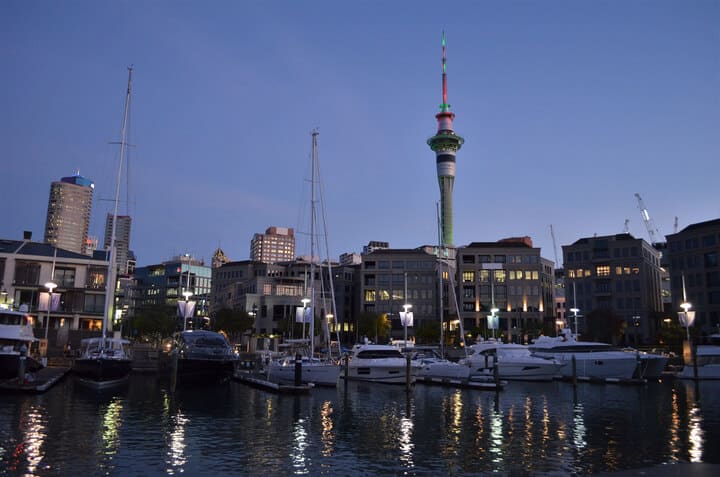 4. The Wynyard Quarter
Encompassing the area just to the west of the Viaduct Harbour, the Wynyard Quarter is widely considered Auckland's most vibrant entertainment precinct.  You will find there is always something on the go at the Wynyard Quarter – join a yoga group, check out Silo 6 art displays, hire a bike, hang out in the maritime themed Wynyard Playspace, grab a ball and hit the basketball courts or just sit back relax and watch the world go by. 
Top 5 Restaurants In The Wynyard Quarter
Need something to eat? Take a look below for our favourite restaurants while you are visiting the Wynyard Quarter.
Sal's Authentic NY Pizza. Simply the best authentic New York style pizza – so good you can fold it! Order Sal's online or phone (09) 368 7257, 12 Jellicoe Street, Auckland.
The Conservatory. The perfect spot for a long lunch, The Conservatory has a varied menu including pizza, sharing platters, raw fish, and burgers. Phone (09) 307 2222, 1-17 Jellicoe Street, North Wharf, Wynyard Quarter, Auckland.
Pescado. Casual café and tapas restaurant with a comfortable vibe and welcoming atmosphere, Pescado is open for breakfast lunch and dinner. Book online or phone (09) 379 7576, North Wharf, Jellicoe Street, Wynyard Quarter, Auckland.
Jack Tar. Gastropub serving great food, wine, craft beers with a classic kiwi vibe. Jack Tar is a great place for a casual lunch with friends. Phone 09 303 1002, 17 Jellicoe Street, North Wharf, Auckland.
LiveFish Restaurant. For the freshest seafood you have ever eaten (in fact it's still alive when you choose it!), choose from crayfish, clams, crabs, fish, abalone and oysters, plus more. Phone 09 373 8872, 39-47 Jellicoe Street, North Wharf, Wynyard Quarter.
What's On At The Wynyard Quarter Today?
Want to see what awesome local events and activities are on while you are here? Click here to see a list of things to do at the Wynyard Quarter today.
Top 5 Things To Do At The Auckland Waterfront
Ok, so you've eaten way too much, wandered about the Queens Wharf, taken in the beautiful views from the lookout at the Hilton on the Princess Wharf, visited the Viaduct Basin and the Wynyard Quarter – what else is there to do along the waterfront? Here are our top 5 picks!
1. Walk To Silo Park
Silo Park is one of the best things to do down at the Wynyard Quarter end of the waterfront precinct. Walk along the waterfront until you come to its natural end at Silo Park and enjoy the relaxed public spaces, children's playground, interactive art, outdoor movies and much more.
Check out Silo 6, a modern art exhibition space featuring an ever changing display of photography, pop up theatre, and various artists work. Strike it right and you will encounter one of the awesome Silo Park events on offer throughout the year.
2. Take The Ferry To Waiheke
From the iconic Downtown Ferry Terminal you can catch a ferry to a number of interesting little Bays and Islands. Choose from Birkenhead, Northcote Point, Stanley Bay, Pine Harbour, Gulf Harbour, Half Moon Bay, Bayswater, West Harbour, Rakino Island, Hobsonville, Beach Haven, Devonport and of course Waiheke Island.
While all of these places have their own fun and activities – if we had to choose one it would be Waiheke Island. Known for its high-end properties, excellent wineries and all-round stunning views Waiheke Island is the perfect day trip for cruise ship passengers.
The Ferry to Waiheke takes approximately 45 minutes and departs regularly throughout the day, see here for the Waiheke Ferry timetable. Tickets start at $40 per adult and $26 per child return. Grab an All Day Public Bus Pass for an extra $12 and you can get on and off the Waiheke public bus services all day as much as you want.
3. Book A Harbour Cruise
Cruising the Waitemata Harbour is one of those must-do activities everyone should try to fit in when visiting Auckland, particularly if you love the water. Getting out on the Harbour is simply the best way to take in the stunning scenery, elegant boats and the bustling sights and sounds.
There are multiple operators offering Harbour Cruises, ranging from quick one hour tours through to half or even full day options that include lunch or dinner. Here are some links to the main Harbour tour operators in Auckland.
4. Check Out The New Zealand Maritime Museum
Bit of a cold or a terribly rainy day? Then the New Zealand Maritime Museum is the place to be. Learn about some of  New Zealand's seafaring heritage and see a wide range of nautical artifacts.
The Museum is open daily from 10 am to 5 pm and entry fees are $20 per adult for those who do not reside in Auckland. For $50 you can take an hour's cruise on the Harbour on one of their heritage vessels – well worth it if you have the time.
5. Hit The Shops At Britomart
One of Auckland's premium shopping destinations, Britomart is just across the road from Queens Wharf and offers a good range of boutique designer shopping, bars, cafes and much more. Find well-known brands such as Huffer, Adidas, Chanel, Fabric, Karen Walker, Kate Sylvester, Trelise Cooper, World and Zambesi stores just to name a few.
Or if great food is what you are after, Britomart is home to the very popular café Amano, French cafe L'Assiette and Ostro plus so many more. Britomart is located in the Maritime Building 130 Quay Street, Auckland and it is open every day 24 hours a day.
Auckland's 5 Best Day Trip Shore Excursions
While exploring Auckland's waterfront is a great way to find your feet in Auckland, taking a trip out of the city centre is a great way to see a bit more of the real New Zealand. Whether you are looking for a day trip or overnighter there are plenty of things to do in Auckland within easy driving distance.
Here are our top 5 longer shore excursions from Auckland – choose your favourite or do them all and get your NZ on!
1. Piha Beach Day Trip
Want to visit one of New Zealand's famous beaches? Then plan a trip out to Piha, why not make a day of it and take a picnic lunch. The drive will take around an hour and the road is a bit tricky in places so take your time.
The beach is considered one of Auckland's better surfing beaches, and swimming is permitted between the flags where lifeguards regularly patrol. Walking along the beach is a favourite along with climbing the prominent Lion's Rock which juts out in the centre of the beach.
2. Hunua Ranges Regional Park Day Trip
The perfect destination for getting out of the City and back to nature, the Hunua Ranges Regional Park provides visitors with a chance to experience beautiful New Zealand native forestland. Hiking, mountain biking and horse riding are common activities although if you aren't looking for anything too active, a visit to the Hunua Falls is a highlight for many.
The Falls are just a few minutes' walk from the main carpark, or you can take on one of the longer walks with options ranging from 1.5 hours up to 4 hours. The terrain encountered on the longer walks is more suited to experienced hikers, see here for more information on the Hunua Ranges hiking and mountain biking trails.
3. Mount Maunganui Day Trip Or Overnighter
Mount Maunganui is a good 3 hour drive from Auckland, so this one would be a good overnight option. The Mount, as its known, is one of the best beaches in New Zealand and is a very popular summer destination – shop till you drop at boutique shopping along Main Street, grab a meal at the trendy restaurants and cafes, or just get the sunscreen on and hit the beach for the day.
The beautiful white sandy beach, walking up or around the mountain of the same name – Mount Maunganui and nearby township of Tauranga provide plenty of things to do in and around the area. A scenic flight is also a great option to see the best of the Mount and its beautiful watery surrounds, or head out on the water on a kayak for a more up close and personal touch.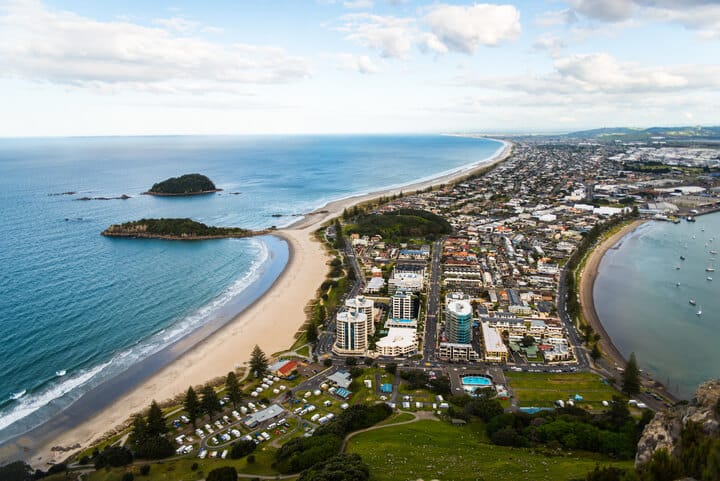 4. Ambury Regional Park Day Trip
Over near the entrance to the Manukau Harbour, the Awhitu Peninsula is a remote yet comfortable little place with small parkland pastures, wetlands and sandy beaches to explore. Bring a picnic lunch and make a day of it – don't miss the Manukau Heads Lighthouse to visit one of the few fully accessible lighthouses in New Zealand and take in the spectacular views.
On your return trip stop by the Ambury Regional Park just past the Mangere Domain and introduce yourself to the wide range of farm animals including sheep, goats, chickens, and rabbits. This working farm and education centre is a great place for a picnic lunch and perfect for an afternoon stroll along the coast. The Awhitu Peninsula is 1 1/2 hours' drive from central Auckland, and the Ambury Regional Park is situated just 15km from Auckland.
5. Whangarei Day Trip Or Overnighter
Taking it to the North this time, the road trip to Whangarei is roughly 2.5 hours' drive from Auckland. This drive can be as scenic as you want to make it by more closely following the coast or you can take a more direct route if you are pressed for time. As with all NZ destinations the journey through our beautiful countryside is all part of the fun!
Whangarei is the largest township in Northland and there is plenty to keep you occupied. Visit the Whangarei Falls, seek out the elusive Abby Caves or find a boutique café or art gallery to fill your day. Just north at Paihia you will find the historic Waitangi Treaty grounds and some excellent diving opportunities.
4 Best Cruise Port Tours Auckland
Looking for an easy way to see some of New Zealand without having to worry about getting yourself there and back in time for departure? Then booking a sightseeing tour might be just the thing for you. Take a look below for some of the best Cruise Ship Tours in Auckland departing from Queens Wharf.
1. Auckland Sheep World Tour
Check out some of New Zealand's famous sheep up close and personal with a visit to the New Zealand Sheep and Wool Centre – Sheepworld just out of Auckland. This all-inclusive day tour from Coast To Coast Tours includes pick up and drop off from your cruise ship, entry fees, lunch, wine tasting and a unique honey tasting.
Coast To Coast Tours are specialists in small tours with minimum numbers of 4 people, maximum of 11. The Sheep World Tour is currently priced at $220 per person and runs on a daily basis and they will adjust the timing of the tour to accommodate cruise ship arrivals/departures.
2. Auckland to Coromandel Private Tour
Travel in style with a private tour to the stunning Coromandel with the team at Time unlimited Tours. This private tour includes pick up /drop off from the cruise ship terminal at Queens Wharf, snacks and water and is fully customisable for choosing additional stops along the way.
Visiting one of the country's most beautiful locations including Hot Water Beach and kayaking through Cathedral Cove with Time Unlimited tours will cost you just $395 per person for a four person group. Prices may differ for smaller or larger groups and will be higher in the busy season.
3. Rotorua Small Group Tour
Head on down to Rotorua for the day with the team at Cheeky Kiwi Travel and enjoy some of the best New Zealand cultural highlights. This full day tour has flexible add-ons and includes a fully guided journey to Rotorua and back. Tour prices are set at $199 per person and includes on-board WiFi.
The Rotorua Small Group Tour passes through the top of the Waikato region, through Tirau and a roundup of Rotorua highlights with optional add-ons like the famous Agrodome, Skyline Rotorua and exploring the Maori cultural village of Te Puia.
4. Hobbiton Tour from Auckland
One of the most popular places to visit when holidaying in new Zealand, touring the Hobbiton Village is the number one tour destination for many visitors. See a bunch of hobbit holes, the Mill and the double arch bridge, the Party Tree, and the Green Dragon Inn on this fantastic tour from the team at Bush and Beach Tours.
Tour prices include pick up from the cruise ship terminal at Queens Wharf, full commentary on the way, the full Hobbiton Tour, and lunch. Tours do depart early at 7am, returning to Auckland before rush hour so plan ahead if you have departure times to meet.

Need more? Here are some of our top picks for more fun things to do in Auckland. The team at NZ Rent a Car hope you enjoy your cruise ship holiday in Auckland – get in touch for affordable car rental in Auckland and beyond.