The people of Dunedin are proud of their Scottish heritage and the city offers an abundance of delights for tourists to explore, including New Zealand's oldest castle, the world's steepest street, museums and rare penguin colonies. Dunedin is a key gateway to the Otago region, offering a great base for exploring the area in your rental car.
Dunedin Road Trips
Once you've explored Dunedin's attractions, you may like to head north on your car rental road trip to an interesting stretch of coastline called Koekohe Beach. The beach is home to the Moeraki Boulders – large spherical-shaped stones with distinct bimodal size distribution. In other words, they're a weird and fascinating output of Mother Nature.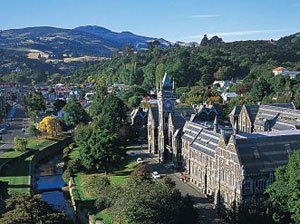 The town of Nasby is an easy detour off State Highway 85. In winter you can go ice skating or curling, and in the summer you can enjoy a hike around the old gold fields and forests. Nearby you'll find Saint Bathans which is known for its historic Vulcan Hotel, a restored and reputedly haunted public house, and the Blue Lake which was formed during gold-sluicing and has a distinctive turquoise colour.
The Central Otago gold rush in the 1860's has left a multitude of interesting historic nooks and crannies to explore in the area. The picturesque township of Alexandra is located on the banks of the Clutha River 188km by road from Dunedin and is well worth a stop. Otago's first gold-rush town Lawrence is situated just 92km south-west of Dunedin and is nicely located within the rolling hills of Clutha Country.
The largest town in South Otago is Balclutha. Often named as Clutha for the river on which it stands, it is a scenic area of native forest, wildlife and rugged coastline. In particular, heading further south to the Catlins area is highly recommended for its scenic flora, wildlife and geological treasures.
Dunedin is an excellent base for your car rental road trip offering many memorable highlights for your tour of the wild south of New Zealand.
Dunedin Travel
Getting around Dunedin is easy with a rental car and there are plenty of options for you to choose from.
New Zealand Rent A Car has car rental locations throughout New Zealand and the South Island, including a handy Dunedin car rental depot, offering a range of reliable affordable rental cars to suit your budget.
Related Articles:
Dunedin: Top 5 Tourist Attractions