You could be forgiven for thinking that Christchurch is still off-limits following the 2010 and 2011 earthquakes, however the city is still very much alive and remains a great place to visit. Good old Kiwi ingenuity, grit and determination have ensured that Christchurch has bounced back and the recovery and regeneration of our beloved Garden City is well under way.
A small area of the central business district is still closed while demolition and repairs to damaged buildings continue and some attractions are closed, but there are still plenty of things to do and places to visit in post-quake Christchurch. The easiest way to get around Christchurch is by car and there are lots of rental car options available for all budgets, including our friendly Christchurch Car Rental depot close to the Airport.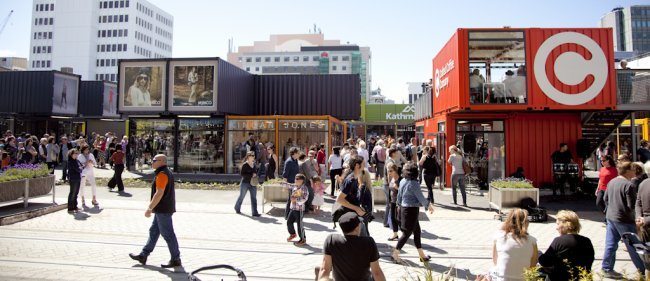 Image credit: www.restart.org.nz
New Kids on the Block
Looking for fresh places to visit? Check out some of the innovative projects that are putting Christchurch back on the map.
Old Favourites
If you want to hit the tourist trail and visit some of our most iconic attractions, find out more about the top Christchurch attractions and whether they are still operating before you jump in your rental car.
Don't forget that Christchurch is the gateway to the rest of the Canterbury region so if you want to head away from the city there's lots of great places to visit within a few hours drive. Check out our Canterbury Car Rental Road Trips guide for some of our favourite destinations.
Christchurch's story of recovery makes it a fascinating and unique place to visit at the moment and you'll be supporting local businesses and helping residents to get back on their feet. The Lonely Planet has named Christchurch one of the top ten cities to travel to in 2013 and we can't help but agree.