Auckland is New Zealand's busiest city. Home to one-third of the country's population, demand for housing is constant and real estate prices climb faster than incomes.  It's something of a miracle then that we have two very substantial green areas within a few kilometres of the central business district. One is Cornwall Park/One Tree Hill Domain, a whopping 540 acre blend of parks and farmland. The other, Western Springs Park, is 64 acres of birds, plant life, and walkways, all within sight of a large spring-fed lake.
Not being a commercial business, it gets little or no publicity and stays under the radar for many tourists. However, as well as being free, it's something of a hub of wonder, being bordered by several of Auckland's most enduring attractions: Auckland Zoo, the Museum Of Transport And Technology (MOTAT), a separate Air Museum (MOTAT 2), and Western Springs Stadium. We wholeheartedly recommend it as the perfect beginning, or ending, to a day out.
The Thirsty City
Even before the arrival of European settlers, Western Springs (the suburb, the park, and the actual springs), was well known to Maori as a clear, natural source of water. Auckland was once a region of heavy volcanic activity, and the lava flows formed catacombs of underground fissures. Rain water from the nearby hills of Mt Eden, Mt Albert, and Three Kings is channelled through this subterranean irrigation scheme, arriving at Western Springs thoroughly filtered by several miles of buried scoria.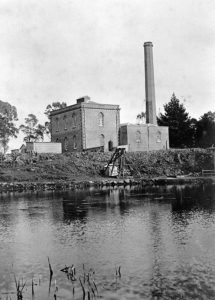 With the rapid growth of Auckland City in the mid-1800's colonial settlers also looked to Western Springs as a water supply, complementing another natural source at Auckland Domain. In 1874 the city council purchased 120 acres of land at Western Springs and set to work with industrial-age gusto. 20,000 cart loads of boggy soil were excavated to form a 15 acre lake, which could collect up to 100 million litres of spring water. A brick pumphouse was built and a new steam driven pump installed. It pumped water from the lake up to reservoirs in Ponsonby and Grafton, and from there the water was gravity-fed down to the city below.
However, the growth of Auckland soon outpaced this solution, too. The council's next move was to buy up sections of the Waitakere Ranges, a ridge of bush-clad mountains down Auckland's west coast. In these hills a succession of dams were built, as Auckland became bigger and thirstier. By the 1970's there were five in the Waitakeres and five more in the southern Hunua Ranges. At this point the dam-building vogue had run its course and future water supplies would be pumped from the Waikato River.
With the council looking elsewhere for water, the springs and the man-made lake were abandoned by the start of the twentieth century. The council built cheap housing where it could, but most of the land was considered too uneven and swampy to be of much use. It was left to be reclaimed by nature.  
New Neighbours
The Auckland Zoo was a perfect tenant for this volcanic ruggedness. This was (and is) a council venture, opening on December 16, 1922, hot on the heels of the closure of Auckland's first zoological park, the privately owned Boyd's Onehunga Zoo. The council bought up J. J. Boyd's remaining animals and relocated them to enclosures on a 40 acre section of rather barren ground at Western Springs. It was a hasty start, perhaps due to the surprise availability of the animals, but once in business the zoo's facilities were constantly improved, and the population swelled. These days visitors can see over 800 animals, including the most recent star, an Asian elephant named Anjalee. Anjalee arrived last year and replaces the beloved Kashin (long-term resident and ASB bank mascot) as a companion for the remaining elephant, Burma. The two are expecting a "baby", a five year old elephant currently in the process of being imported from Sri Lanka. While animals at the Auckland Zoo are not literally free, obviously, great care has been given to creating spacious and natural environments for each species, and it has an excellent international reputation.
In 1929 a use was found for another portion of the property, this time east of the lake, which was found to resemble a natural amphitheatre. This was to become Western Springs Stadium, a facility modeled on the great European sports arenas of the time. Known locally for its midget car races, which draw thousands of petrolhead families throughout the summer racing season, the stadium is also Auckland's biggest sports and concert venue, with a capacity of up to 50,000 (officially, that is; 80's shows by Bowie and ZZ Top were rumored to have 80,000 in attendance). 
Meanwhile, the remaining land continued to fester. Occasional proposals to develop it were considered too expensive, and it became overgrown, the lake choked with weeds. Illegal rubbish dumping was rife. By the 1950's the Auckland Council had a big problem: their fast-growing and very central suburb of Western Springs was home to a large, garbage-filled, rat-infested, mosquito-ridden bog.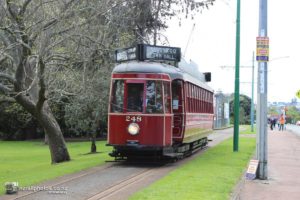 It's hardly surprising then that the council were so happy to donate a piece of this wasteland to a new project. In the early 60's the Museum Of Transport And Technology (MOTAT) was established south-east of the lake, around the old brick pump house and the remains of the steam engine which had once pumped spring water to the city. The steam engine has recently been restored and can be seen, heard, and smelt running again having been idle since 1928. Along with a constantly rotating display of cars, trucks, buses, fire engines locomotives, science exhibits and preserved cottages, the museum usually has special events for weekends and school holidays – well worth checking their website (below) if you haven't been in a while.
On a separate plot across the road from the zoo you will find MOTAT 2. This is essentially an airplane museum, with a large collection of planes and aeronautical items housed in a massive indoor pavilion. Among the major exhibits are a Lancaster bomber, the only remaining Solent sea plane, and one of the Douglas DC-3's that we wrote about so fondly in this post. However, MOTAT 2 also includes a collection of military vehicles, a superseded railway station, and a giant workshop where much of the restoration work is done. The two MOTATs are linked very appropriately by a regular tram service, which trundles around the perimeter of Western Springs Park, pausing briefly at the zoo on the way. Highly recommended.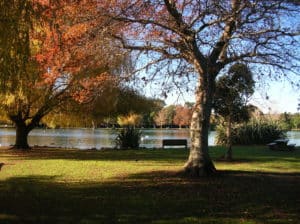 With MOTAT and the zoo drawing hundreds of thousands a year to Western Springs, the council could no longer ignore the health hazard sandwiched between them. The task of cleaning up and landscaping the park finally began in 1961, and the lake was dredged and filled with eels and other fish (fishing is illegal here, by the way!). Trees and other plantings served to create breeding grounds for several species of waterbirds, both native and exotic. Walkways, bridges, picnic and barbecue sites, and a playground were all added over many years and by the 1980's the park had been transformed from an unofficial landfill to a wildlife sanctuary and extraordinary family space. It's also the annual venue for Pasifika, one of Auckland's biggest festivals. March 12 & 13 are the dates for the next one – just two weeks to go!
Getting There
Western Springs Park is less than 10 minutes from Auckland city by car, and very conveniently placed near a motorway off-ramp. Simply get onto the North Western motorway (SH16) and take the St Lukes Rd exit. Turn right at the traffic lights and you should be looking at MOTAT and the park. There is free parking on the streets surrounding the park – Stadium Rd, Great North Rd, and Motions Rd – but on busy days it can be difficult to find a spot.
For bus information please see www.maxx.co.nz or call (09) 366 6400
MOTAT is on the corner of Great North Road and Stadium Rd, and the same public parking advice applies, there is no dedicated carpark for the museum. However, MOTAT 2 on Motions Rd does have a carpark in front of the pavilion. It is often a good idea to begin your MOTAT experience at the air museum and catch the tram along to MOTAT 1, as the tram is included in your entry fee. 
The trams are an attraction in themselves, and you don't need to buy a ticket to MOTAT to use them. For $1 each way (50c for kids) they're a great way to get around the perimeter of the park.
Auckland Zoo is accessible from Motions Rd, and they have a free carpark. 
Western Springs Stadium has a website for its summer speedway races (this season is nearly over). Tickets for other events at the stadium can be found here. Promoters usually organise parking in the football field beside Stadium Rd.