Invercargill is the southernmost and westernmost city in New Zealand, dazzling with long summer twilights and the Aurora Australis earning its name as the City of Water and Lights. There are numerous long and short car rental roads trips worthy of consideration from Invercargill. Hit the road to experience some of these great attractions or head further a field to explore the Southland region.
Invercargill Attractions
Drop in to the Tuatarium at the Southland Museum and Art Gallery where you can see over 60 Tuataras ranging from newborn babies to 'Henry' who is over 100 years old. While in the area, visit the beautiful gardens of Queens Park featuring a rose garden, Japanese garden and an indoor winter garden showcasing tropical plants, flowers and cacti.
Invercargill features some outstanding heritage buildings, which can be observed across the city. Buildings with interesting architectural features include the Victoria Railway Hotel, the First Presbyterian Church, the Masonic Lodge and the Alexander Building. Some of these buildings and other heritage sites can be seen on the popular Invercargill Heritage Trail.
Invercargill Road Trips
About 10km west of Invercargill is Otatara, a small settlement on the outskirts of the city. Head to Oreti Beach, a 30 km sweeping expanse of perfectly smooth sand. At the southern end of the beach is Sandy Point, a natural playground featuring more than 2000 hectares of land ideal for a range of outdoor activities. Explore the area on foot via the 13km network of walking tracks leading to the river estuary and ancient native forest. There are also some great mountain biking tracks and a network of tracks available for people who wish to experience the area on horseback.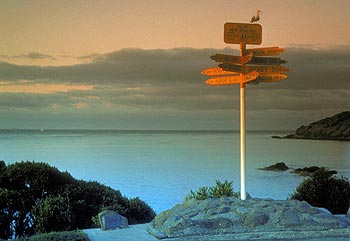 The Waituna Lagoon at Awarua Bay, a 30 minute drive from Invercargill, is a spectacular wetland of international significance, a habitat for birds, native fish and trout and some unusual plants. A 250-metre boardwalk meandering through low-growing native plants ends at a viewing shelter that overlooks the Lagoon.
Just 30 km by road from Invercargill is the township of Bluff, home of the famous Bluff oyster. Bluff is famous for its fishing industry, delicious oysters and great hospitality. Take a short ferry ride to Stewart Island, an island of beauty and tranquility where you can enjoy guided walks, kayaking, cruises and fishing. The island is a haven for bird-life and the shy and flightless Kiwi can be seen here in its natural habitat. Nearby Ulva Island is an open wildlife sanctuary and provides access to several species that are extremely rare or have become extinct on the mainland.
Invercargill Travel
Getting around Invercargill is easy with a rental car and there are plenty of options for you to choose from.
New Zealand Rent A Car has car rental locations throughout New Zealand and the South Island, offering a wide range of reliable affordable rental cars to suit all budgets.
Related Articles:
Invercargill: Top 5 Tourist Attractions