Where is it more beautiful in New Zealand in autumn than Central Otago and the Southern Lakes district. It's also a cheaper time to visit Queenstown as the summer rush is over and the winter rush doesn't get started until June, so there are good accomodation and flight packages on offer.
A great network of bike trails have been created that takes in all the different scenery options on offer, from down towards the Gibbston Valley following the Kawerau River, where you can visit one of the local vineyards or for the adventurous, take the track to Jack's Point which is out in the Lord of the Rings country.  All the tracks are rated from Easy to Advanced, distance is stated, and they are looped so you can cycle back along another path in some places making it more interesting.
If you take the ride to Arrowtown you will pass stunning country estates, with some gorgeous Homes and Gardens. There are art galleries to visit, and you will pass Millbrook, the golfing estate where you can stop and enjoy the spa facilities and then cycle on to the beautiful Arrowtown with it's quaint shops and cafes.  When Jo and Lexie from the Queenstown branch cycled this trail they visited the Fork and Tap Garden Bar for lunch and the Patagonia a specialist chocolate shop, who also have 30 flavours of icecream on offer or if it's a little chilly, try one of their and hot chocolates.  Jo said it was a great way to inspire the kids for the cycle back.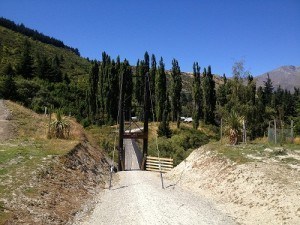 Cycles are available to hire in Queenstown or what is becoming quite popular are families or groups flying in with their own cycles and hiring a van and luggage trailer from Paul and Jo and spending the time cycling through the area, where they can go further afield and do the Otago Rail Trail,  head down towards the Fiords, doing some cycling in the Manapouri, Lake Te Anau area, or north around the Lake to Glenorchy.  The best thing about Queenstown is that everything is within close proximity, making it great for short or longer stays.
So what are you waiting for, get on your bike.