If you are looking for the best destination skiing in New Zealand then Queenstown is the place to be! Boasting a lengthy ski season that runs from June to early October, a variety of challenging terrain and world class infrastructure to match – it's easy to see why skiers and snowboarders from around the world choose Queenstown.
The 4 Best Ski Fields In Queenstown
There are four main ski fields near Queenstown, and a couple of other options for the more advanced skier wishing to experience the epic thrill of backcountry skiing in New Zealand. Queenstown ski passes range from half day, single day, and single ski area passes to season passes and multiday options allowing access to multiple Queenstown ski areas on the one pass.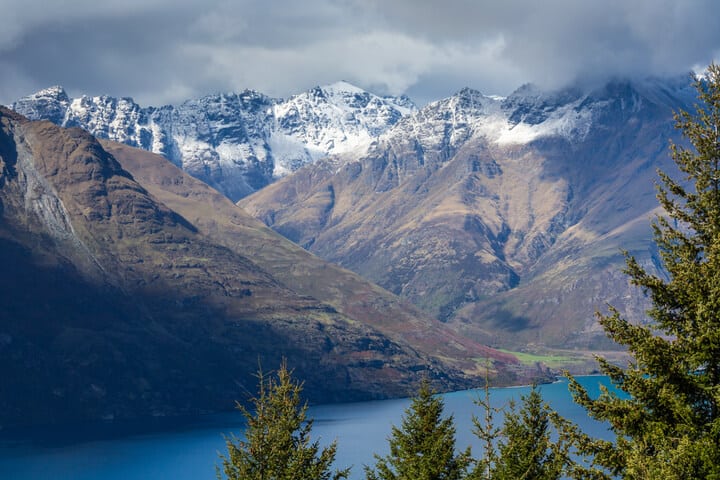 1. The Remarkables
The striking architectural Base Lodge sets the scene for The Remarkables skiing and snowboarding area with its prominent glass walls highlighting the snow clad beauty of the surrounding slopes. The Base Lodge conveniently houses the gear rental, cafés and lounge areas.
Highlights
Extensive learners area
Wide range of runs suitable for all abilities
Large number of terrain parks including the famous 'Burton Stash'
Good transport options from Queenstown
Kids under 5 get free lift passes
The massive learner's area is a huge drawcard at the Remarkables and comes complete with three dedicated surface conveyor lifts just for beginners, including the unique covered conveyor specifically designed for snow boarders and skiers. The ample wide open spaces and perfect pitch of the surrounding learners area allows beginners to gradually gain confidence without getting into any trouble.
Skiing not really your thing but want to take in the fantastic mountain views? Grab a Sightseeing Pass and ride to the top of the Shadow Basin chairlift. The Remarkables has some of the best views in the region and has a great middle-of-the-mountains feel about it.
Best For
First timers
Back country skiing
Freestyle tricks and stunts at any level
Sightseeing
Extras
Kids Club. Available for ages 5 – 17 years, the Remarkables ski field offers kids programs including lessons, rentals and lift pass concessions. Childcare programs from $146 to $190 for a full day.
Automated Storage Lockers. Overnight storage is an option when hiring gear on the mountain.
Snow Shop Onsite. The Remarkables retail shop stocks a good selection of ski and snowboard gear if you forgot something or need to upgrade your gear.
Getting There
Just a 45 minute drive from Queenstown (24km), the Remarkables is within easy reach for a day on the slopes. Drive yourself on up or you can catch a bus up from the Snow Centre on Duke Street in Central Queenstown.
The Remarkables Lift Pass Price Guide
Children's prices include the ages 6-17 years, all prices up to date as of May 2019.
Full Day passes $119 per adult, $57 per child
Half Day afternoon pass $90 for adults, children $45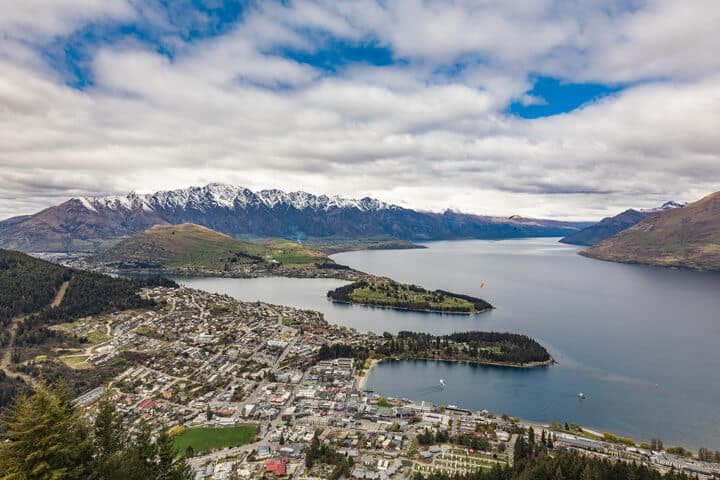 2. Coronet Peak
A good range of unrestricted runs set Coronet Peak apart, along with it being the closest and easiest ski field to get to from Queenstown. Coronet Peak is just 20 minutes' drive away and the access road is all sealed (a bonus for those who are driving rental cars).
Highlights
Night skiing
First Tracks early morning runs
Closest ski field to Queenstown
DJ's and entertainment on night Skiing days
Sealed access road
Hit the snow first with the Coronet Peak First Tracks pass (limited availability) and you can get up the mountain an hour before the crowds and enjoy carving your own tracks from the fresh snow. Or if you really aren't a morning person then give the Coronet Peak Night Skiing a go.
Every Wednesday, Friday and Saturday (weather permitting) during July and August you can head up the mountain when everyone is usually heading home and take on the trails at night (4 – 9pm). The best of the trails are lit up like its Christmas with some darker spots adding to the thrill. If you are a confident skier night skiing is really one to chuck on the bucket list.
Best For
Night Skiing (Coronet Peak is the only ski resort in Queenstown offering night skiing)
Intermediate to advanced skiers
Vehicles without 4WD
Extras
Excellent Snow Making Facilities. Coronet Peak has 15 fully automated snow guns, supplied with water from 4 pump-houses capable of flowing 330 litres per second. 80% of the water used is reused making Coronet Peak the "biggest automated system in the southern hemisphere".
Childcare. On-mountain childcare is available for children from 3 months to 5 years of age. Childcare programs range from $97 up to $169 for a full day
Shuttle Bus. Access via shuttle bus is a good option if you don't wish to drive up the access road, prices start from $25 per person, hotel pickup is available on request.
Getting There
Coronet Peak is just 20 minutes' drive from Queenstown, and the road is sealed all the way. This means those of you without 4WD vehicles are able to make it to the top. Snow chains may still be required. Travelling along the Gorge Road can be treacherous in winter, check road conditions before setting out.
Coronet Peak Lift Pass Guide
Childrens prices include the ages 6-17 years, all prices listed are up to date as of May 2019.
Full Day $119 per adult, $57 per child
Half Day afternoon pass $90 per adult, children $45
Night Skiing $62 per adult, $40 per child
First Tracks pass adds $37 onto the regular Full Day lift pass (To Be Confirmed)
3. Cardrona Alpine Resort
You can't really talk about Cardrona without mentioning the olympic sized 'Superpipe'. Plenty of the world's best have made use of the towering halfpipe – the same size as those ridden by the pros in the events such as the Winter Olympics and X Games.
Highlights
The Olympic Superpipe with its 22 foot high walls, 160 metres long and 21 metre wide!
The International Halfpipe (12-14ft walls, 130 metres long and 16 metres wide)
More challenging runs for advanced skiers
The Chondola – ride to the top in comfort and style!
Cardrona is in fact the place to be for extensive park and pipe facilities, and is in fact the largest of its kind in the Southern Hemisphere. With four separate terrain parks all designed to accommodate different abilities and strengths along with the 22 foot walls of the Olympic Superpipe and the International Halfpipe it is easy to see why.
Servicing its slopes Cardrona has an extensive list of ascension devices including the 'Chondola" – a cross between a chairlift and a gondola this lift provides the comfort of closed in comfort and speedy access right of the top of the ski field.
Best For
Back country skiing and snow boarding
Expert skiers
Freestylers on the terrain parks and halfpipes
Those with young children needing childcare while on the slopes
Extras
Fully Licenced Childcare Facilities. Catering for children aged 3 moths to 5 years. Includes the awesome Ski Kindy service for 2 – 5 year olds where they can have their very own ski lesson! Childcare programs from $146 to $190 for a full day.
Short And Longer Term Storage Lockers. $10 per day for short term, $40 to $50 for the larger longer term lockers.
Shuttle Bus Services. These are available both from Queenstown and Wanaka, you are looking at around $55 per person return from Queenstown and $35 from Wanaka.
On Mountain Accommodation. Stay up on the mountain in one of Cardrona's fifteen self-catering Alpine Apartments, just a minutes' walk from the lifts. Choose from studio, two, three and four bedroom options.
Snow Chain Hire. Pick up snow chains at $30 for 2WD cars and $40 for 4WD's.
Getting There
At just over and hour's drive from Queenstown, Cardrona is one a bit more of a drive than some of the others but it's well worth the effort! The access road is unsealed and requires careful navigation; snow chains will be required on most days. There are several shuttle services available if you do not wish to drive.
4WD vehicles are the preferred option when tackling the Cardrona access road, see here for more information on hiring a 4WD in New Zealand.
Cardrona Lift Pass Price Guide
Children's prices include the ages 6-17 years, all prices are up to date as at May 2019.
Full Day passes $115 per adult, $60 per child
Half Day pass $80 for adults, children $50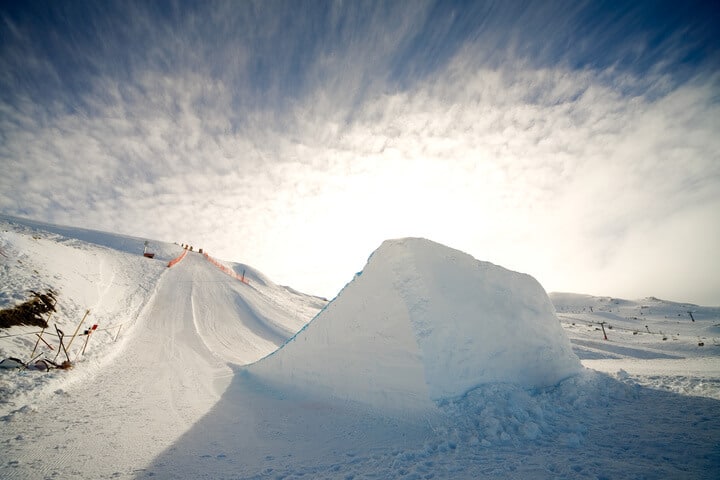 4. Treble Cone
The largest ski area in Queenstown, Treble Cone is a bit further afield but it's worth it for the absolutely beautiful mountain views alone. Find Treble Cone roughly 1.5 hours' drive from Queenstown and you will be rewarded with intensely long runs covering a 700 metre drop zone along with challenging terrain.
Highlights
Stunning views!
Rugged back country vibe
Watching the sunrise over Lake Wanaka
Large ski fields catering for all levels
Expert skiers and boarders seek out the untouched snow at the limits of the ski field known as the Motatapu Chutes – some of the best snow in the South island. There are also beginner and intermediate runs if you aren't quite the expert skier just yet.
Getting the kids a lesson at Treble Cone is also a great idea, class sizes max out at 5 children meaning more one on one time for the kids and a more tailored approach to learning to ski. The same goes for adults if you are in need of a refresh or haven't skied or snowboarded before.
Best For
Expert level skier and boarders
Legendary off-piste terrain
Long uninterrupted runs (the longest is 4km)
Extras
Back Country Lift Passes. Only available on the day from the on-mountain sales office, $50.
The Food. There are five eateries located throughout the ski area so you can stop for a break on the mountain, no need to return to Base.
Free Ski Helmets For Kids. Treble Cone offers free helmets with all kids ski or snowboard hire on the mountain.
Instructor Training. Treble Cone runs their very own Rookie Academy – producing some of the best instructors in New Zealand. Courses include accommodation, transport, lift passes and training.
Getting There
Treble Cone is roughly an hour and a half from Queenstown, but only 25 minutes from Wanaka, so not too bad if you stop for an early breakfast in Wanaka before heading up the slopes. The Wanaka Mount Aspiring Road is fairly steep in places and is a gravel road.
Treble Cone Lift Pass Price Guide
Children's prices include the ages 6-17 years, all prices are up to date as at May 2019. Lift passes include a free ride on the Express Bus from Wanaka and/or free access road shuttle.
Full Day passes $149 per adult, $75 per child
Multiday passes are available for discounted rates see website for more information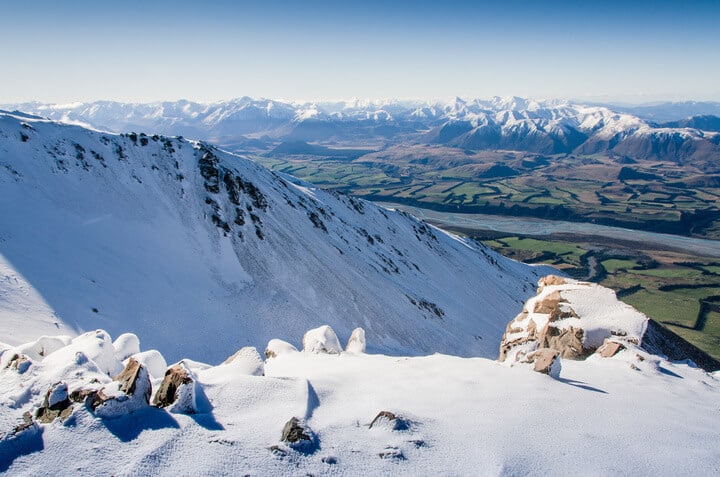 Soho Basin – The Next Level
If you are a seasoned skier or snow boarder and you are looking for something a little off-the-beaten-track then the private ski field Soho Basin is where you want to be. This unspoiled snowy playground is back-country like you only dream of.
264 hectares of high-country terrain is available just for you – skip the cues and the crowds and travel up the slopes in style with the specialised Snowcat transporters. This personalised service includes a maximum of 24 people on the mountain, three course lunch and on-hand advice from your guides for the best snow and best terrain.
Soho Basin is just a 60 minute drive from Queenstown, the terrain is suited to intermediate to advanced levels, with prices starting at $785 per person per day.
Save Money On Gear Hire In Queenstown
While the convenience of hiring your gear on the mountain is great you can save some money by hiring elsewhere check out our quick price guide for hiring skis and snowboards in Queenstown.
Coronet Peak ski/Snowboard hire and boots $48 for adults, $37 for children
The Remarkables ski/Snowboard and boots hire $48 for adults, $37 per child
Cardrona ski/Snowboard and boots hire $50 for adults, $44 per child
Treble Cone ski/Snowboard and boots hire $59 for adults, $49 per child
Renting your gear from Queenstown can save you money, there are multiple stores offering good rates for renting your gear if you don't mind having to take it with you up the mountain.
Many of these stores offer varying rates for multi day rentals, children's rates and the option to hire clothing and helmets etc. Look out for group discounts and special pre-season deals.
Ski Field Car Access In Queenstown
Some people may be a little nervous about driving up to the ski fields; however it is usually fairly straight forward so long as the visibility is reasonable.
It is important to always carry snow chains with you and drive cautiously no matter what the conditions. Keep in mind it does pay to have a trial run of fitting snow chains particularly in an unfamiliar vehicle – you never know when you will need them!
Guide To Queenstown Ski Field Access
If you are wondering what to expect when driving up to the snow, here is a simple guide to vehicle access to the ski fields in Queenstown.
When it comes to Queenstown ski field car access, it always pays to check the latest ski report. Aim to arrive early on the ski field, and leave while visibility is still good, driving is much harder when the mountains are covered by low cloud or it's snowing.
Need transport while skiing in Queenstown? NZ Rent A Car  are offering FREE ski racks for all 4WD vehicles (excludes minibuses), booked between 15th June 2019 and 31st August 2019.