During April this year from the 3rd to the 7th the annual Balloons over Waikato Festival is being held. This is an annual event where balloonists travel from all over NZ and the world to attend. A visual symphony, airborne, to be seen through the crisp Autumn air.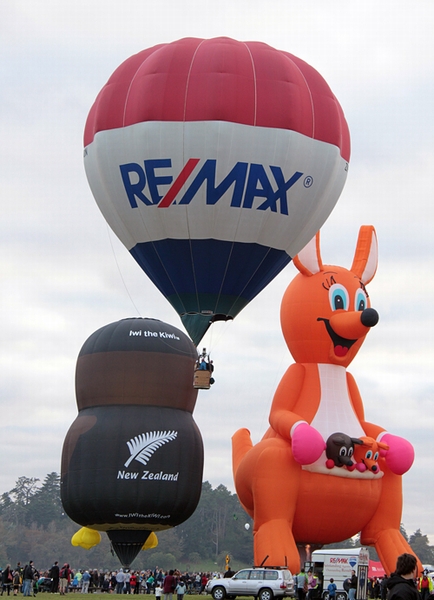 Balloons of all shapes and sizes take to the skies, lifting off in the light of dawn, or lighting up in the evening. The finale event is held on the Saturday evening, with live entertainment beginning from 4.00 pm and finishing with the Balloons lighting up at around 7.45 accompanied by what they call inflation music, followed by a spectacular lantern lift, and then fireworks.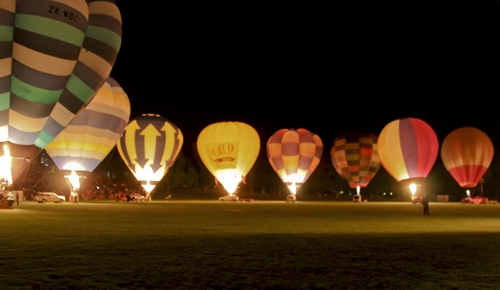 While in the Waikato for your stay visit a few of their other attractions, kayak down the Waikato River, visit the beautiful Hamilton Gardens, or take a drive through the rolling farmland to Matamata, known as Middle Earth and visit Hobbiton. If you have young children the zoo is a great place to go, and when my kids where little they loved visiting the Hamilton Lake and feeding the ducks. On the main highway north is the great shopping hub – The Base which has shops of every kind and the movies, leave the older kids at the movies and have some time out shopping
The NZ Rent a Car branch in Hamilton has all manner of vehicles for you to travel in or on.
Hire a motorbike for a blast through the countryside. The Hamilton Branch has motorbikes for hire but are not listed on the booking site so make an enquiry. Head down South and visit the Waitomo Caves and Kiwi House and Native Bird Park in Otorohanga.
The Waikato is a great part of New Zealand to explore. It is not the usual beaches and mountains, you get a whole different type of holiday which any age can enjoy