Whangarei is the northernmost city in New Zealand and the regional capital of the Northland region. The city began its settlement on the south bank of the Hatea River, around a natural port Ahipupu, known today as the Town Basin. Blessed with abundant scenery of the aquatic persuasion, the area boasts a number of beaches, pristine harbours and off-shore islands.
Whangarei is an excellent base from which to explore Northland. Hit the road to experience some of these great attractions or head further a field on a road trip.
Whangarei Attractions
Located to the northeast of the city centre, Mount Parihaka rises 241 metres, offering spectacular panoramic views of Whangarei. Nearby Whangarei Falls, known as the most photogenic waterfall in New Zealand, drops 25 metres into a beautiful bush-fringed pool, a must-see for anyone visiting the area.
Head to the Quayside at Town Basin in the heart of Whangarei for specialty shops, cafes and restaurants. Nature lovers should include a trip to Limestone Island which is located in the harbour close to Whangarei city and accessed by an enjoyable boat ride.
To the south of the city is the Brynderwyn Range, one of the prominent geographical features between Whangarei and Auckland, offering breathtaking views and an excellent tramping track.
Whangarei Road Trips
About 30 minutes drive from Whangarei is Tutukaka Coast, where you can enjoy diving at the world-renowned Poor Knights Marine Reserve at the twin wrecks of Tui and Waikato. If you prefer, you can take a snorkeling trip at the Poor Knights Islands or stay on terra firma to walk along the surrounding beautiful beaches.
From Tutukaka you may like to head to Paihia in the Bay of Islands which is approximately one hour and 15 minutes drive. There you can take a cruise or a fast jetboat ride out on The Bay to the Hole in the Rock or take some time to explore New Zealand's first capital, romantic Russell.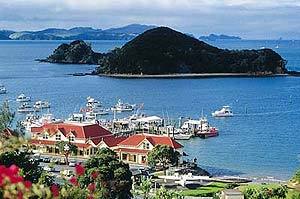 Spend a day visiting Kerikeri which is home to several wineries, a gourmet chocolate kitchen and an abundance of art and craft galleries. Visit the Waitangi Treaty Grounds where the Treaty of Waitangi was signed. Then take a tour and view the magnificent Maori war canoe, enjoy sailing or kayaking amongst the mangroves, or if you like adventure go parasailing.
Drive another 1 hour and 30 minutes to Doubtless Bay where you will encounter more than 70km of unspoilt coastline and beautiful beaches. Here you can dive the wreck of the Rainbow Warrior and explore the nearby bays. Keep heading north and spend time at Houhora, Ahipara and Ninety Mile Beach and taste some wine from New Zealand's most northern vineyards.
Another destination to consider is Hokianga where you can explore the townships of Kohukohu and Rawene connected by vehicle ferry across the upper Hokianga Harbour and take a visit to Waipoua Forest to view the ancient and magnificent kauri trees, including Tane Mahuta, New Zealand's largest known living kauri tree.
Whangarei Travel
Getting around Whangarei is easy with a rental car and there are plenty of options for you to choose from.
New Zealand Rent A Car has car rental locations throughout New Zealand and the North Island, including a handy Whangarei car rental depot, offering a wide range of reliable affordable rental cars to suit all budgets.