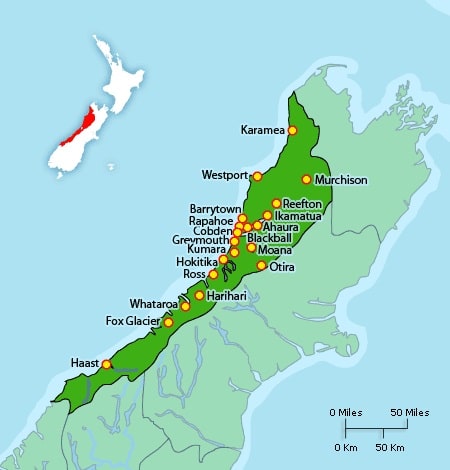 The West Coast is a remote, sparsely populated column of land in New Zealand's South Island, separated from the relative bustle of Canterbury by the Southern Alps. Facing a spectacular but intolerant Tasman Sea, the region was built on blue collar industrialism: mining, forestry, farming and fishing. The 20th century was tough on these trades, and following decades of steady decline the area was forced to re-invent itself. As with the resource-driven businesses of yore, the West Coast has found that the secret to a new success is their own environment.
Getting There
Access to the West Coast was not always easy. The southern alps were considered an insurmountable barrier a hundred and fifty years ago. Approaches from the east were for well-provisioned explorers only, and settlers mostly arrived by boat. Nowadays we have three major roads through the mountains, or you can take a rail journey rated as one of the finest in the world.
State Highway 6: This highway runs the full length of the South Island. Hitting the trail near Picton, or from Nelson, SH6 will take you through the heart of the West Coast region, through Greymouth and Hokitika, past Franz Josef and Fox Glaciers, down to Wanaka, Queenstown and finally the southern tip of the mainland: Bluff. A road trip like no other!
Arthur's Pass: SH73 from Christchurch is the highest of only three roads to cross the Southern Alps, and it intersects with SH6 in between Greymouth and Hokitika. It is the most direct approach from Christchurch, and takes about 3 hours to drive.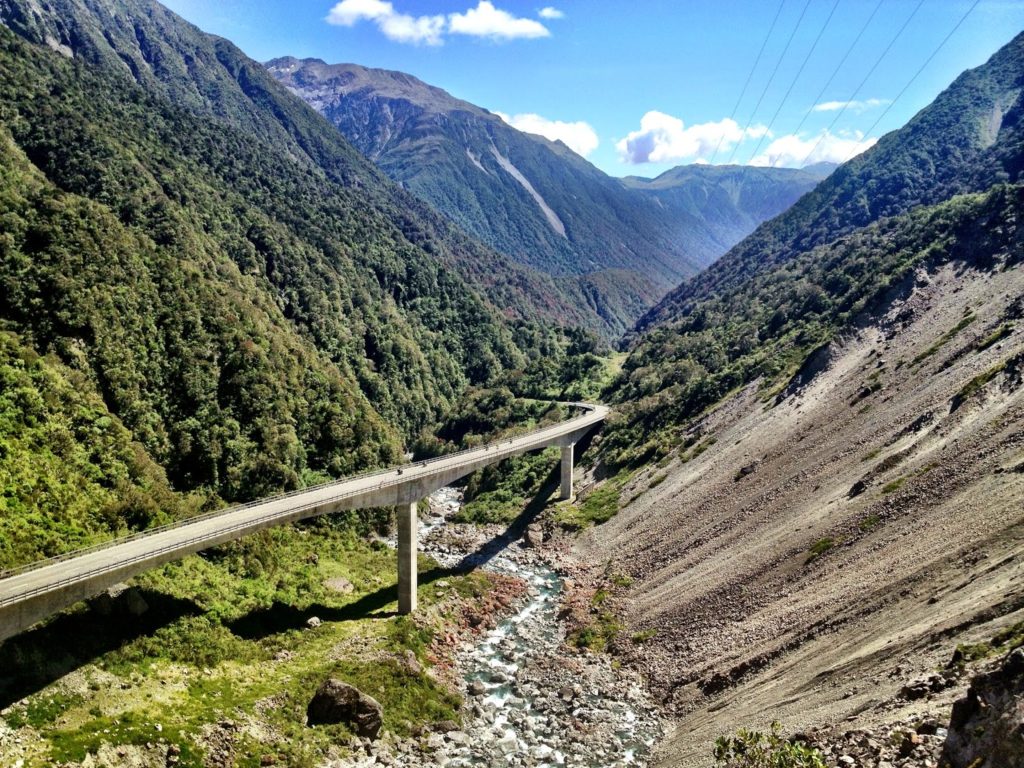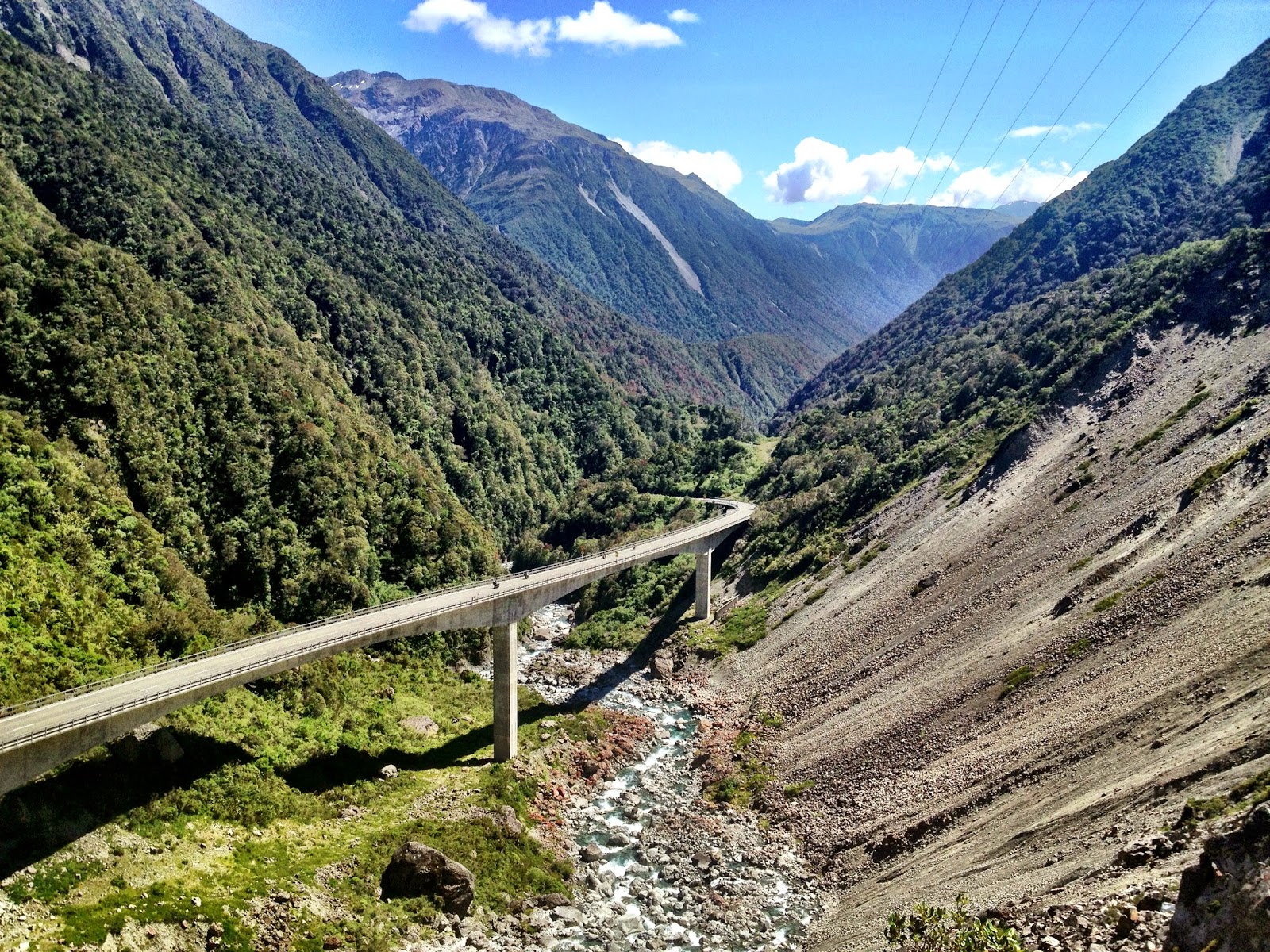 Lewis Pass: Take SH1 from Christchurch to Waipara, SH7 will take you in a northerly loop over the mountains and back down to Greymouth. You will pass unmolested forests of beech, and you might like to pause for the St James Walkway, or the shorter Alpine Nature Walk, then some well-earned R&R at Maruia Hot Springs.
Haast Pass: is the most southern of the three alpine routes, and only fully tarmac'd in 1995. If you are travelling up from Queenstown this will take you through the beech forests of Mt Aspiring National Park, and across to Haast township, placing you well south (about 4 hours drive) of Greymouth.
The TranzAlpine: Not much more needs to be said about this iconic rail journey that we didn't say in last month's feature. Avoid the likelihood of serious harm gawping at breathtaking scenery while driving unfamiliar roads, relax aboard the TranzAlpine and devote all your energy to the licensed cafe and your amateur photography. Here's a bit of insider info: our Greymouth branch often have cars needing relocation from Christchurch, so you may be able to score a very special deal on a rental car from Christchurch to Greymouth, then ride the TranzAlpine back. It's an opportunity that really shouldn't be sneezed at. You can contact Greymouth branch here, and book your train tickets here.
Hokitika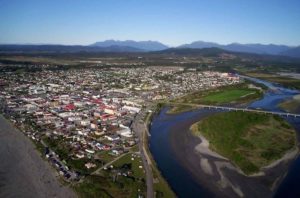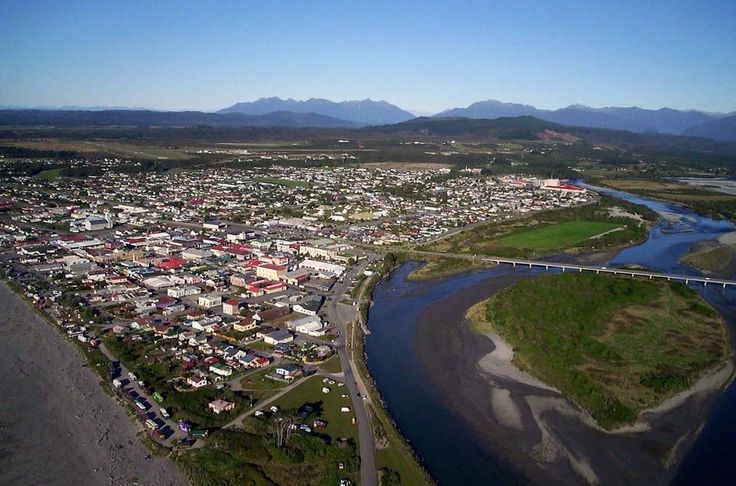 Hokitika is a minor town on the South Island's west coast. Founded during the gold rush of 1864 it experienced an explosion of growth, immediately becoming the west coast's main port of entry. Ships jostled three or four abreast at hurriedly manufactured docks on the Hokitika River. The harbour entrance itself was lethal – 32 ships were wrecked in the period of 1865-67 alone – but the warm magnetism of gold drew plenty more, and Hokitika briefly eclipsed Auckland as NZ's busiest port.
The gold didn't last, however, and neither did Hokitika's boom. Thousands moved on, and locals who were tied to the area got by in less glamorous industrial strains, such as logging millions of cubic feet of timber from the surrounding forests at an unsustainable rate. Railroads came, then better roads, and the temporary colossus of Hokitika port fell into disuse. Forestry dwindled over the decades as the trees simply ran out, and by the mid 20th century Hokitika's biggest employer was the Seaview Lunatic Asylum. In the 1990's that closed down too.
From the ashes of a long commercial tailspin Hokitika seems to be rising, though, and there is much to see in the area.

Greenstone: Long before the discovery of gold, Maori found pounamu (known to Europeans as greenstone) on the banks of the Arahura River and carved it into jewellery, tools and weapons. This west coast specialty of greenstone carving is still a thriving trade, with uniformly coloured trinkets shipped out to jewellers and souvenir shops around the country. Traditionally, Maori considered it bad luck to buy it for yourself, so it makes a perfect gift or souvenir. Hokitika has the ultimate selection, with shops like Mountain Jade, Traditional Jade, and Westland Greenstone dealing in a huge range of designs. You can even hunt for your own raw pieces on Hokitika Beach, a pastime completely unique to this region.
Socks: Also unique to Hokitika, at least I would imagine so, is Sock World, the "world's greatest sock store". I'm not sure if this is supposed to be taken literally, I suspect this is more a Kiwi curiosity than elite bespoke hosiery. What you won't find in the high street retailers of London, Paris or Milan, is Sock World's sideline: a museum of antique sock-knitting machines from around the world. Like I said, unique.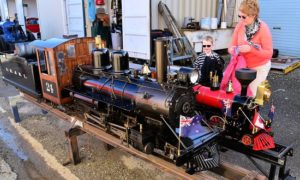 Machines: With your thirst for mechanical curiosities now inflamed by the sock weaving contraptions of yesteryear, proceed directly to the Westland Industrial Heritage Park. Miniature trains, tractors and stationary machines, it's a great diversion for kids and those interested in technological history. Beware the very limited opening hours, though.
Walks and Wildlife: Hokitika is a fairly remote location in the South Island, and so great scenery is a given and it's hard to know where to start. The Hokitika Gorge and the Lake Kaniere Scenic Reserves are two beautiful spots to take a stroll or just have a picnic.
Greymouth
30 minutes north of Hokitika on SH6 is Greymouth. It is situated, oddly enough, at the mouth of the Grey River (named after a politician not the colour), a broad 120 kilometre alpine drainpipe into the Tasman Sea. The river entrance is one of New Zealand's most notorious shipping hazards, with two sandbars and unpredictable, sometimes deadly changes in sea conditions. In the early days of sail this was a true game of maritime roulette, and boats would occasionally be forced to spend days offshore waiting for weather calm enough for a sweaty-palmed run into the harbour. Greymouth was considered to be a risk worth taking, though. Coal, and then gold, was discovered in the Grey District in the 1860's, and attracted a population and bustling industry almost overnight. To bring the workers in and the raw materials out, Greymouth's treacherous harbour was, and is, a necessary evil.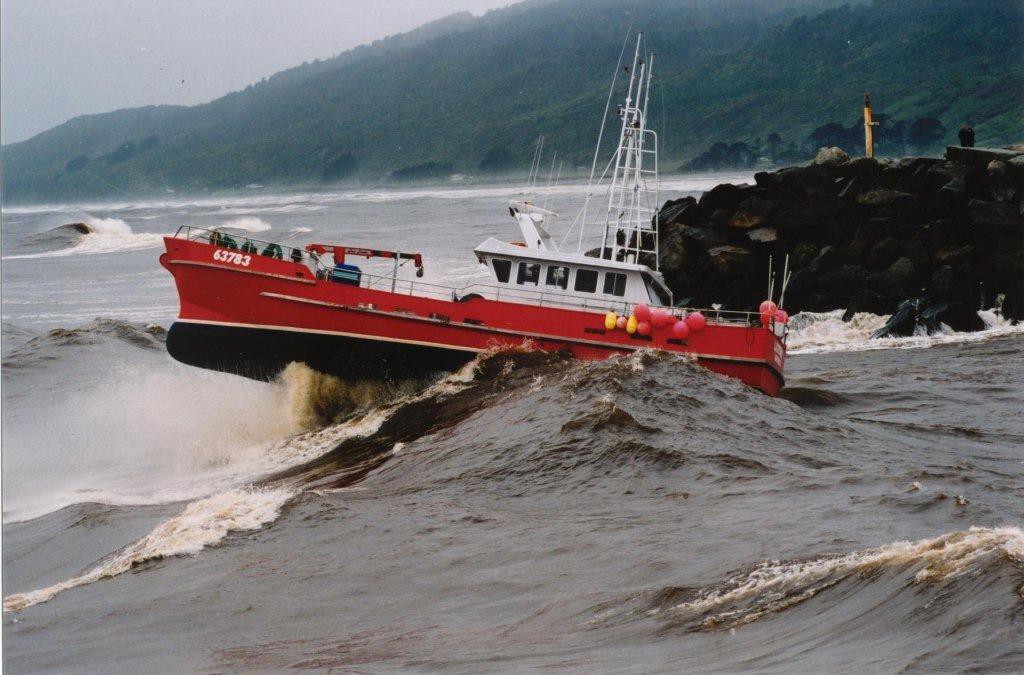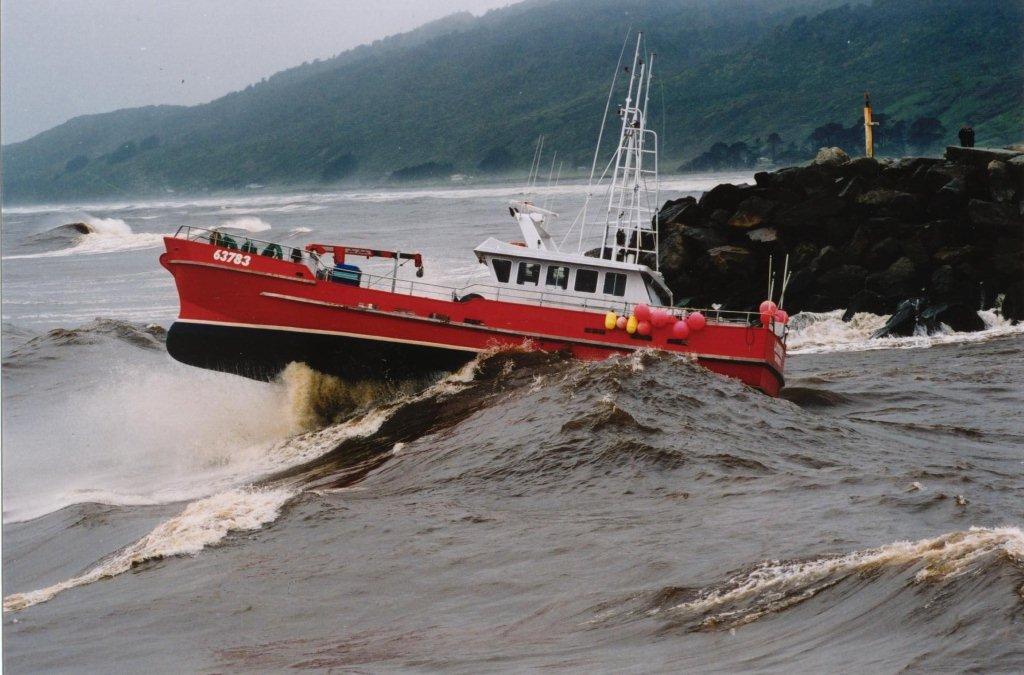 Today, Greymouth is the commercial capital of the West Coast, and like Hokitika it has found a niche in New Zealand's tourism market with an isolated, raw patina that can't be found anywhere else. Some of Greymouth's popular drawcards:
Shantytown Heritage Park to the south of Greymouth is a recreated gold rush town which pays tribute to West Coast heritage with a museum, sawmill, gold panning and a steam train. A great local education and ideal if you're travelling with children. See their website.
More Greenstone: Greymouth is also a rich source of greenstone, and it is sold in shops, galleries, or even private artist's studios. Worth checking out if you're hunting for truly exclusive souvenirs are Shades of Jade, and Garth Wilson Jade.
Beer: A family business since 1868, Monteiths Brewery was eventually sold to giants DB Breweries but still continues to brew in Greymouth (among other places). You can book tours of this fine establishment here (website requires that you be over 18).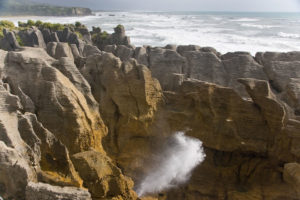 Rocks: Millions of years of wind, rain, and wave action has sculpted these famous limestone rocks at Punakaiki into formations resembling stacks of pancakes. Some extraordinary coastal sight-seeing, but do keep an eye on the kids! As always, the Department of Conservation website has the lowdown on the Punakaiki Pancake Rocks.
Walks & Wildlife: North of Greymouth, the Point Elizabeth Walkway follows an old water race chiseled out of the landscape by gold miners in the 1860's to sluice their findings. It winds along coastal clifftops to the forests of Rapahoe Scenic Reserve, home to abundant birdlife. The Woods Creek Walk takes you through tunnels used by early miners, great historical value but be sure to bring a torch! For cyclists, there is the West Coast Wilderness trail. Pedaling south from Greymouth you soon veer inland to the intriguing Cowboy Paradise, where you can "be a cowboy or cowgirl for the day". The trail continues back out to Hokitika and as far south as Ross.