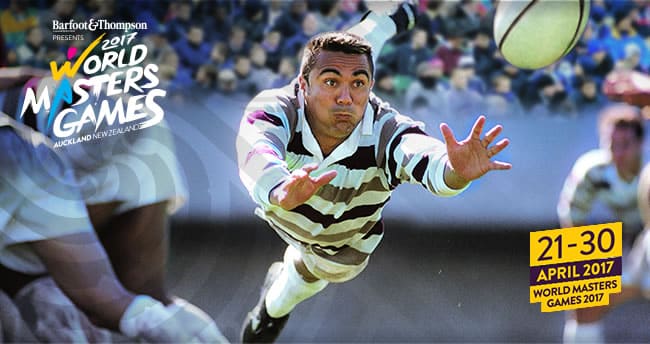 The World Masters Games is one of New Zealand's biggest sporting/tourism events of 2017 and the largest multi-sport event in the world, yet many Kiwi's still draw a blank if you mention it. Our neophyte's introduction gives them the lowdown on the whats, wheres, whens and whos of this massive occasion.
What?
The World Masters Games is a four-yearly event which was first held in Toronto, Canada in 1985, and most recently Torino, Italy in 2013. It's purpose is to encourage the celebration of sport and fitness throughout life, and to promote international friendship and understanding. In this spirit the contests take place "between mature sports people regardless of age, gender, race, religion, or sport status", according to the WMG website. 28 sports and 45 disciplines are on the program.
Where?
Then 9th World Masters Games will be held in Auckland, New Zealand. Venues are in the greater Auckland area, with cycling and rowing events also held in Hamilton and Cambridge. The Entertainment Hub for the games will be on Queens Wharf, downtown Auckland.
When?
This year's games will be held from April 22nd to 30th, bookended by an opening ceremony at Eden Park on the evening of the 21st, and a closing ceremony at the Queens Wharf Entertainment Hub on the evening of the 30th.
Who?
Unlike the Olympics, there is no selection process as entrants are competing for themselves and not representing their country. The only entry restriction, in keeping with the "fitness throughout life" ethos, is a minimum age requirement which differs for each sport. An estimated 25,000 competitors will take part, and these include 25% from Auckland, 25% from the rest of NZ, 25% from Australia, and 25% from the rest of the world. 
Considering that most will be accompanied by supporters and families the boost to Auckland's tourism, especially during what is traditionally thought of as a shoulder season, will be huge. The rest of the country should see a positive impact in May as many visitors are expected to stay on for a few days or weeks of sight-seeing.
Visiting Auckland in April?
With so many visitors expected for the games, the mantra for anyone needing flights, accommodation, rental cars or minibuses is BOOK EARLY! This is critical in Auckland, but will no doubt affect other areas in the weeks following the games. 
At NZ Rent a Car we would like to wish all participating "mature sports people" well for the upcoming contests. For more information head over to the Word Masters Games 2017 website.