Picton Rental Car Activities
Picton Township
Explore the top tourist attractions and activities in Picton by rental car and set your own sightseeing timetable.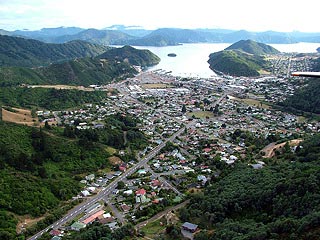 Aerial view of Picton looking out to the Marlborough Sounds
Picton is both the gateway to the Marlborough Sounds and an interesting tourist destination in itself. With so many local beaches and bays to explore, as well as a busy township and a ferry terminal connecting with Wellington, it's an excellent destination for local and international holiday makers, and well worth using a rental car to see all of it.
Picton Travel
Need transportation to make the most of the area? View our full range of affordable Picton rental cars and explore the best of Picton at your own pace.
Check out our blog for more New Zealand travel and holiday advice.
Back to Picton Photograph Gallery
Explore Picton at your leisure in an affordable rental car from NZ Rent A Car.