FIFA Fever
Tuesday, April 21st, 2015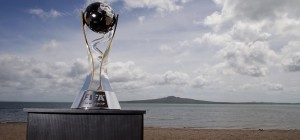 Football fever (and let's make it clear that I'm referring to soccer) is a disease less widespread in New Zealand than many other parts of the world. We always have identified ourselves as a rugby nation, although due to the physical demands of that game the number of New Zealanders who actually play it is fairly small. Nonetheless football fever in the European tradition will be upon us in just a few weeks, when 24 young teams will compete for the FIFA Under 20 World Cup, and supporters from 24 nations come to see what New Zealand has to offer.
In winter.
FIFA (Federation Internationale de Football Association) have promoted and overseen international soccer for more than a century, and the game is of course big, big business. From their headquarters in Zurich, their global operation nets them tens of millions a year, and yet their slogan "For the game. For the world." omits the most obvious motivation: "For the money". Perhaps some charity foundation already has a copyright on that.
Between May 30 and June 20 fifty-two matches will be held at seven stadiums around New Zealand – in Auckland, Wellington, Christchurch, New Plymouth, Whangarei, Dunedin and Hamilton. Interestingly, in several cases these venues have been renamed for these events, as FIFA have a policy against stadiums bearing the names of non-FIFA sponsors. If I had spent large sums of money sponsoring a stadium only to have my branding removed during an international event I'd be miffed, but these matters are clearly outside the scope of this article. More relevant to visitors is that when asking a local for directions they likely won't have heard of the new name! We have chosen to mention the more widely used names in brackets. Let's take a look at those venues, and their tournament schedules.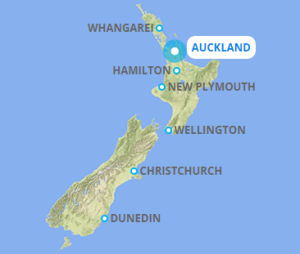 AUCKLAND, North Harbour Stadium (QBE Stadium)
A prime place to set up camp if you are visiting New Zealand for the World Cup. It is after all New Zealand's largest city, and so has the broadest range of accommodations, rental cars, and other basic necessities. North Harbour Stadium is over the harbour bridge on Auckland's busy North Shore, and Hamilton and Whangerei are within easy driving distance, so that's three of the seven venues within a 160km radius. North Harbour Stadium will also host the final match (and hundreds of after-parties) on June 20. The nine games that will be played here are:
May 30, 1pm New Zealand/Ukraine
June 2, 7pm New Zealand/USA
June 5, 4pm Panama/Ghana
June 5, 7pm Ukraine/USA
June 10, 7.30pm Round of Sixteen
June 14, 4.30pm Quarter-Final
June 17, 7.30pm Semi-Final
June 20, 1.30pm Third Place Match
June 20, 5pm Final
WHANGAREI, Northland Events Centre (Toll Stadium)
The Northernmost venue of the seven chosen, the old Okara Park Stadium recently had a $18.5m rebuild, with new grandstands and conference facilities opening, not coincidentally, one year before the 2011 Rugby World Cup. Whangarei is the gateway to New Zealand's beautiful north country, and if you stay here then places like the Bay of Islands, or the Kawakawa Vintage Steam Railway are easy day trips. Staying in Whangarei places you on hand for the four games scheduled, but it may also be a smart, peaceful alternative to staying in Auckland, as North Harbour Stadium is less than two hours drive south.
May 30, 4pm USA/Mayanmar
June 2, 1pm Mayanmar/Ukraine
June 7, 2pm Uzbekistan/Fiji
June 11, 4pm Round of Sixteen
WELLINGTON, Wellington Regional Stadium (Westpac Stadium)
New Zealand's capital city, and major cultural and artistic hub, will host nine matches in the stadium known informally as the "cake tin".
May 30, 4pm Argentina/Panama
May 30, 7pm Ghana/Austria
June 2, 4pm Austria/Panama
June 2, 7pm Argentina/Ghana
June 5, 4pm Austria/Argentina
June 5, 7pm Myanmar/New Zealand
June 10, 4pm Round of Sixteen
June 10, 7.30pm Round of Sixteen
June 14, 4.30pm Quarter-Final
HAMILTON, Waikato Stadium
Hosting eight games, Hamilton, in the Waikato Region, is little more than an hour from Auckland by car.
May 31, 1pm Qatar/Colombia
May 31, 4pm Portugal/Senegal
June 3, 4pm Qatar/Portugal
June 3, 7pm Senegal/Colombia
June 6, 1pm Senegal/Qatar
June 6, 4pm Mali/Uruguay
June 11, 7.30pm Round of Sixteen
June 14, 1pm Quarter-Final
DUNEDIN, Otago Stadium (Forsyth Barr Stadium)
The tournament's southernmost stop, and therefore probably the coldest! However these things are relative, and temperatures in June are usually in the 7 – 13 degree band. A beautiful and very historic city founded on Otago Harbour. Be sure to visit nearby Port Chalmers when you're in town, too. Forsyth Barr Stadium is being renamed for these seven games, for reasons mentioned above.
May 31, 1pm Mexico/Mali
May 31, 4pm Uruguay/Serbia
June 3, 4pm Mexico/Uruguay
June 3, 7pm Mexico/Mali
June 6, 1pm Colombia/Portugal
June 6, 4pm Serbia/Mexico
June 10, 4pm Round of Sixteen
NEW PLYMOUTH, Stadium Taranaki
On the west coast of the North Island, New Plymouth is host to six matches. The town is, at its heart, a service centre for the surrounding Taranaki countryside industries of farming, and oil and natural gas exploration. However, standout features are the botanical gardens at Pukekura Park, and the 11km Coastal Walkway alongside the Tasman Ocean. This could be a bracing experience in June, but definitely worth a look!
June 1, 1pm Nigeria/Brazil
June 1, 4pm North Korea/Hungary
June 4, 4pm Nigeria/North Korea
June 4, 7pm Hungary/Brazil
June 7, 5pm Hungary/Nigeria
June 11, 7.30pm Round of Sixteen
CHRISTCHURCH, Christchurch Stadium (AMI Stadium)
The old Rugby League Park was damaged during the February 2011 earthquakes, and shortly after the grandstands were demolished and rebuilt. It remained closed for one year but re-opened three years ago as AMI Stadium. Christchurch may be the perfect place to start your winter holiday if the ski fields at Mt Hutt or Queenstown open in (fingers crossed) mid-June. Dunedin is a four-and-a-half hour drive south, if you are determined to see any of those games.
June 1, 1pm Germany/Fiji
June 1, 4pm Uzbekistan, Honduras
June 4, 4pm Honduras/Fiji
June 4, 7pm Germany/ Uzbekistan
June 7, 2pm Honduras/Germany
June 7, 5pm Brazil/North Korea
June 11, 7.30pm Round of Sixteen
June 14, 1pm Quarter-Final
June 17, 4pm Semi-Final
New Zealand Rent a Car have a broad range of rental cars and minibuses available for the tournament period, and we have locations at six of the seven cities where games are hosted (sorry, New Plymouth). We offer special rates for longer term hires, and one-way rentals where possible. Contact us for a quote or more information.