If you're planning on travelling to New Zealand from overseas, one of the most important factors to consider when packing for your trip or holiday is what you can and cannot bring into the country. Biosecurity is very important in New Zealand as we depend heavily on our natural resources and we are a large agricultural producer and have gone to great lengths to prevent foreign organisms or disease entering and harming or destroying our country's wildlife, plant life, marine life and health of our people.
Travelling To New Zealand: What Not To Bring
It is advisable not to bring any food stuffs with you and this includes dairy products, honey products, meat and fish, fresh foods, anything not sealed in manufacturer's packaging or any plant material including seeds, cuttings, and bulbs. Also excluded from entry are some medicinal or natural health products, especially anything unpackaged or without a full list of ingredients. You may also need to be wary of materials made from certain types of material such as animal hide, bones or teeth etc.
If you are bringing outdoor equipment such as tramping boots, camping, fishing or diving gear, this also needs to be declared. It is also a good idea to make sure that your gear is clean, give it a good wash and clean off any debris, such as plant material or soil.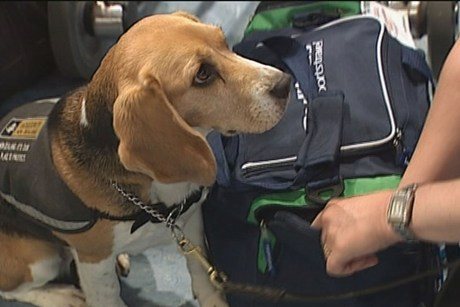 If you have brought any items with you that you are not sure about please declare them on the New Zealand Passenger Arrival Card which you are asked to fill out on the plane or before entering NZ. We have specially trained dogs at all our international airports to find food, animal, plant and drug products, and passengers may also be searched. Every baggage item is scanned by an x-ray machine upon arrival at the airport. Failure to disclose an item that is not allowed will attract a fine and may be confiscated and destroyed.
Any product from nature could be contaminated with either organisms that we do not have here or bacteria or viruses such as the foot and mouth that was detected in Britain. We do not have rabies which is common in a lot of countries and because of our isolation as an Island nation we do not wish to have any of these contaminants as we have no natural protection for them and it would put our export status and wildlife at risk.
Check this quick biosecurity guide that outlines what is not allowed to be brought into New Zealand.
You are also restricted in the amount of cash that you can bring into NZ with a limit of $10,000 NZ or the equivalent of, and there is a limit to the amount of alcohol, tobacco and duty free products you may bring. These items are also listed on the passenger arrival card for you to declare.
If you are in any doubt as to whether it is permissible to bring an item into New Zealand when you travel, you must declare this on your passenger card. There are also amnesty disposal bins and plenty of warning signs around our airports so you can always dispose of anything before entering the security area.
Most items that you will require while on holiday in New Zealand will be available here. If you do bring items that are suspect or could harbour hidden disease expect that your transit through the airport and the beginning of your Kiwi vacation will be delayed, so if in doubt leave it out.
New Zealand Travel & Transport
If you're looking for low cost transportation to take you around NZ, one of the best options is a hire car. Take a look at our large range of rental car options and convenient locations throughout New Zealand.
If you like this article or know anyone who is travelling to New Zealand soon, please feel free to share!