The public bar was once our home away from home.  You were guaranteed a comfy seat, familiar faces, hearty meals and a convivial atmosphere any night of the week.  Latterly, progress of a sort has threatened the survival of many pubs; drink-driving campaigns, the smoking ban, and distractions from the internet and social media have kept many regulars away.  On the bright side, it has meant publicans have had to up their game to stay in business, and as a result New Zealand is teeming with amazing establishments.  Boutique brewbars, historic haunts, and atmospheric alehouses; more than ever we are spoiled for choice. Maybe it's time we went back to the bars.
So in the spirit of Oktoberfest, here are some Kiwi pubs that represent the best of the old and new. This totally subjective selection was distilled, if you will, from a list of dozens of deserving contenders, so we'll admit right now that there are many, many others that could easily qualify. In descending geographical order, here we go:
The Leigh Sawmill Cafe, Leigh
This 19th century timber mill was a graveyard of industrial machinery and abandoned buildings when it was purchased in 1994.  After a period of renovation it was opened as the Leigh Sawmill Café, converting disused outbuildings into exclusive accommodation and installing their own micro brewery.  There's a garden bar with a rustic kids playground, not some plastic eyesore, and inside they make the most of their sawmilling heritage.  Known for its live music, fresh fish, and pizza, the Leigh Sawmill is a truly unique pub in a unique area (nearby Matakana has some real treats on offer these days).
More info on their website.
Hallertau, Riverhead, Auckland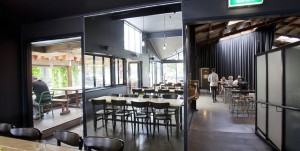 About 20 minutes north-west of Auckland, smack in the middle of Kumeu wine country, is this exceptional brewbar and restaurant.  Bring a sense of adventure as there are no mainstream beers on sale here, just Hallertau's talked-about in-house range, and local wines.  Our pick: Maximus Humulus Lupulus, a flavoursome pale ale with a long, bitter kick. Indoor-outdoor dining, kids playground, and rural surroundings make this an enticing alternative to Auckland's inner city pubs.  
See their website.
Galbraith's, Auckland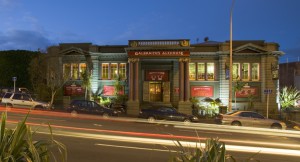 Speaking of inner city, it's been 20 years since Galbraith's opened in the old Grafton Library Building at the top of Mt Eden Rd. In that time it has earned a faithful patronage for doing just about everything right – service, atmosphere, food, location, and of course the beers. Keith Galbraith has made every effort to recreate old-world, traditional brewing techniques, to the extent of trying to match the mineral content of European waters, and the bar is a spacious English classic. Galbraith's now have 18 beers on tap, including several local "guests", and 80 in bottles. It may take a few visits…
Check out their website.
Te Puka Tavern, Tokomaru Bay, East Cape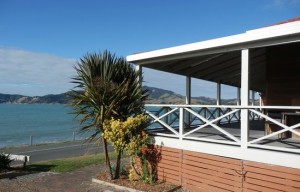 We wrote about the down-at-heel seaside town of Tokomaru Bay in a previous blog, Ruin With a View, but the Te Puka Tavern deserves a special mention of its own.  A century ago the area was a thriving ocean port, now a Four Square convenience store and the tavern are the only businesses of note remaining. In spite of this, the tavern gets consistently gushing reviews for its hospitality, classic pub meals, modern accommodation units, and even power supplies for motor homes. Relax with the brew of your choice on the wrap-around verandah, and stare out to sea.
Their website is here.
Whangamomona Hotel, Whangamomona
Halfway down the Forgotten World Highway (SH43), one of the most treacherous but scenic roads in the north island, is Whangamomona.  Or, to be precise, the Republic of Whangamonona – the residents declared independence in 1989 after a revision in district boundaries forced it out of Taranaki.  So, not only will this classic heartland pub sell you a drink, a room, and a meal, they will also sell you a passport to NZ's only republic. As remote as it is, there's lots to see and do around the area: Mt Damper Falls, ghost towns, and the amazing Forgotten World Railway.
View the website.
The Malthouse, Wellington
In the capital city of craft beers, The Malthouse has possibly the best beer selection in town, maybe in the country.  The bar staff are all beer geeks in their own right, and will help you navigate the seas of unfamiliar brands.  This bar is aimed at the true aficionado, and beer connoisseurs will not be disappointed. Their toilets even get a special mention, here.
 Go to themalthouse.co.nz
Mussel Inn, Onekaka, Golden Bay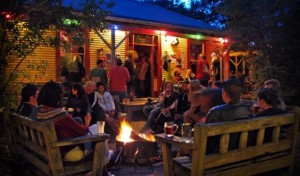 About 2 hours drive from Nelson is beautiful Golden Bay, and the Mussel Inn, a farmhouse-style pub with a wrap-around verandah. The focus here is on good food, drink, and converstation – no TV, no pool table, no pokies. Renowned for its seafood dishes, the Inn is a live music venue too (a bit like the Leigh Sawmill) and has hosted a long list of touring artists.  It's also worth noting that since the eruption of so many brewbars around New Zealand that, although it's not unusual for a pub to brew its own beer, the Mussel Inn seems to brew its own everything – beer, cider, lemonade, and ginger beer.  Tour Te Anaroa Caves, bush walk to the Wainui Falls, or see the beautiful Pupu Springs and make a day of it.
See the website.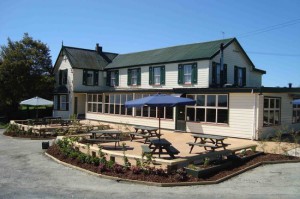 Moutere Inn, Upper Moutere
Established in 1850, the Moutere Inn is New Zealand's oldest pub to still operate in its original building. A craft beer pub since coming under sympathetic new ownership in 2008, the Inn specialises in a continually rotating range of beers and wines from around the Moutere area. Accommodation is basic, in keeping with the age of the building, but reasonably priced. A real piece of Kiwi history, done right.
Check out moutereinn.co.nz for details.
Theatre Royal Hotel, Kumara, West Coast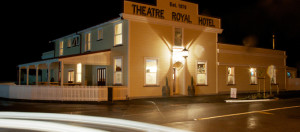 This historic hotel just south of Greymouth was derelict as recently as 2010. In the hands of visionary new owners it was awarded Best Redeveloped Accommodation in 2013, then Best Country Hotel in 2014 and 2015 by Hospitality NZ. The quality of the restoration is jaw dropping, in the accommodation especially.  West Coast beers on tap of course, and a good selection of wines and spirits. If you are traveling to Arthur's Pass or have arrived on the TranzAlpine rail crossing the Theatre Royal will be a memorable Victorian indulgence.
The website is here.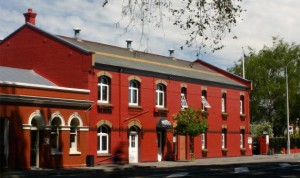 Pomeroy's Old Brewery Inn, Christchurch
Pom's, as the regulars know it, was named Best bar in Canterbury, by the Society Of Beer Advocates (SOBA) in 2014. They have 31 beers currently on tap, which is outstanding, but as with the best pubs its solid popularity is due to something more intangible than menus and drinks lists. Pomeroy's just seems to have everything: plenty of little nooks and crannies to tuck yourself into, live jazz, folk, blues, and acoustic music nights, brick walls, leather couches, a garden bar, and even a small library… perfection!
The website.
Cardrona Hotel, Wanaka, Otago
On the spectacular Crown Range Road between Queenstown and Wanaka is the Cardrona Hotel, perhaps New Zealand's most iconic pub. Established in Otago gold rush of 1863, it is said to be the most photographed pub in New Zealand, and achieved national fame in a series of Speights beer commercials. While most Kiwi's will recognise the historic façade, they may not have imagined that the Cardrona offers fairly modern hotel rooms, a quality restaurant, and even a playground. After a day on the slopes, keep yourself toasty near one of the many fireplaces in the fantastic rambling garden bar.
For more info.
Vulcan Hotel, St Bathans, Otago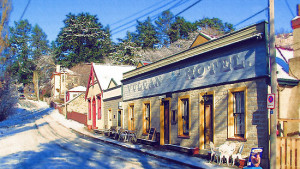 Stepping into the Vulcan is a bit like stepping back into history. Built of mud-brick in the 1880's, the pub, like St Bathan's itself, is a genuine, unmolested relic of the Otago gold rush. The town is not exactly a bustling metropolis these days, but the pub is often packed with its seven remaining residents.  A real New Zealand classic with lots of great reviews online for the hospitality and food. You can even stay overnight – if you dare, room number 1 is said to be haunted.
No website that I could find!
Danseys Pass Coach Inn, Ranfurly, Otago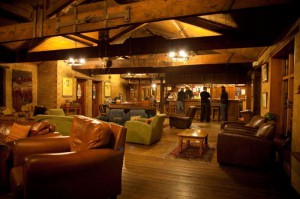 Sumptuous old hotel built in 1862 out of schist stone and native timbers. Huge fireplaces, award winning restaurant, and luxury accommodation ensure that people will continue to make the trek to this rather remote spot.  Once there I'd recommend using the Coach Inn as a base to explore the local towns (nearby Ranfurly is the South Island's deco capital), and the Otago Central Rail Trail can be walked, biked or ridden on horseback. Settle down with a whiskey or wine in front of the roaring fire at the end of your day.
Yes, they do have a website!
As I said, we missed so many. We'd love to hear what your personal favourites are – leave a comment below!