Warbirds and Wheels is a very special museum located in the grounds of Wanaka airport. The collection features half a dozen vintage fighter planes, as well as many classic cars and motorbikes, but all of these may soon be outshone by one of the most famous and best loved cars in the world.  Arriving in time for the Easter holidays is the original car from the movie Chitty Chitty Bang Bang, on loan from owner Sir Peter Jackson, and it will be on show from April 1 – 30 with proceeds being donated to local charity, the Upper Clutha Children's Medical Trust.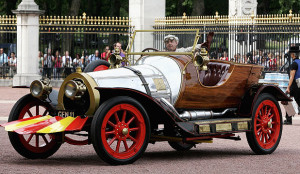 The movie, starring Dick Van Dyke (sans unintentionally hysterical cockney accent this time out), became an instant children's classic when it was released in late 1968. James Bond creator Ian Fleming penned the original novel for his son, and took his inspiration from a series of cars built and raced by Count Louis Zborowski and his engineer Clive Gallop in the 1920's. These aero-engined behemoths were nicknamed Chitty Bang Bang (that's with one Chitty, if you're counting) not for the sound they made as in the fictional versions, but from a rather salacious song the young Count knew from his Royal Flying Corps days in WWI. The colossal noise was immortalised not in their name, but by legal decree: the Count's English hometown of Canterbury, in Kent, hurriedly passed by-laws to prevent him from driving the beasts within the city limits.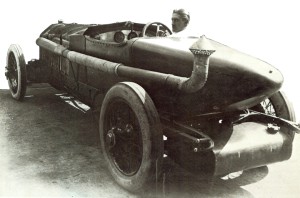 For production of the film a total of six cars were custom-built, but only one was an operational road car used in almost all the driving scenes, and it was registered as GEN11 (a detail faithful to Fleming's book).  This is the car now owned by Sir Peter Jackson.  Although unable to fly, hover or float, GEN11 was expected to operate reliably as well as look the part.  So under the guidance of the film's production designers, Alan Mann Racing laid out a custom ladder chassis, and crafted aluminium panels and cedar woodwork around a new Ford 3 litre "Essex" V6 engine and automatic transmission. Many authentic brass-era fittings were used to add credible detail to the star of the film, including dashboard switchgear from a WWI fighter plane. The Count would have felt right at home. The folding wings were not added until after the filming was completed, to prepare the car for promotional tours.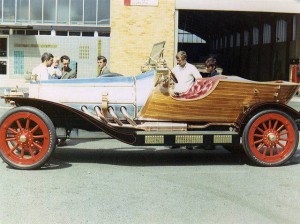 Five more non-driving Chittys were made by the Alan Mann workshops to perform specific stunt effects in the movie (some were later made operational for promotional appearances, or by subsequent owners), but none were road-registered, and the GEN11 plates on these cars were dummies. These "stunt doubles" were eventually sold off to museums and private collections, while the original car was purchased from the production company in 1973 by circus-clown-turned-stuntman Pierre Picton, who had driven the car in some movie long-shots, and on its subsequent promotional tours. Pierre used the car on and off over the next 38 years, but kept always kept it in show condition. After turning down countless offers, including one allegedly from Michael Jackson, Pierre finally decided it was time to sell Chitty and in 2011 shipped her to California auction house "Hollywood Treasures", with whom Sir Peter struck a deal of US$805,000.  Upon registering the car in New Zealand he found, surprisingly and probably annoyingly, that the GEN11 personalised plate was already taken, so Chitty is registered here as GEN1I.  The Lord of the Rings director has stated that he plans to use Chitty for charity fundraising appearances, and true to his word this is the purpose of its visit to Wanaka.
For information on the Warbirds and Wheels Museum, and the numerous Chitty-related events they have planned, see their website.