At the dawn of the 20th century, a pubescent British colony named New Zealand was struggling to establish a global identity, even perhaps a national one. That's when someone had the idea of staging a gigantic International Exhibition, a showcase for everything we had become and hoped to be. A grand expression of nationalism, colonialism, and individuality, of heritage and innovation. We were the new world, a liberal utopia.
   The someone was Richard Seddon, long standing Premier of NZ (a title he informally changed to "Prime Minister" part-way through his 13 year term, we have had Prime Ministers ever since). Unfortunately Seddon died several months before the exhibition opened, but his vision would come to pass, "proclaiming New Zealand's distinctiveness and imminent greatness" to the world. As an advertising campaign, it would promote and demonstrate New Zealand's products, unique landscape and relaxed lifestyle, and generate investment and tourism.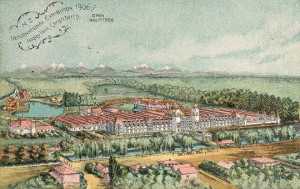 The venue chosen as most suitable for the exhibition was not in Auckland, or the capital city of Wellington, but North Hagley Park in Christchurch. Plans were laid in the tradition of the influential World's Fairs of the late 1800's, milestone events which had unveiled – among other things – the Eiffel Tower, the Ferris Wheel, escalators, talking films, and dozens of household products which are still with us today.
   To house the spectacle a colossal main building with various conjoined halls were designed by architect Joseph Clarkson Maddison. At the time the largest structures ever built in New Zealand, they had a total floor area of over 44,000 square metres, or 14 acres! Work began before Christmas of 1905, in order that everything be ready for the official opening on November 1st 1906. For all their scale and grandeur however, the  were little more than an epic movie set.  Most were built using staff, a low-cost temporary building material invented in Paris some thirty years earlier, consisting of jute fibre, plaster of Paris, and cement. This was applied over a wooden framework to form towers, columns, or decorative walls. Parapets, cornices and pediments were of stamped steel.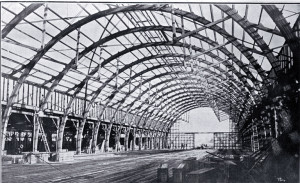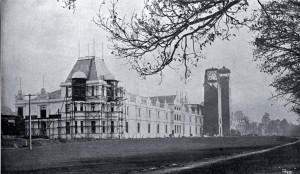 Ward's Brewery also commissioned Maddison to design the nearby Carlton Hotel in time for the exhibition's opening. Unlike the exhibition this was a permanent building, remaining an iconic local pub for over a century until it was demolished in 2011 following serious earthquake damage. 
   From the intersection of Kilmore St and Park Tce, visitors crossed a bridge over the Avon River, arriving at a classical-style, main entrance hall, replete with sculptures and a fountain. This was flanked by a pair of 49m tall towers, equipped with balconies (and in the southern tower, an elevator) affording panoramic views of Christchurch City and Hagley Park from alps to ocean.
   Inside, the main building was divided into numerous courts where each of New Zealand's provinces could display their agricultural, artistic and commercial achievements. Oddly, Auckland was considered to be under-represented, whilst Wellington and Otago were completely absent. Courts were also allocated to other British colonies: Australia, Canada, and Great Britain herself were represented, as were Niue, Fiji, Hawaii the Cook Islands. Further space was given to trade stands and general courts including the Department of Labour, the Department of Tourist and Health Resorts, and the Railway Department. A fully functioning savings bank, plus a post and telegraph office were on site, as were a restaurant and tea rooms. Adjacent to the main building was a machinery hall, a concert hall, a fernery, and a substantial art gallery.
   Exiting the vast indoor complex into Hagley Park, more provincial displays were on show, along with a sports ground, horticultural gardens, a specially built railway line and a Maori pa (fort). The pa covered 2 acres, and was intended to be a working recreation of traditional Maori life. An outer pa protected by trenches enclosed an inner pa fenced with Tawai sapling trees. Buildings included a meeting house, a tohunga's house, a storehouse (pataka), two cook houses, about twenty dwellings (whare puni). Several waka (canoes) were on display. Nearly 80 permanent native staff were in residence, providing live entertainment in the form of hakas, poi dances, and even a mock battle. As it was to be a working exhibit various Maori groups were invited to live at the pa, so in addition to the paid staff as many as 120 casual dwellers occupied the exhibit at any time, on the condition that they wear traditional clothing and prepare food in a traditional manner.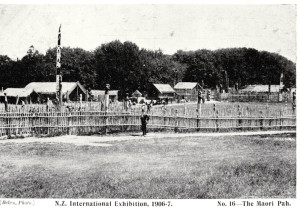 Natural history exhibits were also elaborate, including an aviary, aquarium, any many creatures not normally seen in local zoos, such as ostriches. Several subantarctic species – penguins, seals, albatross and petrels – were brought in from Macquarie Island for the occasion. These were housed in a fenced pond at the side of Victoria Lake, and cared for by the North Canterbury Acclimatisation Society.
   "Wonderland", a 10 acre amusement park on the shores of Victoria Lake, was the highlight for many.  It featured a giant water chute, aerial tramway, Chinese dragon train, maze, camel rides, merry-go-round, penny arcade, and an abundance of fairground sideshows and circus acts. Wonderland drew criticism for its lack of educational content, but remained popular with young (and young at heart) visitors.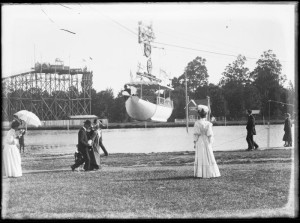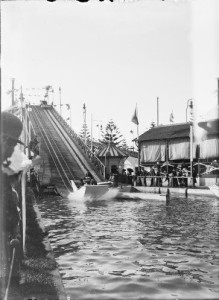 When the exhibition closed on April 15th, 1907 and the numbers were tallied, it was declared a financial loss, but a success in every other sense. Two million visitors had seen the best of what we had to offer, at a time when the total population of the country was under one million. By the end of April the displays had been packed up and removed, and a special auction was held to dispose of fittings from the buildings. Demolition work, which took nearly four months, then began. On September 5th the last tower was pulled down, and three weeks later New Zealand, already a self-governing British colony, officially became a Dominion.
   There was some talk of Wonderland staying at Hagley Park, as many customers had attended the exhibition for the sole purpose of visiting the fairground area. In fact, this had been a sore point with some, and in any event the domain board refused to allow Wonderland to remain. The Press declared that it would be a "hideous blot … on a delightful piece of sylvan scenery" and that anyway, the entertainment offered is "not especially healthy or refined". A year later the domain board would still be haggling with the government over the restoration of Hagley Park and payment of compensation. Again according to The Press (18 February 1908), the park looked like a "badly ploughed field covered with bits of glass and metal, piles of rocks, hillocks and hollows".
   Eventually North Hagley Park would return to its green, idyllic state, so even the damage and debris – the only remaining evidence of what had been – would vanish. And so New Zealand's International Exhibition, like a once-in-a-lifetime travelling circus, was gone.