I know runners like to do this all year, running I mean, but sponsored runs open to all ages and abilities are prolific heading into the Kiwi summer. Right now the weather isn't too hot, it's a great incentive to get fit and set some personal goals and a good way to get in shape for your summer holiday. The Marlborough Marathon is classed as a scenic rustic course, and just the location really takes the stress off the word 'marathon' – you'll enjoy the spectacular scenery far too much! The run is scheduled for the 27th October – the Sunday of Labour Weekend, which is usually the first official weekend of summer. I can't think of a better place to visit for a long weekend, where you are surrounded with luscious, gorgeous scenery, and fantastic food and wine.
To get around the Marlborough region with ease, New Zealand Rent a Car offers all kinds of rental cars, including compact hatches, people movers, 4x4s and vans, available from handy locations in Picton, Christchurch, Blenheim and Nelson. You can fly, sail or drive into the South Island and pick up a hire car in any of these convenient locations, or we may even pick you up.
If you are planning on running the only thing left for you to worry about is whether you will be fit enough for the run. There are only four weeks to go so maybe in the next two weeks you will need to step your distance up to gauge how you are progressing. Even if you haven't done any training you can still enter and complete a 5km event, which will be a great introduction to the world of running. They also have a kid's mini marathon so all the family can participate.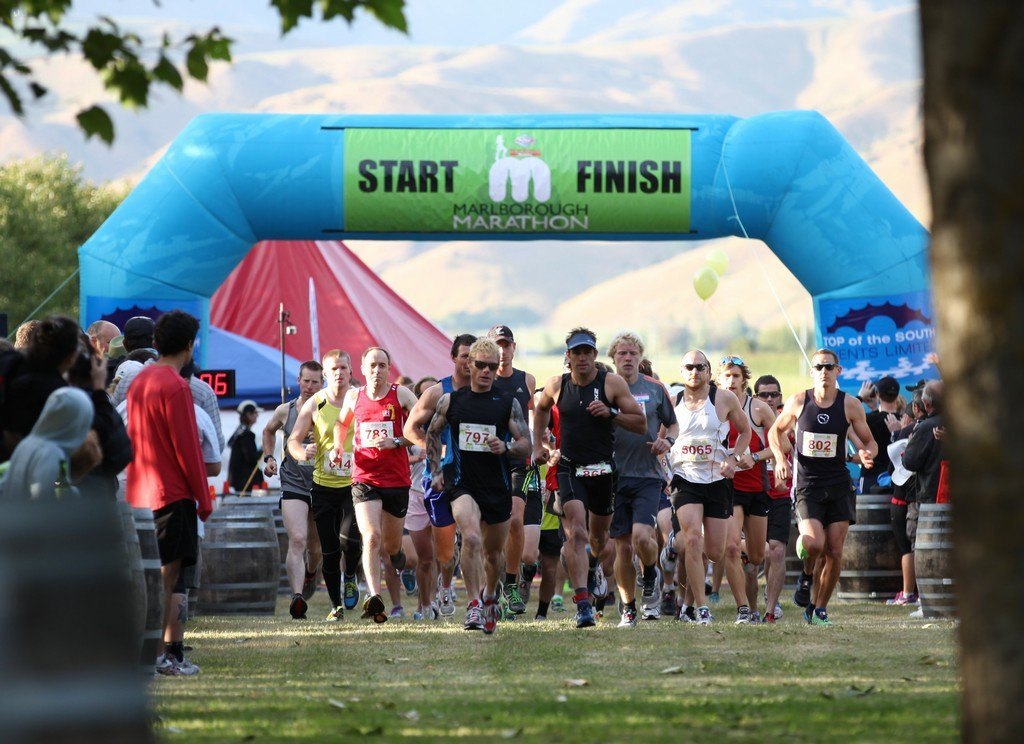 The Marlborough Marathon starts and finishes at the spectacular Villa Maria Winery, which should motivate you to get to the finish line as a great Barbecue and Bubbles lunch awaits entrants. All half and full marathon competitors also get a free bottle of wine. To book the lunch (with a $25 fee) visit the Event Plus site. Keep your Race number to redeem your ticket for lunch.
Marlborough Attractions
While in Marlborough why not stay a few extra days and visit some of the local attractions? You won't be disappointed! Queen Charlotte Track is renowned for its beautiful bush clad shoreline, deep bays and coves, and the amazing ridge line views of the sounds. You can walk, cycle, kayak, or a combination of these, and take as little as a day or do the whole track over 5 days, depending on your time frame. Tour operators are happy to transport your pack and there is a wide range of accommodation from camping to luxury hotels so you can do the track in any style you choose. The track is well catered to all kinds of tourists.
The coastal village of Havelock is famous for its Green Lipped Mussels so if you like to get out on the water, you can do a tour of the Mussel farms, cruise the Marlborough sounds, walk some trails and enjoy some great seafood.
Take a drive out to Seddon, the most recent location of new earthquakes in New Zealand.
Visit the Lochmara Lodge Wildlife Recovery Centre – a great place for kids to learn about the protection of our native flora and fauna.
The Pelorous Mail Run looks like a great boat cruise as you get to go to all the isolated bays and deliver the mail and other items to the locals who are only accessible by sea. 
The Edwin Fox historic ship and visitor centre in Picton is also worth a visit if you like maritime history. They have the oldest merchant ship and last remaining convict ship in the world for you to explore. 
If you are just keen on some great food and wine, here are our recommendations for some great wineries to visit which Marlborough is most famous for:
Allan Scott Winery, Jackson's Road – their seafood chowder is yum!

Cloudy Bay Vineyards, Jackson's Road – everything is good here!

Vavasour Wines/Goldwater Estate in Rapaura Road 

George Michel's Winery, Vintage Lane (off Rapaura Road) is very good, and La Verandah is great for a tasty tapas!

Bacchus in town for lunch or dinner – our favourite place!!

Waihopai Valley – numerous vineyards and you can see the 'Spy Balls'

Wither Hills – their walking track offers great views of the town

Best coffee – 'The Fix' and 'CPR'

There is also a Christmas Shop not very far from George Michel's in Vintage Lane, it's just awesome!
You may even need a couple of weeks in the Marlborough region to take in all these amazing places and enjoy the fantastic wine and food on offer.
Happy Travels!
Heather
New Zealand Rent A Car