It's been a long, grueling winter. With no national public holidays since Queen's Birthday, we Kiwi's have had an almost five month haul since the last long weekend. Not to worry, Labour Weekend finally beckons, and it's full of springtime promise.
Labour Day in New Zealand dates back 125 years to October 1890, when civic employees were given the day off to attend trade union marches and parades in support of the eight-hour work day. The holiday became an annual occurrence from that time on, with thousands turning out for the parades, picnics, and sports events that were held all over the country. However in the early part of the 20th century the parades became increasingly commercialised, and with the original focus of improving workers conditions was lost. Eventually Labour Day was viewed by most as just a holiday.
Just a holiday then, but a welcome one. For the occasion we've done some labour on your behalf, sifting diligently through the scores of things you can do with your loved ones. And kids.
For us, the highlights are: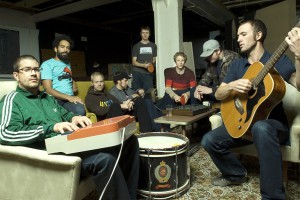 "it!" Bay of Islands Food and Wine Festival
Village Green, Paihia, Bay of Islands, Northland, Oct 24
Amazing food, award-winning wines and beers, and a day of entertainment culminating in an evening performance by Wellington dub-reggae icons, The Black Seeds.  Plenty for the kids too: magic shows, face painting, and a bouncy castle. For bookings and more info go here.
Armageddon, New Zealand's Largest Entertainment Expo
ASB Showgrounds, Greenlane, Auckland, Oct 23 – 26
The 20th anniversary of New Zealand's biggest pop culture expo promises to be a massive event, featuring a long list touring celebrities including stars from Game of Thrones, Harry Potter, The Simpsons, and more. If you have even a passing interest in animation, comics, cosplay, science fiction, gaming and technology, then Armageddon will be a must for you. Beware, this event is a huge draw, so ticket sales on the day could be few to nil. If you're going, book now.  Official event website is here.
21st Mini Nationals
Queen St, Masterton (library end), Oct 24, 9am – 1pm
Enjoy a British-themed morning and feast your eyes on over 100 classic Minis, whose introduction in 1959 set the benchmark for practical small car design. Although built in a bewildering assortment of versions – Coopers, Mokes, Clubmans, Travellers – the basic form went unchanged for over 40 years. To round the day off, the local Regent Cinema will be screening perhaps the second-best Mini movie ever (after Goodbye Pork Pie, naturally, but you can see this on the 18th), The Italian Job. Thankfully it will be the original 60's one in all it's sublime Micheal Caine-ness, not the later Hollywood debacle.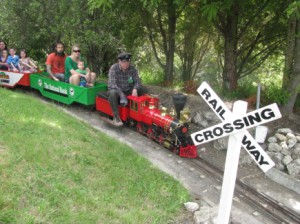 Keirunga Park Railway
Pufflet Rd, Havelock North, Hawkes Bay Oct 23 – 26, open 11am – 4pm
Rated as one of the top 5 miniature railways in the world, the track meanders around charming Keirunga Park, through tunnels, over viaducts and past scenic rock faces. Normally open two Sundays a month, it will be running for four days over the long weekend, and will feature visiting steam, diesel and electric locomotives from around NZ.  The rides are cheap, the memories are priceless. See their website for more.
The Auckland Brick Show
ASB Stadium, 203 Kohimarama Rd (within Selwyn College grounds), Auckland, Oct 24 – 26
This massive fan-created Lego display has become a highly successful annual event. Lego has come a long way since the basic blocks familiar to my generation, so this exhibition is guaranteed to have kids begging their parents to drop a grand or two on the latest Star Wars set, and have parents using sentences beginning with "In my day…".  Tickets on the day are $10, but only $7 online including all costs – definitely worth booking in advance here.  Under 4's are free.
Dowse Square Ice Rink
Dowse Square, 45 Laings Rd, Lower Hutt, Today until Oct 26
Dowse Square has been turned into a 15 x 25 metre temporary ice skating rink, and you have until Labour Day to test your skills. There are many theme nights to keep things interesting, and Labour Weekend features special curling and ice dancing demonstrations. The rink is covered by a marquee so weather is not an issue, and tickets include skate rental and a cycle helmet if you want one (compulsory for children under 6). For more details see the website.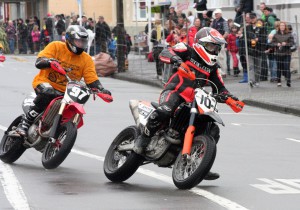 Greymouth Motorcycle Street Race
Greymouth CBD, Oct 25
If you love motorbikes, this is for you. And if you want to force your love of motorbikes on your kids, don't pass this golden opportunity by. The 26th annual street race is on again, and features 8 classes of bikes, from vintage thumpers to modern superbikes, and even a karting display.  Wander round the 1.4km street circuit sampling the wares of local cafes, bars and food stalls, and indulging in the fragrance of 2-stroke exhaust. The official web page is here. 
Glenbrook Vintage Railway opening weekend
Glenbrook Station Rd, Auckland South, Oct 24 – 26
Known for their Thomas The Tank Engine events (held in November, see the website), GVR is re-opening after their winter hibernation. The 7km stretch of historic line, plus several restored stations and trains, is a remarkable labour of love for all involved.  It promises to be a great weekend, with train rides, jigger time trial competitions, and a celebration of their locomotive WW644's 100th birthday.
Scale Ship Regatta
King Edward Park, Waihi Rd, Hawera, Taranaki, Oct 24 – 25, 10am – 2pm
This remote-control model builders gathering has become a popular annual event.  Come and see the handmade ships and boats ply the calm waters of King Edward Park pond.  Yachts, warships, workboats and pleasure craft will all be there, and their owners are always happy to chat about their boats, building techniques, etc.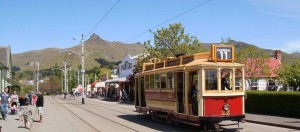 Ferrymead Heritage Park 50th Anniversary Celebration
Ferrymead, Christchurch, Oct 25 – 26
Christchurch's rather special Ferrymead Heritage Park was built on the site of New Zealand's first railway (1863), and they are having their 50th birthday party this Labour Weekend.  As well as their full-scale Edwardian township and museums, there will be vintage train and tram rides, heritage games and live music.  Join the party!
Of course this is the tip of the iceberg. There's a pile of great stuff happening; most towns seem to have a classic car/hot rod show or food market, heaps of food festivals and markets, a few lingering Oktoberfest events, and there is the Diwali Festival of Lights not just in Wellington, but Christchurch that weekend… 
Have a great one!