Railways were once the heart of a country. Both socially and commercially they were vital links, often the only links. In 19th century New Zealand thousands of settlers laboured for years, even decades on a single route, chiseling through horribly uneven terrain and dense native bush with picks, shovels, and an occasional blast of TNT.
Now the age of rail is all but over, and dozens of lines lie abandoned, bypassed, and overgrown. There are several heritage railways around the country lucky enough to have steam engines restored by dedicated enthusiasts, but there are some, unique to New Zealand, that have found an afterlife as trainless tourist detours, opening up avenues into an otherwise invisible countryside.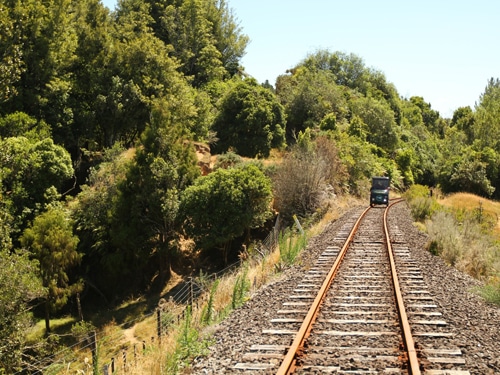 An Otago Prototype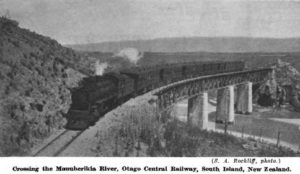 The Otago Central Railway, once a 236km line from Wingatui (near Dunedin) to Cromwell, played a critical part in establishing industry in early Otago. In the wake of the 1860's gold rushes the shanty towns, one-room schools, and local supply stores might well have withered away without this colossal steel lifeline. Opening in 1879, the ubiquitous F-class steam locomotives hauled passengers, sheep, oil, coal, pottery clay, wool bales, farm equipment, fertiliser, timber, and general goods such as milk and bread, connecting rural Otago with the Main South Line
   Passenger numbers dropped after WWII thanks to the popularity of the private motor car, and by the 1960's even the freight business was being lost to truckers. In 1980 the tracks between Cromwell and Clyde were torn up to make way for the controversial Clyde Dam, and other sections eventually followed. Today only 64km of the Otago Central Railway remains in service. Now known as the Taieri Gorge Railway, it climbs inland from the Main South Line terminal at Wingatui to Middlemarch.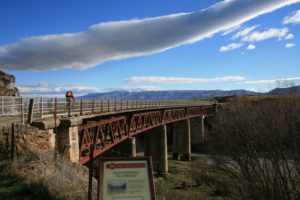 The rest of the old line would be but an historic footnote if not for the Department of Conservation, who had the vision to preserve it as a recreational reserve. Having spent several years resurfacing 152km of trails, and adding toilets, shelters, information boards, handrails, the Otago Central Rail Trail opened in 2000 to great acclaim, and inspired the government to develop the New Zealand Cycle Trails, and other similar projects around the country. You can begin the trail either at Clyde, a one hour drive through the award-winning Gibbston wine region, or drive a similar distance from Dunedin to approach the trail from the eastern end at Middlemarch. My pick, though, would be to ride the rails, basking in the six hour Taieri Gorge scenic train trip from Dunedin station, standing on the open platforms surveying the vast open Otago landscape, which has changed little since the heyday of the locomotive age.  
The Forgotten World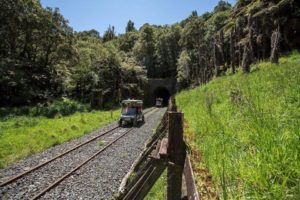 Happily, the successful re-purposing of the disused railway inspired other enterprises, notably Forgotten World Adventures in Taranaki, winners of a Trip Advisor Certificate of Excellence this year. In this case the tracks remain in place, and visitors can explore up to 142km of wilderness, tunnels, and bridges via a fleet of self-drive golf carts, or pedal powered "RailBikes". From Taumarunui and as far south as Stratford, the various tour packages take in curiosities such as Whangamomona (probably the world's smallest republic), the abandoned towns of Matiere and Tangarakau, and many remnants of what was once an intensely productive district.
Two years ago when I wrote about Forgotten World Adventures it seemed so unique that it didn't occur to me that there might be another like it anywhere.
There is.
Cruising the Rails
   The Rotorua branch line was opened in 1893, and ran from Putaruru to Rotorua. Used for passenger services, but also serving the numerous sawmills milling native forest around the Mamaku area, and railing sheep and cattle to the slaughterhouses of South Auckland. The sawmills eventually closed, and road transport gradually displaced the old rail networks that were so laboriously hewn out of the colonial countryside. Use of the line declined and it was finally mothballed in 2001.
   As with Forgotten World Adventures, a lease was eventually taken out on the derelict, station-less route and plans were drawn up for self drive "Rail Cruisers", a concept they claim is unique to New Zealand. These cruisers are designed specifically for this role, and credit where credit's due, they seem to have pioneered the concept. They are petrol powered, but unlike their Taranaki cousins their speed and following distances are largely regulated by an onboard computer, requiring only emergency braking from the driver. Also unlike the Forgotten World versions these have drop-down weather-proof sides and built in heaters for chilly days.
   Rail Cruising doesn't operate on the scale of Forgotten World, it's currently only a 10km section of line, but it has the advantage of being less of a commitment in time or money, and closer to Auckland for those plotting a day trip. Rail Cruiser rides currently start from Mamaku, near Lake Rotorua and about two-and-a-half hours drive from Auckland. Pottering along the tracks for half an hour, you reach Tarukenga Railway Station, where the cruisers are spun about on miniature turntables ready for you to make the journey back to Mamaku. Pedal powered carts are available for more athletic customers. Definitely on my school holiday must-do list!
Adventures in Awakeri
Awakeri Rail Adventures near Whakatane runs over an 18km stretch of track and four bridges. The line was once part of the East Coast Main Trunk Railway from Hamilton to Taneatua, but with the opening of the 9km Kaimai Tunnel in 1978 the main terminal was switched from Taneatua to Kawerau. The shunned section of track was re-named the Taneatua Branch Line, then finally closed for good in 2003. Awakeri Rail Adventures cleared the overgrown line and even built a replica of the tiny Awakeri Station to use as a depot, and the guided tours can include walks in White Pine Bush Reserve.

Carting in Dargaville
Dargaville, New Zealand's kumara (sweet potato) capital, lies on the banks of the Northern Wairoa River, some 175km northwest of Auckland. An old community founded on gum digging and kauri logging. A century or more ago, great kauri logs were floated down the river into the Kaipara Harbour for the thriving boatbuilders in Auckland to mill. Nearby there's the Kai Iwi lakes, Pouto Peninsula, and the sandy expanse of Baylys Beach, which offers over 90 kilometres of typically rugged west coast surf.
Rail Carts Dargaville operate on the defunct Dargaville Branch Line, which closed in October 2014. The ride is about 14km each way, and the company also offers boat cruises on the Wairoa River.