In this series of ultimate school holiday suggestions, we handpick our next crop from our capital, Wellington, and its surrounds.  There are some great adventures to be had in our political and cultural centre, so from September 27th to October 12th needn't be a time of stress, frustration, and uncontrollable weeping.  There are numerous school holiday programs laid on for parents who are locked into a work schedule, but as before the emphasis of this list is on activities for kids and parents.  
   If you have a chance to make a day of it, you might consider renting a minibus from our Wellington branch and inviting the grandparents or the neighbours kids.  The grandparents will probably insist on paying for the gas, and the neighbours will owe you, big time.
Loco Miniature Railway and Gardens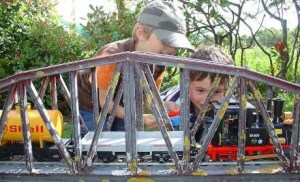 Located in Otaki, about an hour north of Wellington City, this fascinating 1920's-style railway and landscape covers 1/4 acre, and the gardens keep little ones entertained with a play area, trampoline, petanque and backyard cricket while you can relax in the hammocks under the walnut tree.  You can bring a picnic lunch, but of special note are the woodfired pizzas available on Sundays only ($15).  Note, no eftpos on site.
Opening Times: Normally Sundays only, but every day during school holidays 11am – 4pm.
Cost: Adult $10, Under 18's $5, Senior 60+ $7, and a family pass for 2 adults and 1 child $20.
Website: www.loco.co.nz/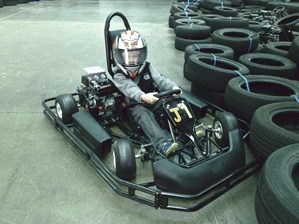 Lower Hutt's Revolution Raceway is an indoor kart racing track with three different classes of karts to suit children aged 5+ and upward.  Staff are reportedly very helpful and patient with kids, and the larger Drift Karts will keep adults amused too.  All drivers must have enclosed footwear.
Opening Times: Tues-Sat 11am to 8pm, Sun 11am to 6pm.  Closed Mondays.
Cost: from $17.00 per 10 minute session
Website: www.revolutionraceway.co.nz/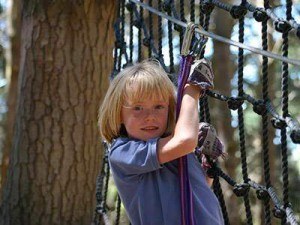 Take a stroll among the treetops!  Test your balance, skill and strength in this safe but challenging adventure park in the heart of a forest.  There are six treetop pathways, the first two are suitable for kids over 1.3m tall.  Located in Porirua, about 20 minutes drive north of Wellington City, or 15 minutes walk from Porirua train station.  Now there's an idea…
Opening Times: 11am weekdays, 10am weekends.  Last entry is 2pm, due to the time it takes to complete the courses.
Cost: Children from $17.00, Adults $42.00, up to three hours
Website: www.adrenalin-forest.co.nz/
Tiki-Tour to the Valley  – Capital E's OnTV Studio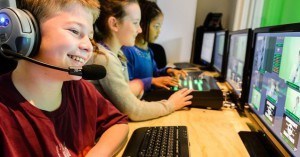 Climb aboard the fun bus to the Hutt Valley for a creative comic-strip adventure hosted by Museums Wellington and Capital E. Using mobile digital technology, kids aged 8+ will make and star in a comic-strip of their day's adventure. They will hear fantastic stories from Hutt history at Museum of Wellington City & Sea, travel to The Dowse Art Museum for a creative workshop, then get their artistic juices flowing with some cupcake designing, decorating (and devouring!) before heading to Avalon Park for some flying fox fun. Then it's back to Capital E to edit together their big day out.
Tour Times: 8.45am to 3.45pm, September 30th, and October 2nd, 7th and 9th.
Cost: $65.00
Website: www.capitale.org.nz
The Enormous Crocodile Company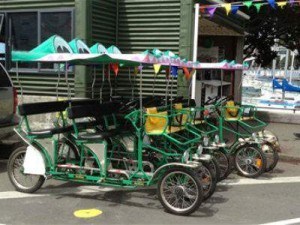 From Clyde Quay Wharf, downtown Wellington, take family or friends on a discovery tour from Oriental Bay to Kumutoto on an Enormous Crocodile quadricycle. These two or four seater, four wheeled, covered cycles are fun for the whole family (but person hiring must be at least 18 years of age).  
Opening Times: 10am to sundown, weekends and school holidays
Cost: Large 6-seater bikes are $40.00 per hour, or $24.00 per half an hour.  A $50.00 bond is required.
Website: http://theenormouscrocodile.wordpress.com/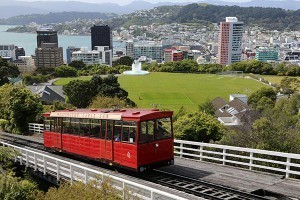 A favourite of locals and visitors alike, the cable car allows easy access from its terminal on Lambton Quay in the CBD to the top entrance of the Botanic Garden and the Kelburn lookout, where you can also check out the Cable Car Museum (free).  A level two minute walk in the gardens takes you to the Carter Observatory and Planetarium (see below) and a free shuttle operates regularly from outside the cable car museum to Zealandia. The Kelburn Village is only five minutes walk away and the Botanic Garden has a number of interesting downhill walks which take you back to the city centre in 40 minutes.
Opening Times: Every 10 minutes, Mon-Fri  7am to 10pm, Sat 8.30am to 10pm, Sun and Public Holidays 9am to 9pm
Cost: Adults two-way $7.00, Children 5-15 years two-way $2.50.  Under 5's are free.  Various concessions for one-way and multiple trips available, see the website for details.
Website: www.wellingtoncablecar.co.nz/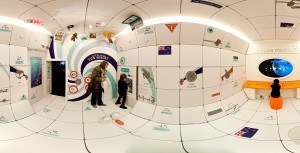 Set in the beautiful Botanical Gardens is Carter Observatory's planetarium – a state of the art, digital experience that will take you on a virtual space journey, from Wellington to some of the outer regions of our own Solar System and beyond. Discover the sheer scale of the Universe, the Big Bang, the Māori story of creation, and examine the possibility of life on other planets. Travel through Carter's very own black hole, handle a space rock, launch a rocket, and watch video stories.  A special pre-school program runs on Monday mornings for those with little ones, and you can stargaze through the Thomas Cooke telescope on their late-night days of Tuesday and Saturday.  The Botanical Gardens playground is merely 5 minutes walk away, too.  Note there is very limited parking near the observatory,  we really recommend taking the cable car (above), for ease and economy, not to mention the great views.
Opening Times: Daily 10am to 5pm, late night stargazing until 9pm on Tuesdays and Saturdays (weather permitting)
Cost: Adults $18.50, Children $8.00
Website: www.carterobservatory.org/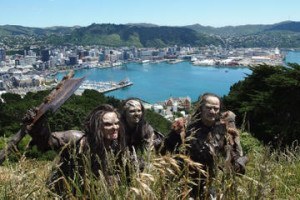 See the sights, go for bush and beach walks, have your picture taken at the 'Legolas Tree' and enjoy the audiovisual displays as we show you around our movie capital. To help you visualize the scenes, you will be played exclusive movie clips on location. Your guide will also share behind-the-scenes stories and explain how many of these difficult filming shots were achieved, plus props are provided on the tours so you can take pictures to show all of your friends.
There are three tours that are available:
Valley Movie Tour:  Head north through the Hutt Valley as we take you to beautiful parks and rivers to show you where up to 15 Lord of the Rings scenes were filmed.  Then enjoy lunch at Rivendell in the beautiful Kaitoke Regional Park.
Tour Times:  Departs at 10am and returns by 2.30pm
Cost: Adult $85, Child $40
Wellington Movie Tour: Take in the sights around Wellington, and visit some of the most famous The Lord of the Rings filming locations.  A highlight is the one hour visit to the Weta Cave where you'll see many props and miniatures from the films and have the chance to watch an exclusive behind-the-scenes video.
Tour Times: Departs at 2.30pm and returns by 6.30pm.
Cost: Adult $45, Child $30
Ultimate Movie Tour: 
This tour combines the Valley Movie Tour and the Wellington Movie Tour to give you the ultimate movie experience.  You'll visit up to 25 famous scenes from The Lord of the Rings trilogy, visit Weta Workshop, and have lunch at Rivendell.
Tour Times: Departs at 10.00am and returns by 6.30pm
Cost: Adult $115, Child $45
There are several tour pickup points and pricing variations available, for details see the website.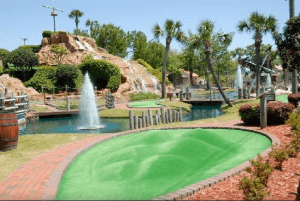 An adventure style mini golf course based on a pirate theme, beautifully landscaped and giving players the opportunity to putt over pirate ships, past cascading waterfalls, through haunted treasure caves and past shark infested waters.
Opening Times: Sun to Wed 9am-5pm, Thur to Sat 9am-8pm, weather permitting
Cost: School age children and senior citizens $10.00, 4 years and under $1.50 for each year of age, Adults $12.00
Website: www.adventuregolf.co.nz/
New Zealand Police Museum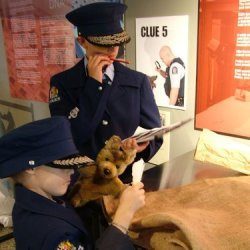 The police museum, located in Porirua, is a family-friendly facility with displays that will interest kids of all ages.  Check out the special "Scene of Crime Officer" workshop running through this school holiday period.  In this 60min workshop our newest recruits will learn how to create a footprint cast and record a shoe impression using forensic techniques like a scene-of-crime officer.  All recruits take home their own cast and impression.  Suitable for 7 – 13 year olds, adult supervision is required.
Opening Times: Museum open daily 10am to 5pm, workshop at 2pm Monday to Fridays
Cost: General admission is free, workshop is $5.00 per child
Website: www.police.govt.nz/about-us/history/museum