Here we are once again, the school holidays are upon us.  Some might say like an ominous cloud, or a dark endless chasm of despair.  But behold… a tiny beacon of hope beckons!  NZ Rent a Car present a smorgasbord of acclaimed activities, outrageous outings, and exquisite entertainments to tide you through the next two weeks.  With a little planning your children's holidays can be filled with rosy spring memories.
   Now, if you live in, or are visiting Auckland, there is plenty of choice, so we'll try and herald the less well-known attractions rather than the zoo and Rainbows End.  While these have just as much potential for a great day out, we figure you already know about them.  As with the previous lists (Christchurch and Wellington) there are many great school holiday programs around for those workers who need to dispatch the kids for the day, but the ones listed below are aimed at family involvement.    
   Don't forget that minibuses and people movers are sociable, cost-effective ways of carting extending family without running multiple vehicles all over town.  Aucklanders are blessed with three NZ Rent a Car locations: North Shore, Central Districts, and Airport branches.  They will happily help you choose the right vehicle for the occasion, and of course handy things such as baby seats and GPS units can be requested too.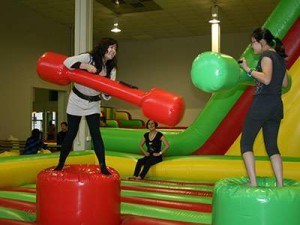 Jump Up is an inflatable playground for all ages.  Compete against friends or family in Sumo Suits for all sizes or experience the Human Fly, Climbing Wall, Jousting, Horizontal Bungee, Bouncy Boxing, Impossible Ladder and more! Entry includes use of the whole playground, plus a cafe is on site for those who prefer to spectate. Best enjoyed in socks (on sale if you forget them).
Opening Times: School holidays – every day from 10am to 6pm
Cost per 3 Hour Session: Spectators FREE, 3-4  years $6.50, 5 years up to (ID carrying) student $13.00, Adult $15.00
Website: None, but email info@jumpup.co.nz for further info, or find them at 30B Frost Rd, Mt Roskill
Whangaparoa Narrow Gauge Railway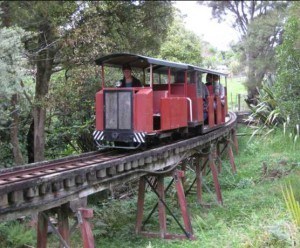 Just 30 minutes north of Auckland City, enjoy a miniature train ride through a lovely farm and bush settings. Feed the sheep, goats, rabbits, or chickens, plus there's a playground for picnics, bush walks to explore, and a restaurant.
Opening Times: Normally only weekends, but every day during the school holidays, 10am (first train runs at 10.30) to 4pm.
Cost: $8.00 per person including one train ride, under 2 years free. Additional rides $3.00 each.
Website: www.rail.co.nz/index.php
Magic Broomstick Segway Tours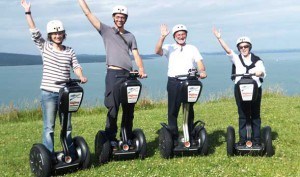 For families with older children (minimum age 10), they should jump at the chance to tour Devonport on a Segway!  Guides will teach you to ride on the grassy area to the West of the Devonport Ferry Terminal, then cruise effortlessly around the beachfronts, see the Naval Base, and gob-smacking views of Auckland City, the Hauraki Gulf, and Devonport Village.  Family tour 45 minutes duration, longer options available. 
Opening Times: 9am to 5pm, 7 days
Cost:  $60.00 per person, or $200.00 for family of four
Website: www.magicbroomsticktours.co.nz
With great views of Auckland's upper harbour, and nearly 20km of mountain bike trails, there is something for everyone.  Of course for the young ones the kids track is a must do, it is handy to the carpark and covered seating  This trail is wide and has fun rollers and berms – a perfect first intro to biking in a safe environment.  Several other trails are on offer with a mix of different lengths, grades, and difficulty, all well marked and signposted, and there are even separate horse riding and dog walking areas.  Check the many mapboards and make your own tour.  Facilities include showers and a playground.
Opening Times: N/A
Cost: FREE
Website: aucklandmtb.co.nz/trails/sanders-reserve/
Museum of Transport and Technology
Did I say we wouldn't mention the obvious?  Well, I will have to make an exception for MOTAT, because in addition to their usual array of mechanical relics they have two special holiday exhibitions which look very appealing.  
Welcome to the Machine promises to show in a creative and hands-on way how six simple machines can be combined to make more complex machines. Visitors will learn to recognise the basic elements of machines and how they work in everyday life.  Try interactive activities such as pinball machines, see-saws, Archimedes' screw and much more.  
Invention Nation will guide kids through the five stages of inventing: idea, design, prototype, testing, refining, and they will face challenges and solve problems.  Anything that showcases the Kiwi 'No 8' wire attitude is an important day out for the next generation of young Kiwi minds!
Opening Times: 10am to 5pm daily
Cost: Family pass (2 adults, 4 children) $40, adults $16, students/children 5-16 yrs $8, children under 5 and SuperGold Cardholders free
Website: www.motat.org.nz/
Out and About – Amazing Race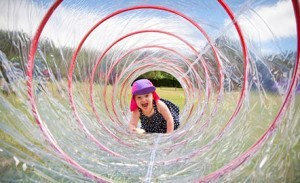 Free Auckland Council events at various parks around South Auckland.  Come along to your local park with family and friends to tackle the Amazing Race. See if you can solve the clues in order to find your way around the park as quickly as possible.  No booking required – just turn up on the day and join in the fun!
Many other free events on offer around South Auckland as part of the Out and About scheme over the coming months. 
Cost: FREE
Website: www.aucklandcouncil.govt.nz/
Stardome Observatory and Planetarium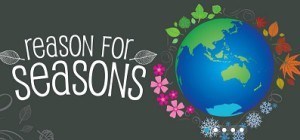 Located in beautiful One Tree Hill Domain, Stardome Observatory has a special school holiday programme, this time looking at the seasons. Find out what happens when Earth takes on a new angle and how the seasons work.  Watch the planetarium show 'Tilt' before joining the Stardome team for fun with crafts and a UV Sun safety experiment, and if the weather is clear, we'll let off the rocket out the back!  Aimed at ages 5-12, bookings are essential.
Opening Times: These special sessions are on weekdays at 10am, 12pm, and 1pm
Cost: Adults $8.00, Children $10.00
Website: www.stardome.org.nz/
Nestled in the treetops of the beautiful Woodhill Forest, only a short drive from Auckland City, there is an adventure wonderland waiting to be conquered.  With 10 different courses ranging from 3 to 14 metres above the ground, there's something for everyone. Each course has a series of fun and challenging activities that wind their way through the treetops, ending with an exhilarating flying fox ride to bring you swiftly back down to earth.  Minimum height of climbers is  1.1 metres.
Opening Times:  9.30am to 5.30pm, last entry at 3pm due to the length of time needed to complete a course
Cost:  From $17.00-$42.00 per person, depending on course chosen.  See website below
Website: treeadventures.co.nz/
Lilliput presents the "latest and greatest addition to Auckland's mini golf circuit" exclusively at their Queen Street venue.  Prepare for an 18 hole journey through some key events in the history of New Zealand. From the battlefields of World War One to the Gold Mines of Waihi, to the lush forests of pre-colonised New Zealand and back to the days when the dinosaurs ruled the earth. Lost in Time is an indoor venue.
Opening Times:  10am to 10pm, 7 days
Cost: Children and seniors $12.00, Adults $15.00, replays half price
Website: www.lilliputt.co.nz/
Teddy Garden is a teddy factory at Sylvia Park Shopping Centre where you can make your own teddy bears.  It combines the universal appeal of plush animals with an interactive process that allows children from 1 to 101 to build their own teddy bears, and take them home complete with birth certificate.
Opening Times: Open 7 days 9am to 6pm, Thursday and Fridays late night 8pm
Cost:  From $18.00 depending on your choice of bear
Website: www.teddygarden.co.nz/