The far north of New Zealand is famous for its beautiful weather, pristine beaches, clear water and sunny skies all through the year. It's no wonder then that it's a popular playground for boaties of all vessel types, and the Tutukaka Marina is one of the best ways to access this natural marine wonderland. For those who prefer to remain on dry land, the region has lots of attractions such as art, food and beautiful bush walks to enjoy. For anyone wanting to experience the sublime subtropical north of the country, the Tutukaka region is a must-see.
Tutukaka Marina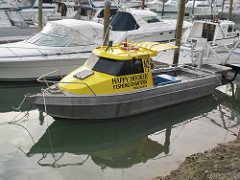 The Tutukaka Marina is one of the most popular modern marina's in the far north. It has excellent facilities and offers excellent protection for the boats boarding there all year round. For those who have a boat to house, there are berths available on both monthly and daily rates. This makes it perfect for all visitors, whether you're dropping by for a couple of days or a longer-term stay. There's also a monthly live-aboard fee, so that you can use your vessel as accommodation. To help with this, there are showers and toilet facilities available in the office block beside the marina, which also provides a place to do laundry. You can also fuel with with either diesel or petrol, as well as deposit your excess waste oil. This makes it the perfect stop for anyone on a journey around the northern coastlines.
For those without a boat, the marina is also an excellent destination. With picturesque marine scenery, you can do a walk to the Tutukaka Reserve which takes around two hours for a round trip. There's stunning sea and forest views all along the way, and your end destination is a lighthouse with an amazing aspect across the harbour. However time it carefully, as it won't be possible to pass at high tide. There's also a pizzeria just across the road, which makes delicious fresh pizza with local ingredients. The Deep Sea Anglers Club also has a restaurant that overlooks the marina, and is the perfect place to try freshly caught seafood dishes.
Tutukaka Beaches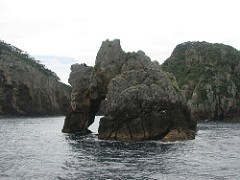 Regardless of whether you have a boat or not, any visitor to the far north is bound to be drawn to the stunning beaches throughout the region. With soft golden sands and blue water, they range from private bays to larger hotspots with public facilities.
Sandy Bay is one of the most popular surf spots anywhere in the far north, with rolling waves and a grassy foreshore area where you can relax and have a picnic. For those who want more seclusion, Whale Bay can only be accessed via a walk from the top of the hill at Matapouri Road, which takes around 30 minutes for the round trip. You can also walk from Matapouri Bay, which takes around 40 minutes each way. Your reward is a sheltered, private beach surrounded by lush native forest. There are basic toilet facilities, and it's the perfect place for swimming and snorkelling. If you need more facilities and easy access, Matapouri Bay is a large beach and estuary with a carpark, local store, playground, toilets and tennis court. This makes it the perfect spot for families to hang out for an entire day.
Tutukaka Walkways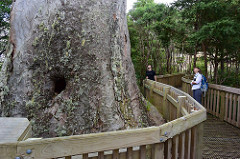 With many secluded spots being well off the beaten trail and away from major roads, one of the best ways to explore the Tutukaka region is on foot. There are a number of well-kept walking paths all through the area, taking you through forests and along coastlines.
One of the absolute must-do walks is the Tane Moana Walkway, which features spectacular giant kauri trees, including the largest kauri tree on the whole east coast. The walk is well maintained but requires fitness, and takes four hours return so good shoes are highly recommended. You'll be rewarded with a chance to see incredible native bird life, as well as a mixture of working farmland, native bush, streams and gullies. Tane Moana, the tree himself, has a boardwalk around him to protect the roots and base. For those interested in coastal scenery, the Tutukaka Headland lighthouse walkway is ideal, though you need to time it for within an hour either side of low tide or you'll end up stranded (or very soggy). There's seating along the way, native planting, and spectacular ocean views for the entire walk. For beachcombers, the Whangaumu Bay – Ngunguru Estruary Walkway is a soft, gentle beach walk with amazing views across the dunes and out to the swells. There's excellent bird life along the way and 360 degree beach views when you reach the lookout, which has seating. However be sure to pick 2 hours each side of low tide for each direction, to ensure you stay dry.
Tutukaka Food And Shopping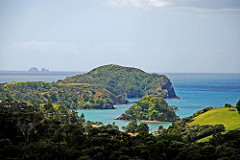 After a day exploring and enjoying the amazing scenery, it's nice to unwind with something more relaxing, like a cafe visit or a stroll through one of the local shops. As you might expect with such a fantastic marine location, the seafood takes pride of place in the Tutukaka cuisine scene. The Whangarei Deep Sea Anglers Club serves those who fish, dive, yacht as well as local residents looking for a social club, and the restaurant is open to all visitors. Overlooking the marina and the harbour, the spectacular views are accompanied by unique local dishes. There's also a bar and lounge area with a large outdoor seating area.
For those who prefer to prepare their own seafood, the Seafare Fish Market is where the public can buy direct from fishermen. All the fish is locally, sustainably caught and impeccably fresh. The market is held every Saturday from 10am to 1pm on J pier, and you can buy the fish prepared (ie, gutted or scaled or headed) according to your preference. It's also where the local restaurants source their fish, so if you're a bit squeamish no worries, you can have it just as fresh when cooked for you.
For those interested in the local art scene, the Tutukaka Gallery opens every summer to display incredible new works from artists inspired by the local scenery and environment. The exhibitions vary every season, and during the summer the gallery is open 7 days a week. From March to December, it's still available on weekends only. The works on show range from sculpture to jewellery, glass to ceramics and even weaving. It's the perfect place to pick up a unique and thoughtful gift for someone.
Another local treasure is Tawapou Coastal Natives, a combination plant nursery and sculpture garden. Here you can pick up both Northland native species, as well as rare specimens from off-shore islands. You can also get an amazing view of the Poor Knights island, and enjoy a coffee in the relaxed bush setting. The sculpture garden is also filled with weird and wonderful art pieces that complement the natural setting. You can also pick up souvenirs at the Shopenzed warehouse, which has thousands of gift products available such as greenstone jewellery, slippers, merino knitwear, wood carvings and All Blacks branded accessories.
Whatever your interests, the Tutukaka region is full of things to see and do. Whether you prefer to relax on the shore, explore the waves or trek native forest, a New Zealand rental car will serve you in good stead as you zip all over the area. Enjoy the sublime views and unique subtropical feeling of the far north.