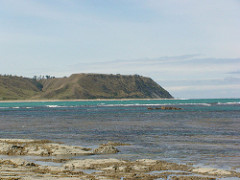 The East Cape is one of the more isolated regions in New Zealand, and is absolutely worth the journey to discover for yourself. The term refers to the region north of Gisborne all the way up to Opotiki, and it's full of both natural beauty and a unique local culture. The area has a high population of Maori residents, and it's here that the culture, language and way of life are well preserved. For those wanting to get off the beaten path and experience an essential part of New Zealand's cultural heritage, it's a beautiful destination. Here we've assembled our top picks of things to see and do during your journey to the East Cape.
Opotiki – Opotoki is the main hub for all travel throughout the East Cape region, and is located along both State Highway 35 and State Highway 2, which makes it conveniently accessible as part of a tour of the area. It's a small village with eateries, shops and places to stay, and it's also your gateway to a huge range of different activities nearby that take advantage of the amazing natural surroundings. The East Cape gets some of the highest sunshine hours in the country, so it's no surprise that Opotiki is bathed in wonderful warm weather all throughout the year.
For hunters and fishers, the area around Opotoki is a paradise. The Urutawa and Raukumura Conservation Areas both offer hunting of deer and wild boar, however you of course need to obtain the correct permit and be licensed to carry fire arms. Furthermore, it's important that you're well-versed on gun safety and have the right equipment to be safe in the New Zealand wilderness. There are also amazing fishing opportunities, with the Opape and Ohiwa bays offering boat launching sites. For those who don't have a boat, there are surfcasting spots at the Hikuwai and Waiotahe beaches, as well as trout fishing at the Waioeka River. Cast your line and reel in some great catches while surrounded by amazing scenery.
Opotiki offers a range of different options for accommodation, depending on your needs and preferences. One of the most popular ways to stay is at one of the many holiday parks and camping grounds, some of which are maintained by the Department of Conservation. Bushaven is located in the midst of the Urutawa Scenic Reserve, which means you're surrounded by pristine bush and bubbling streams, as well as lots of walking and mountain bike tracks. There are also beachfront parks such as Island View Holiday Park, Ohiwa Holiday Park and Tirohanga Beach Motor Camp. They offer amazing views out over the waves, with direct access to the beach for a swim or a picnic. The accommodation ranges from camping sites to self-contained tourist flats or cabins, so pick the level that best suits your needs. Be sure to book early when travelling during popular summer holiday times to ensure you get a spot.
After a long day exploring, sampling some local cuisine is the perfect way to relax and unwind for the evening. There are a number of fantastic local eateries in the Opotiki town, some of which source fresh seafood and ingredients from the local area. Whether you crave sushi, pizza, seafood, hot breads and savouries or a sit-down meal, you'll find fantastic options.
For avid walkers, hikers and runners, amazing trails cross the entire Opotiki region. Running through native forest, along wide sand dunes and along rolling hills, there's something for people of all fitness levels and experience. Waiotahe Beach offers great coastal tracks, beginning at the pouwhenua (carved welcome poles) and spanning either west towards the river and reserve where you can stop for a picnic, or back to the east to the Waioeka River. The Te Waiti Nature Trail is further inland, acessible from Otara Road, and is a gentle loop trail that takes you through nikau palm and tawa forest. This makes it a perfect family walk, and ideal for hot days when you need to stay in the shade.
The Ohiwa Domain is just 15 minutes drive from Opotiki, and with grassy fields and picnic facilities it's the perfect place for a family day out. The domain can be reached from Bryan Road along Ohiwa Beach Road, and requires short but fairly steep walks. The hillside is the site of a former pa belonging to the Upokorehe iwi, and you will find amazing views out across White Island, Whale Island, Ohiwa Harbour and the rest of East Cape.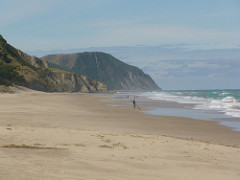 Beaches – Heading out east from Opotiki along State Highway 35 will bring you to the ocean, where Hukuwai and Tirohana beaches offer amazing sandy spots for a picnic, safe swimming areas and incredible views. For surfcasters, this is also a must-visit, with plenty of room for casting and long line fishing. However the drive along this road winds past dozens of small coves and reclusive bays, so if you want a more private experience simply stop at whichever one catches your eye.
Opape beach is a long, sweeping sand beach that offers access for boat launching, so if you're keen to explore the marine wonderland from the waves, it's the perfect spot to get started. There's a nearby motor camp with safe swimming locations, as well as gentle coastal walks to view the headlands. For those interested in Maori carvings, the entrance to the school at Torere Beach is flanked by a magnificent carved gateway, which can be viewed with a gentle walk. The beach itself is very deep, which makes it ideal for fishing. Come during the summer time and sit underneath the blooming pohutokawa trees to understand why they're such a celebrated symbol of coastal New Zealand.
Of course, while swimming or enjoying New Zealand beaches it's also essential to stay safe. There can be dangerous rip currents that are difficult to see from land, so it's best to stick to large public and watched beaches. New Zealand also has damaging levels of UV rays, so keep yourself protected from the sun.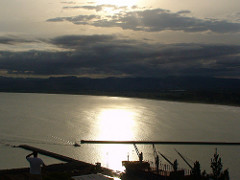 Te Kaha – A popular holiday destination for both locals and visitors alike, Te Kaha is a small, scenic beach village getaway. There's both a resort and a local holiday park, so whatever level of accommodation you desire you'll find something to suit you. It's a relaxed and carefree place, with balmy and beautiful weather all year round. Te Kaha has a rich history as a whaling town, with local Maori iwi (or tribes) capitalizing on this venture during the 1920's, and now you can snap whales with your camera if you head out into the deeper waters.
The boating and fishing is world-class, and there are countless places to go for a picnic, swim or a gentle walk. There is a boat launching area right next to the resort, so you can go out and make your catch and then come back and relax. Snapper, crayfish and terakihi are all abundant and ready for the plate. You can also explore the natural maritime beauty of the area with a kayak, or go diving to see the amazing natural reefs. And of course, the beach offers an endless amount of relaxation and fun in the sun.
For anyone interested in experiencing a slice of New Zealand where the weather is warm and the pace of life gentle, the East Cape is a fantastic destination. It's most easily accessed via either Gisborne or Whakatane, and a New Zealand rental car will help you zip around and see and do everything you could ever want.