Whilst looking for something else I found this photo.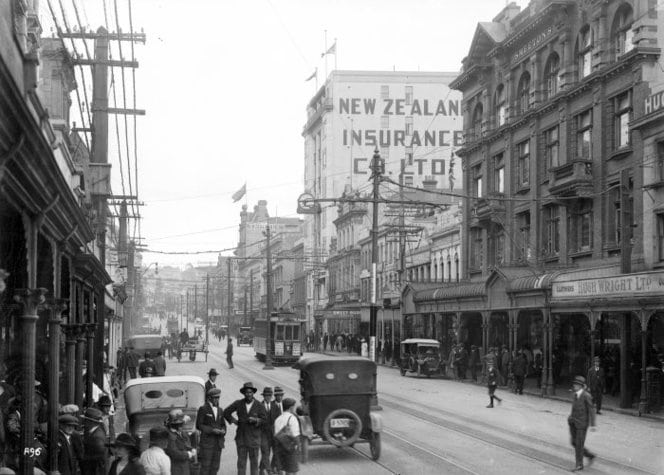 It was taken in 1922, in Lower Queen St, Auckland. Among other things, it's a snapshot of technology in transition: jaywalking pedestrians, electric trams, cars, and even a horse and cart. The Guardian building is on the right, home to NZ Insurance as it was for most of its existence. It's still there today, clock and flagpoles intact, now re-purposed as downtown apartments. On the extreme right is the edge of Hugh Wright's, a Kiwi menswear chain founded in 1904 and lasting until bankruptcy and closure in 2002. Beyond Hugh Wright's is a baroque looking building with the word "Smeeton's" stencilled on it. Although no longer showing that name, it turns out to be still there too, and looking much the same. It also turns out to be one of the oldest structures in the Auckland CBD.
See this building in Google Earth
Birth of a Port
   In the 1840's Auckland was a newborn city. European settlers surveyed the lumpy, volcanic terrain and the abandoned, overgrown pa's (Maori forts), and resolutely began chiseling out communities of houses, farms, and shops. Industry developed wherever the resources were best: near kauri forests, fertile farmland, rivers, and most of all – the sea. In an age before roads and railways cut through raw landscape, almost everything revolved around shipping. Major industry, therefore, tended to congregate around the seaport.  
   Auckland's had, and has, the luxury of two sheltered harbours to choose from: the Manukau on the west, with its lethal sandbar entrance and shallower channels, and the Waitemata on the east. Although the safer choice, the Waitemata waterfront, in its natural state, was a motley array of tidal beaches and mudflats which made loading and unloading the large sailing barques and brigantines a tricky and tedious business. The solution was a 1400′ (427m) long wharf jutting out into Commercial Bay, and once this was completed shops, warehouses, factories and hotels sprang up to receive, resell and redistribute the tons of cargo constantly being off-loaded there.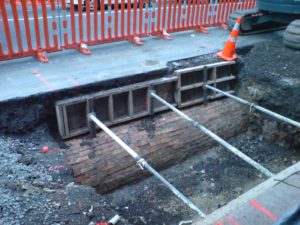 The area was soon the hub of Auckland's commercial activity, and prime business real estate, but further inland was far less desirable. Where Aotea Square is now was once a swamp. Rainwater running downhill from Karangahape Ridge pooled in this hollow, before draining away to the harbour along a meandering trench known as the Waihorotiu Stream. Because the stream met the sea at a point near the new wharf, businesses soon sprang up alongside it, and the resulting caravan of wooden shops was declared to be Queen Street. Unfortunately the city had no provisions for sewage, and so Waihorotiu quickly became a low point hygienically, as well as geographically. Human waste and general garbage transformed the stream into a slow-moving cess pit, imparting an unsanitary odour over downtown Auckland and contributing to the spread of vermin, disease and death. In the 1880's the stream was finally bricked in and paved over, and renamed Ligar's Canal. Entombed beneath 21st century Queen St traffic and skyscrapers, it still courses through that same curious oval-section tunnel. 
     The Mill 
   Yorkshire-born JC Firth was only 28 years old when he arrived in NZ, but wasted no time putting his life savings to work. He purchased a section of land in Cook St, and opened his own brickyard, then focused on establishing Wharf Mills – soon Auckland's premier milling business – with colleagues DB Thornton and WB Smith. These two businesses were both established by 1857, within three years of his immigration. 
   The location of their new mill alone was a mark of their success – on Auckland's newly established Queen St, and within yards of the critical Queens Wharf – and the four-storey brick building dominated the skyline until it suffered a serious fire in May of 1860. Rather than take the insurance and run, Messrs. Thornton, Smith and Firth commissioned a new purpose-built complex immediately, which opened on October 16, 1861. According to contemporary press it was, for the time, quite palatial: Auckland's only stone building, and the largest in the city centre. Designed by one Mr Wright, it was engineered to bear the immense weight of seven pairs of millstones and tons of grain and related machinery. Only the best local materials were used, even the floorboards were planks of 2.5 inch thick heart kauri timber.
   And there Thornton, Smith & Firth stayed for almost three decades, in the largest and most prominent stone building in town, staking out the foot of Queen St and guiding ships in to Queen's Wharf. Later additions to the complex included a separate multi-storey warehouse fronting onto Albert St ("Firth's Bond") connected to the mill by an underground tramline. Firth's Bond was likely bowled in the 1980's to build the Quay West Suites, but I wonder if that tunnel is still there – boarded up of course, but lurking under Mill Lane somewhere. A skeleton in our subterranean closet, just like Ligar's Canal.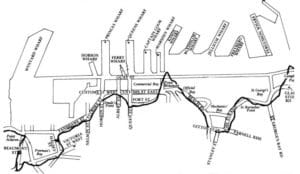 But the waterfront was changing, or more correctly being changed. Plans were underway, beginning in the 1850's, to establish commercial docks that could service any ships, and in greater numbers than a single wharf. The solution was to reclaim the harbour – fill in the foreshore and run the land right out past the shallows. To this end, work continued for over 100 years, but large sections were completed quite early on out of necessity. Within a few short years Wharf Mill went from having the ocean for a neighbour to being several hundred metres inland. Eventually Thornton, Smith & Firth moved milling operations to nearby Quay St, the newly reclaimed waterfront drag, and re-branded their business Northern Roller Mills, leaving the old complex empty.
A New Tenant
   Herbert Mayne Smeeton worked as a grocer in Ponsonby, before buying an existing grocery business in Karangahape Road. Clearly, he was a gifted entrepreneur, as within a few years he was able to take out a long-term lease on what had once been Wharf Mill while initially still operating his previous shop in Newton (it was gone by 1910). Opening in 1894 as Smeeton's Ltd, "The Old Mill" (as Smeeton advertised the building) was augmented with a verandah supported by cast-iron pillars, and state-of-the-art plate glass windows for the shop front. There were loading docks for horses and carts in front and rear, while inside sacks of grain and giant blocks of cheese were traded over heavy marble and timber counters. Compared to K'Rd, it was the perfect location to receive and dispatch bulk orders by boat, mostly coasters that would ship his merchandise to smaller ports around New Zealand.
Remake, Remodel
   The Old Mill was a well-known and well-patronised operation in those days, and HM Smeeton himself became something of a pillar of his community, being active on behalf of his church and the YMCA, and holding positions on both the Auckland City Council and Auckland Harbour Board. His grocery business was good enough that Smeeton bought the property in July of 1905, and in 1910 commissioned architect William Holman to completely remodel the 50 year old building. Work began in October that year, with the mill's 10 foot square chimney being dismantled. With the bricks found to be in excellent shape, they were carefully stacked for re-use in the new construction.
   The original four-storey building would contain his shop on the ground floor with leased office space on the floors above. However, aggressive surgery was planned from every angle. The cavernous main structure was sliced off halfway back, and split into a 74′ deep office building so that a 50′ deep five-storey warehouse could be built behind it with a caretaker's cottage on the roof, and some small sheds for roasting coffee. A small adjacent shop was demolished and the main building widened, with a contemporary facade added in grand Edwardian style to unify the old and new portions. Three elevators were installed, and SMEETON'S was proudly emblazoned in raised concrete lettering.
The Last 100 Years  
 Herbert Smeeton retired on medical advice in 1917, finally selling off his Queen St property in 1920 for the significant sum of 100,000 pounds. He died in 1927, aged 65. The new owners, a subsidiary of concrete giants Winstone Ltd, used the office space but leased the shop back to Smeeton's Ltd, which continued its general goods trade until succumbing to the Great Depression in 1931. The owners renamed it the Winstone's building, and since 1981 it has been known as the Encom Building.    The building is registered Category 2 Historic and appears to be well looked after.
   Behind the façade – unchanged for over a hundred years – are the bones of a one hundred and fifty-five year old mill, once the largest and most prominent building in the area, now dwarfed by everything on the block. It marks the spot where Queen St once ended and the Waitemata Harbour began, now can no longer be seen from the waterfront. But it is still there, and thousands pass it daily. Next time you do, it's certainly worth a glance of recognition, don't you think?