Dolphins are perhaps the most loved and respected creatures in the sea. Considered by marine biologists to be highly intelligent, they have a brain-to-body mass ratio second only to humans. They are also very sociable mammals, and almost always swim in pods, or groups. Lone dolphins are extremely rare and most likely orphaned, and of these only about 30 worldwide have ever been recorded interacting with humans. New Zealand has been lucky enough to know three.
Opo
The summer of 1955/56 was a special one for the tiny township of Oponini. Nestled in Hokianga Harbour in the far north, the beachfront community were enjoying the company of an honorary resident dolphin, a curious 8' (2.4m) female bottlenose who had graduated from following local fishing boats to playing with children near the shore. Incredibly trusting and confident, she happily allowed people to swim with and touch her, and taught herself to play with toys such as balls or bottles. She became known as "Opo"
News of Opo's remarkable behaviour went national and put Oponini on the map. Visitors who probably had never heard of the place weeks before arrived from all over the country to see the unusually sociable dolphin in action. The seaside town was flooded with sightseers and had to deal with unheard of issues such as traffic jams. Parents lifted small children onto her back for "rides", and photographers risked their cameras to wade about in the tide. There was even a documentary crew there, and the short film The Amazing Dolphin of Oponini was eventually screened around the world.
The locals were so concerned about all the attention that Opo was getting that they requested that she be protected by law, and this was granted on March 8, 1956. Just one day later, however, Opo was found dead at Koutu Point, wedged between rocks. While rumours circulated about local fishermen using gelignite, no wrongdoing was ever proven.
Opo was given a formal Maori burial service and interred next to the Opononi War Memorial Hall. With Opo gone, the crowds soon deserted Opononi, snaking their way along the unsealed roads, back to the cities. A stone statue of Opo playing with a child was commissioned and erected in 1960.
Opononi returned to its sleepy, hazy existence. These days the only tourist attractions on offer are guided fishing and hunting trips – not for everyone. Sixty years after that one golden summer, most visitors still come primarily to see Opo. And that is something they will be able to do for a long time: the old stone statue has recently been replaced by a bronze cast copy, due to vandalism. You can find it here, outside the Opononi Hotel. The original has been repaired and is on display at the Hokianga Museum, on Waianga Place next to Opononi Area School.
Pelorus Jack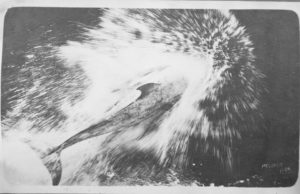 The fuss surrounding Opo in 1955 reminded many older Kiwis of an earlier maritime legend, which lead to some locals nicknaming her "Opononi Jack" (Opo's sex wasn't ascertained until after she died). This was in reference to Pelorus Jack, a rare 13' (4m) Risso's dolphin who lived in Cook Strait and insisted on guiding ships through a notorious passage of ocean called French Pass. In the days when the interisland steamers went from Wellington to Picton and then on to Nelson, they routinely had to negotiate this narrow channel between the mainland and the southern tip of D'Urville Island. From 1888 to 1912 Pelorus Jack patrolled the entrance to the pass, and such were the currents and rocky outcrops that boats would often hove to until Jack appeared. During his years of escorting ships not one was ever wrecked.

He became the first ever individual sea creature in NZ waters, and probably the world, to be protected by government decree after he was shot at from a passing ship, the SS Penguin. He was apparently unhurt and continued to help sailors until his disappearance in 1912. It is presumed he died of old age. Pelorus Jack is the dolphin depicted in the current Interislander logo:
Moko
Stories of lone dolphins interacting with humans are rare, and since Opo's death sixty years ago there has only been one similar "personality" in NZ. From 2007, Moko, as he became known, was another bottlenose who initially made his home at Mahia Beach, a short peninsula between Napier and Gisborne. As with Opo, once word spread of Moko's curious and playful nature, holidaymakers flocked to the obscure beach to see him "in person".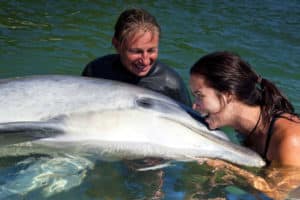 The attention became global in March 2008 when two pygmy sperm whales stranded on a sandbar near Mahia Beach. Department of Conservation worker Malcolm Smith was alerted, and soon on the scene with several helpers. Repeated efforts to re-float the disorientated whales always ended with them beaching themselves again, and Smith was at the point of recommending that they be killed. Instead, Moko appeared and approached the stricken whales, before leading them through a narrow channel and out to sea.
Appreciation for Moko was not universal, however. As he matured his playfulness grew rougher, occasionally resulting in minor injuries and a few scares for swimmers. His cheeky habit of stealing boards from surfers and paddles from kayakers also drew a mixed response, and authorities, fearing the playfulness could lead to a serious accident, imposed fines on anyone caught swimming with Moko.
Moko had tired of Mahia Beach, anyway. Perhaps missing the human contact, the dolphin began moving north, usually by following fishing boats up the coast. He spent time at Waikanae Beach in Gisborne where, as with Opo more than 50 years earlier, locals became concerned for Moko's safety. In this instance, the Waikanae Beach Surf Life Saving Club organised minders to watch over the dolphin for up to 10 hours a day.
After four months he headed north again, first to Whakatane, and finally Tauranga.  In July 2010 the 4 year old dolphin was found dead on a beach at Matakana Island, near Tauranga. Like Opo, Moko's cause of death was never determined. Like Opo, he received a formal burial service. Like Opo, a documentary film, Soul In The Sea, was made about Moko and was released in 2013. Great footage of Moko can be seen in the movie trailer, here.
Where Can I Swim With A Dolphin?
While we may not see another Pelorus Jack, Opo or Moko in our lifetimes, New Zealand is still one of the best places in the world to see dolphins, and in many cases you may still swim with them. Here are our 5 favourite spots:
Famous for its whale-watching, the Kaikoura peninsula is home to a great variety of dolphins: common dolphins, bottlenose dolphins, Hector's dolphins, orcas (killer whales are technically the largest species of dolphin), and even southern right whale dolphins. The most commonly seen are dusky dolphins, and there are opportunities to swim with them all year round. Duskies are known for their acrobatic ability, so swimmers and spectators can be in for a treat.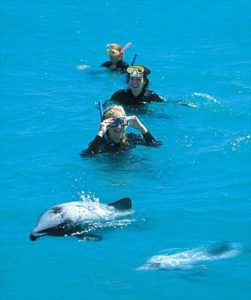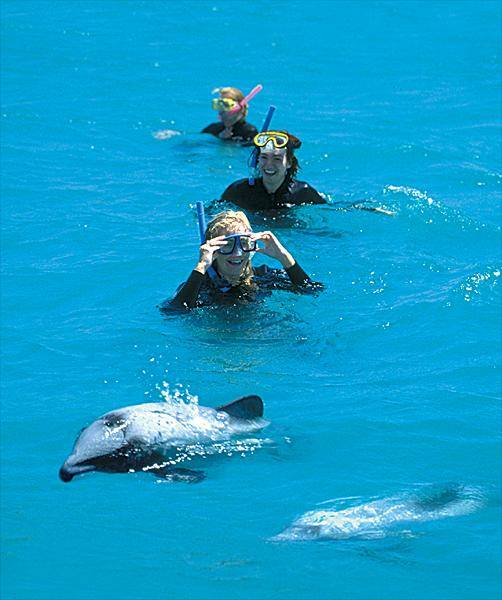 Being our northernmost location, the Bay of Islands has warmer water than others on this list, making it a more comfortable swimming option. Tour operators can take you out on a ferry until dolphins are spotted, and may let you swim with them. It's not guaranteed though, the Department of Conservation has fairly strict regulations about when you can swim with these creatures, for their protection and yours.
At the top of the South Island, the peaceful, sheltered waters of the Marlborough Sounds are a great draw with or without dolphins. It is a beautiful spot, popular for kayaking and relaxing on the water. It is home to several species of dolphin and there is a high swim success rate in the summertime.
Near Christchurch, the quaint village of Akaroa is the number one place to swim with Hector's dolphins. Hector's dolphins are the smallest species (less than 1.5 metres long), and are very cute and friendly.
There are numerous tour operators based in Tauranga that will take you out into the Bay of Plenty. As well as having the chance to swim with dolphins, you may also see seals, sunfish and blue penguins. From time to time a pod of orcas venture in to Tauranga harbour to feed, giving locals a ringside view of their immense dorsal fins.