On this day in 1889, NZ's very own Eiffel Tower opened for business. Only eight and a half months earlier, Gustave Eiffel had unveiled his elegant namesake as the centrepiece of the Paris Exhibition Universelle.  It was pure in concept, ingeniously engineered, monumentally modern, and at 300m the world's tallest tower (holding this record until New York's Chrysler Building opened in 1929).
Everywhere, architects and city officials were so enraptured and inspired by the Eiffel Tower that newspapers reported smaller replicas being commissioned in several cities around the world, including London and Sydney. Scores of businesses rushed to capitalise on the iconic simplicity of its form, selling miniatures, postcards, and adopting it as a kind of all-purpose mascot. However, the earliest known large-scale versions were built right here in New Zealand, where it was decided to hastily shoehorn not one, but two tribute towers into our own upcoming international showcase, thereby demonstrating that we were at the vanguard of the modern industrial age, or at least, able to jump on its bandwagon quicker than most. This occasion was the New Zealand and South Seas Exhibition, to be held in Dunedin over the summer of 1889-90.  
The exhibition was to be a typically ambitious mix of trade fair, amusement park, art and architecture, and was to be held on reclaimed Harbour Board land bordered by Jervois Street (main entrance), Andersons Bay Road, Crawford and Cumberland Streets. It featured a grand domed entrance, six art galleries, a 3000 seat concert venue, and numerous halls, courtyards and gardens. South of the buildings would be a fairground including a switchback railway (basically a roller-coaster), flea circus, and merry-go-round – all contemporary midway favourites.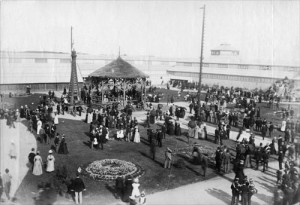 The towers were the brainchilds of two totally independent companies, which shows how universally the Eiffel image had been embraced. A relatively small replica was commissioned by Auckland whisky retailers King, Walker and Company. Using a borrowed souvenir model of the French tower for reference, this 12 metre copy was designed to display their finest blends of scotch. Making a connection between their scotch whisky and something so symbolically French was a low priority to the ideas men and King, Walker and Co., such was the Eiffel's spell. The intention was that barrels of scotch were to be stacked inside the base, topped with a pyramid of bottles of Robertson's whisky on specially tiered shelves, presumably out of reach of thirsty passers-by.  Upon its delivery to Dunedin however it was discovered that the tower was too tall to fit into the exhibition hall, and so it was placed, rather incongruously some thought, and without its liquid wares, in the exhibition gardens.
It seems entirely possibly that King Walker & Co. anticipated that their innovative display concept would be the talk of the exhibition, unaware that another Eiffel was in the works. The second tower was a far more substantial, a piece de resistance at 40 metres high, to be located in the amusement area near the switchback railway. This was built for the Australian branch of the Otis Elevator Company, a brand that anyone who has ridden in an elevator will recognise. Having installed the lift in the original Eiffel Tower, the firm decided a downsized copy would be an ideal way to demonstrate their product in New Zealand. The lift they fitted had a capacity of 16 people, and featured the company's patented braking system which would halt the elevator in case of broken cables or a failed steam engine. Unfortunately, in making the tower functional many proportions had to be tweaked, robbing it of much, well, let's be honest, all of its intended Parisian elegance.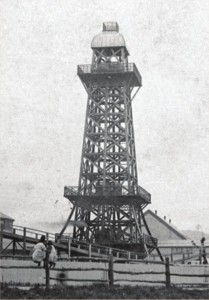 Because of the fast approaching deadline both towers were constructed of wood – probably kauri – and then painted to look like metal.  In spite of this shortcut the larger tower was not ready in time for the exhibition's November 26 opening, however when it debuted three weeks later it was an immediate success. For a small fee show-goers could ascend the tower, alighting at any of three landings. A bar was installed on the lowest landing. From the third landing there was a staircase to the very top of the tower, from where you were assured an unparalleled view of the surrounding entertainment and exhibition halls. At night the tower was illuminated with electric bulbs, and a powerful spotlight mounted on the upper deck beamed across the bustling fairgrounds. Over 3000 paid passengers rode the Otis on Christmas and Boxing Day alone.
With summer over the exhibition closed in April 1890, and was deemed a success on every level. Exhibits were loaded up and shipped back to their vendors, and the buildings slowly demolished and removed. What became of the towers? The smaller one was returned to its owners King, Walker and Co. in Auckland, who obtained permission to from the Harbour Board to install it – sans liquor – on Quay St. How long it remained there for is unknown. The much larger Otis tower repeatedly failed to sell at auction with a reserve of just 30 pounds – this presumably didn't include the elevator, which would have been shipped back to Austral Otis, or possibly installed elsewhere in New Zealand. Finally, according to the Evening Star, it was purchased for 32 pounds and 10 shillings by one Mr Gadfield on May 31. The final fate of Mr Gadfield's tower is unclear, the trail runs cold after that date.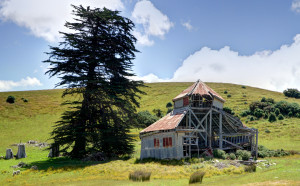 A recent article in the Otago Times caught my attention, concerning the fate of one of the exhibition's domed turrets. It seems this was sold off and transported south to a farm at Kuri Bush, serving various agricultural duties over the next century until it became too unstable to use. High winds in early November finally caused it to collapse. It was the last known surviving structure from the 1889 New Zealand and South Seas Exhibition. An octagonal ticket office from the 1925 South Seas World Expo, also held in Dunedin, has been restored and serves as an art gallery near Brighton.
And so ends our story. You may be interested in a post we wrote about another amazing exposition, this one in Christchurch in 1906.