Ahhh, France. The very mention of it conjures up so many romantic images: its legacy of exquisite wines and fine cuisine, the Eiffel Tower and Louvre Museum, fashionable ladies with sensual accents, and the dashing young men…
…urinating out of moving cars.
Last week Angela Chilton was traveling on SH6 toward Milford Sound behind a rental car occupied by French tourists Alexandre Tatarus, Florian Birolleau, and three others. As she watched, the two named men simultaneously relieved themselves out of the car windows at 100km/h. This is a pretty disgusting and stupid thing to do you might agree, but it is especially ill-advised in an age of phone cameras and dash-cams. Angela snapped this photo: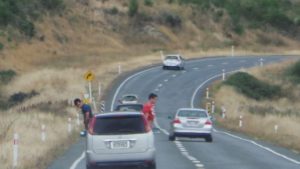 The resulting publicity turned up more details – firstly the car had been hired from us, NZ Rent a Car, and secondly the Milford Sounds Lodge were trying to contact the same party regarding some missing motel property. Oblivious to the media coverage and attempts to reach them, the group were surprised to find that their fame had preceded them when they returned their car to our Christchurch depot. Here they were met by police, media, not to mention NZ Rent a Car staff who might be politely described as "disappointed". 
Although the pair initially denied ever putting the "pee" in "speed", a quick review of the photographic evidence led to a change of heart. It's fun to imagine how many times their confession may have included the word "oui". In a short interview with Fairfax Media NZ, Mr Birolleau spoke candidly about the experience. "We were just wondering if we could pee by the window. It was really difficult at the beginning…. I was a bit blocked by the wind," he stated. He also admitted that his friend "peed a bit inside" the car and that he got "a bit" on his shorts.
Charming. They were charged a "decontamination" fee for the rental car, and left with police. The men, who are currently studying in Wollongong, Australia, departed for Sydney the following day (Saturday 20th). Adieu , mauvais garçons.