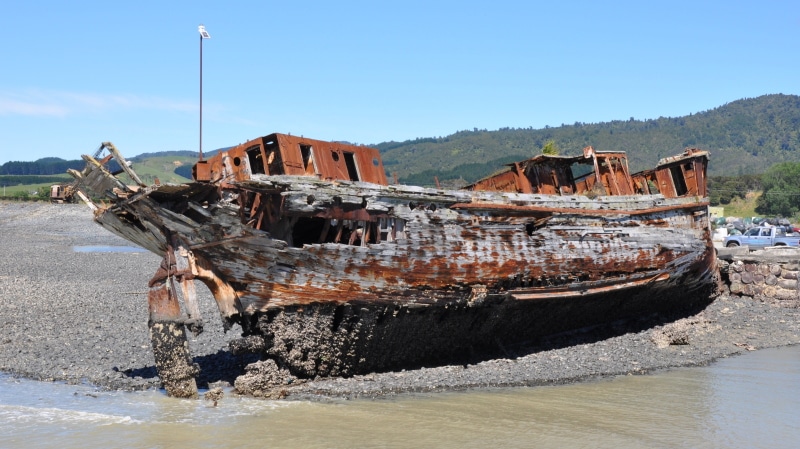 Last week I wrote a post about "visible shipwrecks" of the North Island coastline, wrecks that you can visit on foot. Our fascination with these rust-ridden hulks comes partly from our simultaneous love/fear of the sea, and partly the fading link they provide to New Zealand's past. You can read part one here.
Sadly, they are a vanishing fleet. The Hydrabad, a giant iron-hulled brigantine wrecked in 1878, has only recently slipped beneath the sand dunes of Waiterere Beach, gone for good unless a massive maritime heritage project, or severe storm, can excavate her. 
In this second installment we go wreck hunting around the South Island – once again, Google earth locations are included for each vessel.
SS Lawrence
Mokihinui beach, Buller, West Coast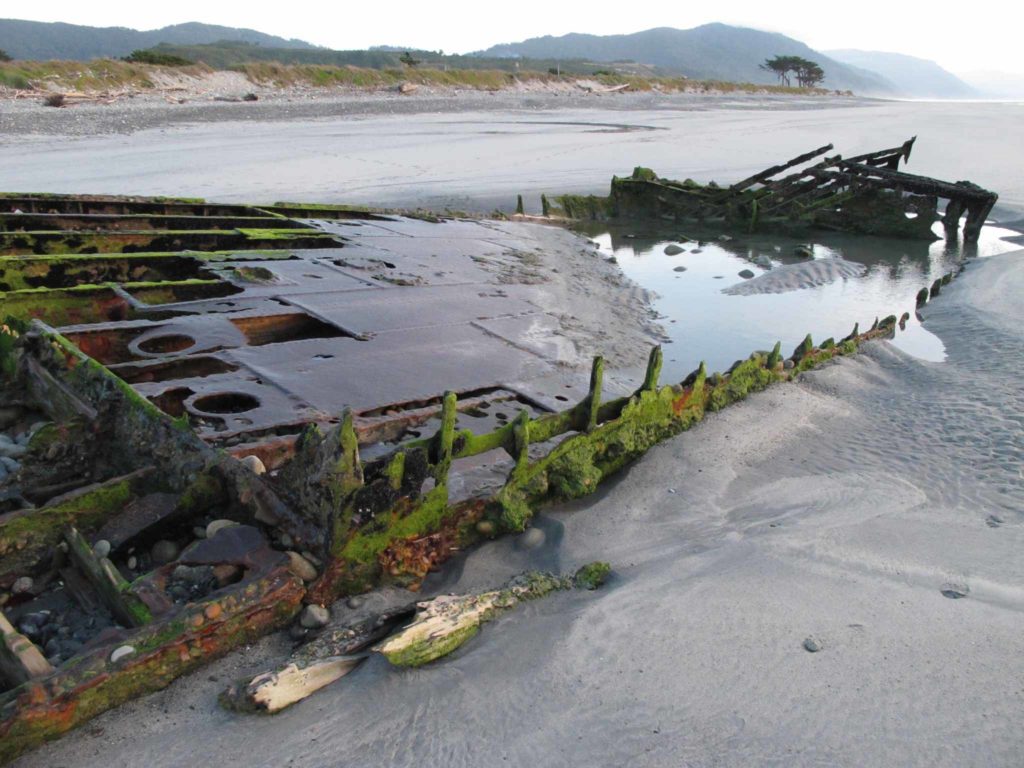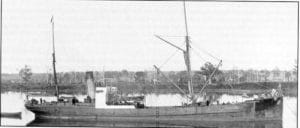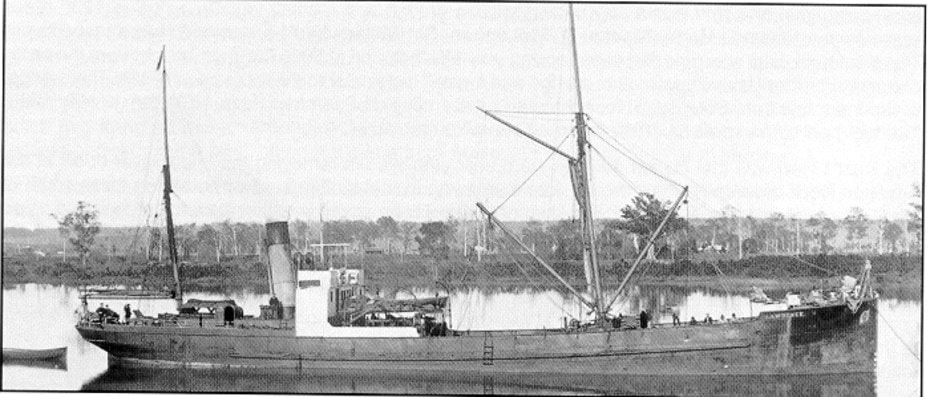 The Lawrence was a 160′ long two-masted twin-screw iron steamer. She was built in 1884 by Kish, Boolds & Co. of Sunderland, England, and launched originally as Bortonius. The following year, coal was discovered in the tiny west coast hamlet of Mohikinui, and the Mohikinui Coal Company was established. They soon found a second coal seam even larger than the first, and in 1889 the flourishing business purchased the Lawrence. Good fortune continued to smile on the young company, and in early 1891 they won a contract to supply coal to the NZ Railways.
Unfortunately good fortune was feeling less benevolent on Tuesday, April 28, 1891. From the up-river wharf where the Mohikinui Coal Co.'s one-mile tramway delivered the coal from the mines, the Lawrence set sail at about 12 noon. She became lodged in the sandbar at the river mouth, managed to break free, but owing to her damaged propeller blades she then drifted inevitably onto the beach. The next day she broke her back in heavy weather and was declared a total loss.  As the Lawrence was their only ship, the Mohikinui Coal Co. were subsequently forced to hand over their newly acquired rail contract to the Grey Valley Coal Company.
In 1935 a ship's bell was found near Westport, about 40km south of the Mohikinui River, but at first no-one recognised the name inscribed: Bortonious.
The remains of the Lawrence are here.
Janie Seddon
Motueka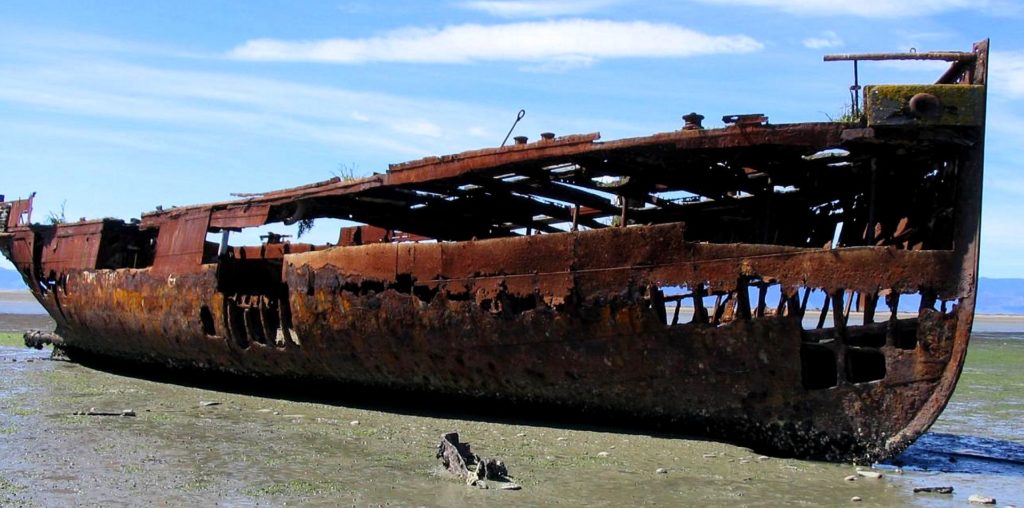 At the turn of the 20th century, New Zealand was in fear of invasion. Not by the Japanese or Germans – the perceived enemy at this time was Russia. There was particular unease over the recent development of long-range military submarines, and so in 1900 the NZ government placed an order with Fleming & Fergusson Ltd, of Paisley, Scotland, for a 90′ steel boat. She was to be named Janie Seddon after Prime Minister Richard Seddon's daughter, and would commence minelaying work as soon as practicable. The finished boat sailed for New Zealand via the Mediterranean, the Suez Canal, and across the Indian Ocean, arriving in Wellington in January 1902.
She remained in government ownership for many years, serving as a minelayer and harbour examination vessel during the Great War, and various duties during peacetime. She was sold in 1936 to Talley's for conversion to a fishing trawler. At the time, Talley's was a newly formed, family operated seafood business based in Motueka. Now, with seafood, dairy, vegetable and meat divisions (they have a majority holding in AFFCO), they are one of the largest producers of food in the country.
But her fishing career was brief, and she soon found herself back in the government's maternal care, when the day after World War II was declared she was requisitioned by the Royal NZ Navy for use as a liberty ship and all-purpose workboat, based in her old haunt of Shelly Bay, Wellington. 
Back to Talley's went Janie Seddon after the war, but was found to be a poor choice for deep-sea trawling due to her range of only five days. She was laid up by 1950, deliberately sunk at her moorings on April 23, 1953, then gradually stripped of all usable fittings. The remains of her hull lie on the mud flats near the Motueka shore, and can be reached at low tide if you don't mind wading knee-deep in muck. She rests here.
SS Victory
Victory  Beach, Otago Peninsula
On July 3, 1861, the Inter-Colonial Royal Mail Company steamer Victory left Dunedin bound for Melbourne. Once clear of Otago Harbour Captain James Toogood handed over command to an allegedly inebriated Chief Officer, who within minutes ran the ship headlong up the southern end of Wickliffe beach (now Victory beach). Undamaged but firmly stuck in the soft sand, the cargo and passengers were safely unloaded.
Almost one year later an elaborate salvage operation began, at great expense and over several months, whereby a series of hydraulic jacks would walk the Victory inch by inch down the beach. All the while the vessel was kept in good working order, and bizarrely, the Captain continued to live aboard. By November 21, 1862 the Victory was finally hauled out into the tide, and her boilers fired ready for the short cruise back to Port Chalmers. Devastatingly, whilst waiting for high tide her anchor chain parted and she was washed back onto the beach, this time in a worse position than before. She began to break up within days and was abandoned.
Her barnacle encrusted flywheel and some deck plates at low tide are all that can be seen of her now, and they are here.
Amokura
St Omer Bay, Kenepuru Sound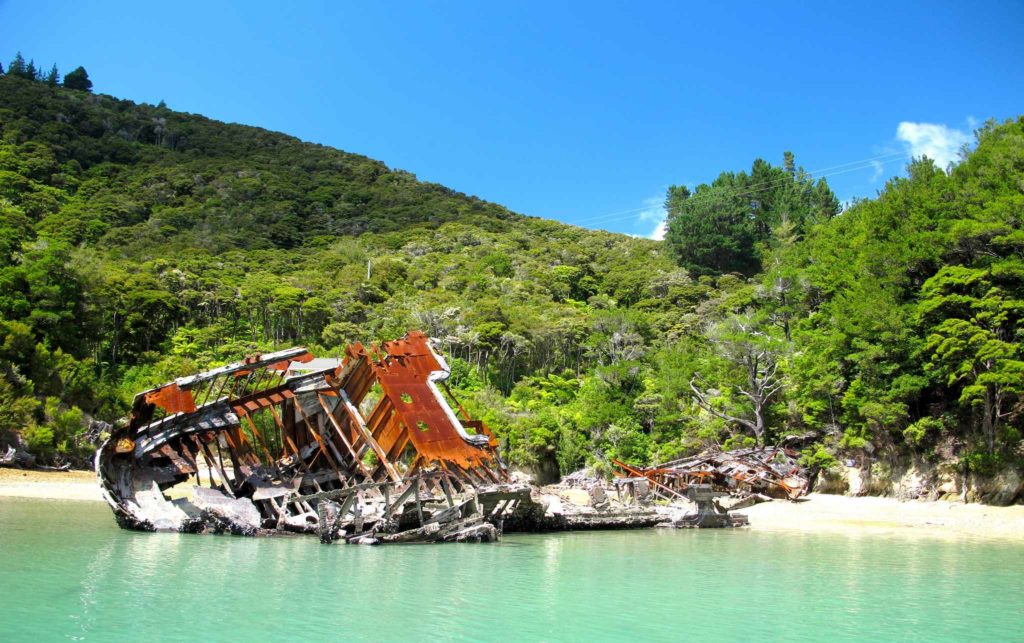 Built in Scotland in 1889 as the gunboat HMS Sparrow, this 165' three masted barque saw active service in the Persian Gulf and around Africa in the suppression of the Congo slave trade. She migrated to Sydney, but served the crown again as an escort for the Royal yacht Ophir when the Duke and Duchess of Cornwall and York (later King George V and Queen Mary) toured New Zealand in the winter of 1901.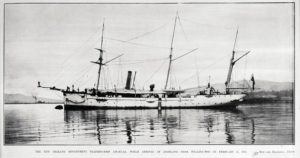 Five years later she was purchased by the NZ government, renamed Amokura, and converted to a maritime training ship for 12-14 year old boys. Living aboard the Amokura (in port) sixty boys at a time were prepared for careers at sea, being schooled in seamanship, navigation, gun drill, and marine engines, and crewing on summer cruises to the sub-Antarctic Islands and the Kermadecs. The training scheme was a success on one hand, but tremendously expensive on the other, and when Amokura failed her survey in 1919 the government gave up on the controversial program, and the Amokura. 
Stripped and sold in February 1922, her remaining days were spent as a "coal hulk" (a floating storage bunker), a far cry from her tropical escapades with the Royal Navy. The years she lay tied up in Port Nicholson, Wellington, must have been especially heartbreaking to the local sailors, many of whom could fondly recall their apprenticeships aboard her as this was where she had been based as a training ship. She was finally sold one last time in 1953, and towed to Saint Omer Bay in the Kenepuru Sound for use as a store hulk and jetty. Though reported to be broken up in 1955, she was in fact only stripped, and Amokura's collapsed hull is still here in Saint Omer Bay.
SS Ino
Fortrose Harbour, Caitlins
Little detail is known of the Union Steamship Company steamer Ino, except that she grounded on a sandbar in Fortrose Harbour on March 4, 1886, having sailed from Port Chalmers. Too badly damaged to salvage, the wreck apparently drifted over the bar and settled further inside the estuary at a later time. The 84' wooden steamer was been built in Hokitika in 1874, and had operated regular services between Port Chalmers and Fortrose since 1882.
Not visible except at low tide, the Ino apparently lies here.
SS Waverley
Wairau Lagoon, Marlborough
In a labyrinthine lagoon near Blenheim you can find two old iron-hulled steamers, Waverley and Kennedy. Both ships had been owned by the Anchor Shipping & Foundry Co., mostly West Coast-based, but were purchased by the Wairau Harbour Board in to use as breakwaters at the entrance to the Wairau River. The Waverley arrived in 1928, but the sinking did not go as hoped. She was carried away in poor weather and drifted a mile south of her intended grave, beaching herself in the estuary on a flood tide. They tried again the following year with the Kennedy, which was scuttled in place successfully.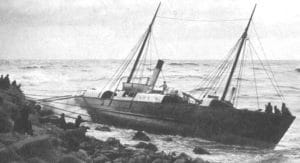 The Waverley was a 96′ steamer built in Auckland in 1883 for the Patea Steamshipping Co. She was to be a first-class passenger ship for the Patea-Wellington-Nelson service, however owing to the imminent completion of the Patea-Wellington railway she was not a financial success, so joined the Anchor Shipping & Foundry line at just three years old. They stripped out her luxurious accommodations, lengthened the hull by 18 feet, and set her to work as a coaster. She had an eventful career – a brief news report from 1919 notes that the Waverley sighted a mine south of Patea, and the crew detonated it with a spell of rifle practice.  
She ended her seagoing days as a refrigerated cargo ship hauling meat for a freezing works, and was retired in late 1927. Dismantled in Wellington, she was towed (by the steamer Wairau) to the Wairau River on the 14th of June, 1928, to rust out her days in the company of her old stablemate, the Kennedy. Her final, unintentional location is here. 
SS Kennedy
Wairau Lagoon, Marlborough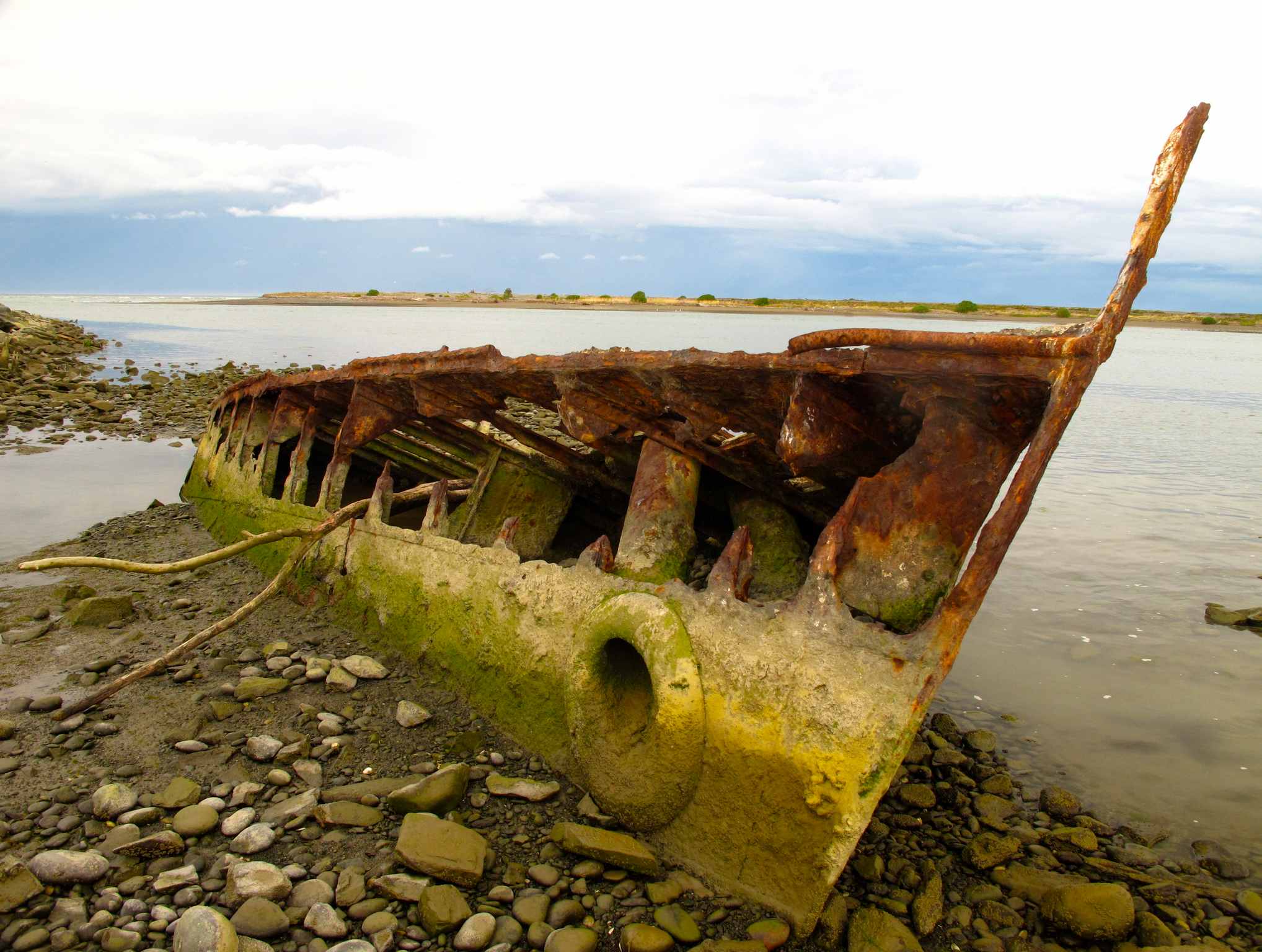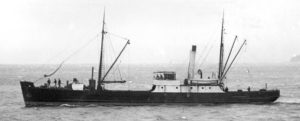 Kennedy was a 136' three masted schooner, and continued to use her sails throughout her 63 year career. Built in Sydney in 1865, she came to NZ the following year and began service as a two-class passenger steamer based out of Nelson, ferrying boatloads of hopeful prospectors on the 36 hour run to the Greymouth gold fields. She was later converted for cargo duties, before being laid up at Queens Wharf, Wellington.
Stripped of her fittings and machinery, she was towed (also by the Wairau) on May 12 1929, to be scuttled where the Waverley was meant to have sunk the previous year. The half-buried hulk of the Kennedy is alongside the Wairau Bar Rd, here.     
Hananui II
Ryans beach, Otago Peninsula (No public access?)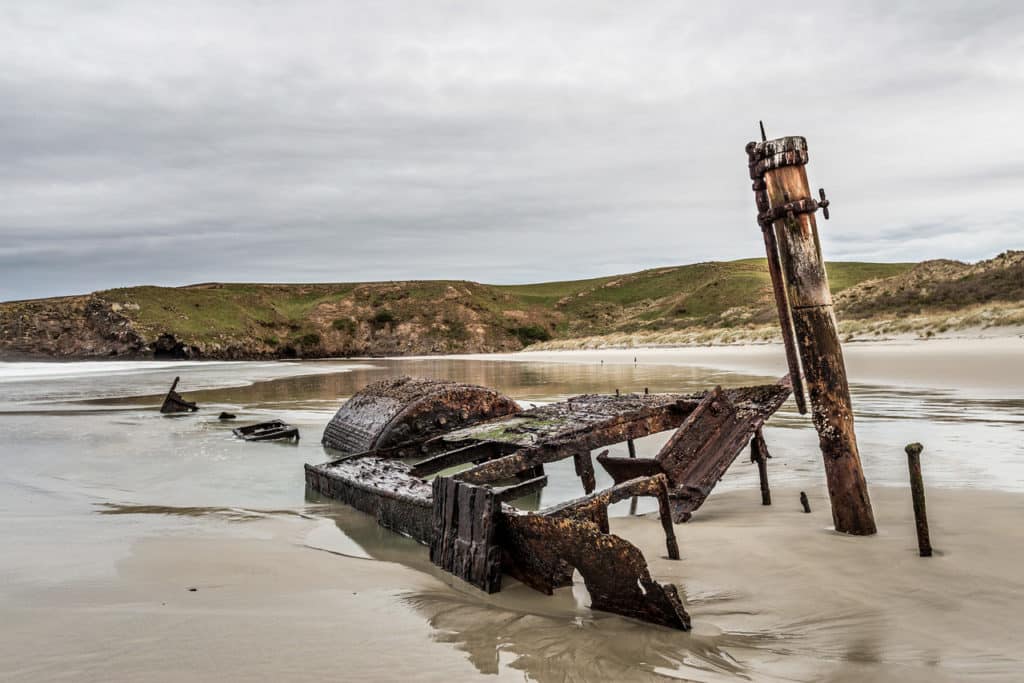 The 93′ whaler Hananui II was built in 1910 for the Whangamumu whaling station, Northland, which had distinguished itself as the only station in the world to catch whales using nets! Following an interlude for WWI, when she was requisitioned for use as a minesweeper, she returned to whaling, very successfully until the depression and a diminishing supply of whales crippled the industry. She was sold in 1935 and converted to a trawler fishing out of Port Chalmers. Returning from a fishing trip in the early hours of Dec 2, 1943, her master missed the Otago Harbour entrance and ran Hananui II gently up the sandy shores of Ryans Beach. The crew were able to wade ashore and walk to safety, however attempts to refloat the Hananui failed, and she was stripped and abandoned.
I read one article which claimed Ryans Beach is privately owned, but haven't been able to substantiate this anywhere else. So, although this is a wreck you may not be able to visit, I include it because… well, you might. And because it's there, and a part of the maritime legacy we're discussing.  Here is the Hananui II.
Quail Island Ship Graveyard
Outside the boundaries of this post (as you need to take a boat to get there), Quail Island in Lyttleton Harbour is worthy of mention, just because it has the bones of at least 13 boats slowly fossilising in the shallows. The island has an interesting, albeit slightly grim, history of its own, too.