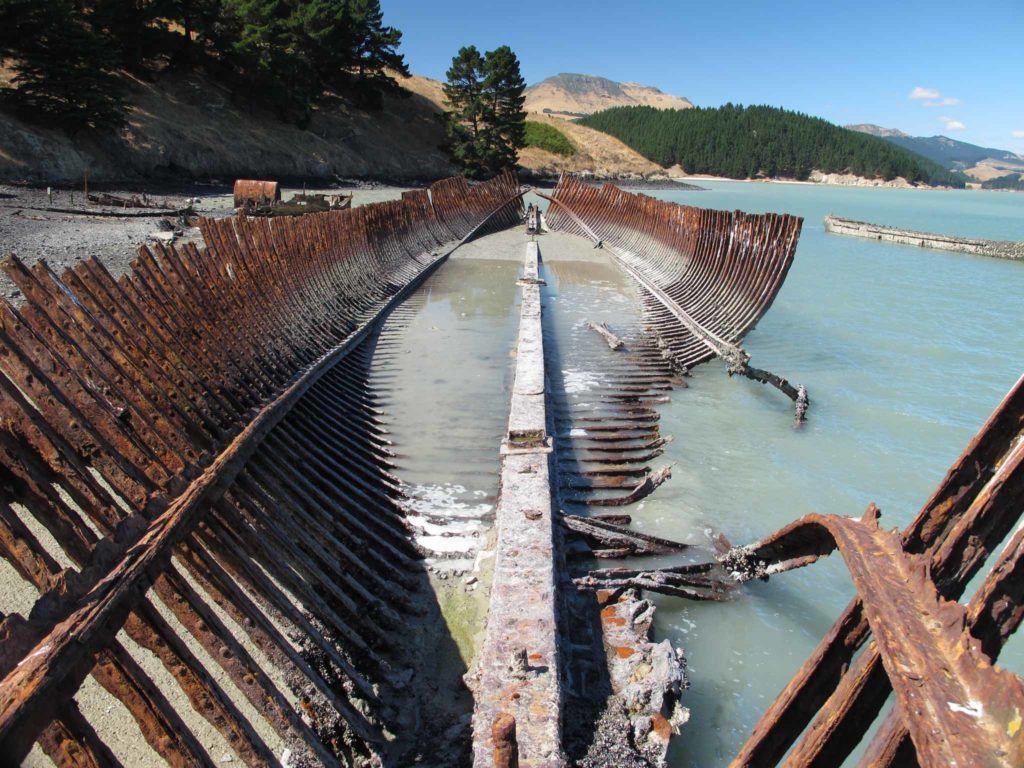 Shipwrecks have a special lure, don't they? The spectre of tragedy that surrounds them, the resonance of loss, and a reminder of the ocean's uncompromising power. More than most historical artefacts – restored cars, preserved buildings, antique furniture; embalmed in modern veneer; enshrined in modern surroundings – a dead ship feels like the past reaching out to us, a tangible, authentic remnant of history.
New Zealand, with its high ratio of coastline, is surrounded by shipwrecks, hundreds of them. The bulk of these can be traced back to the age of the coaster – working vessels which made regular runs between local ports. Before modern roads and trucks, the coasters carried timber, livestock, food and general freight from town to town, and were under constant pressure to maintain a schedule regardless of weather conditions. Many were lost.
We have many well-known wrecks that are popular dive sites: the luxury liner Mikhail Lermantov, the Greenpeace vessel Rainbow Warrior (sunk by French secret service agents in response to New Zealand's anti-nuclear stance), and the recently scuttled frigate HMNZS Canterbury. But there are quite a number that can be visited without a boat or wetsuit, washed up on remote beaches around the country. In this post we show you where to find these ghosts of coasters, and how they got there. If you're in the neighbourhood call by sometime soon, because there is less and less to see. Decades of shifting sands, wave action, and souvenir hunting means these links to New Zealand's maritime past will one day, finally, be lost for good.
Today's shipwreck tour covers the North Island sites, I'll post the South Island ones (and there are many), next week. Please consider bookmarking our blog or liking us on Facebook to see the next part.
HMNZS Hinau
Kaiaua, Firth of Thames
Hinau was once a proud naval patrol craft. These 134′ trawler-type vessels were originally built in great numbers for the Admiralty in the latter days of the first world was, as Castle-class ships. Hilariously outdated (steam powered) by the time WWII was in full swing, the NZ Marine Department curiously chose to commission a few more for minesweeping duties, and Hinau was launched in Auckland in 1942.
Following the war she was mothballed at Devonport due to a shortage of coal, and eventually sold for scrap in September 1954. She was spared the cutting torch, and instead was beached at Stevenson's gravel quarry near Whakatiwai to serve as a breakwater. She is still there today, more or less intact and highly photogenic. She will be known to many Kiwi's as the ship on the cover of Dave Dobbyn's 1998 album, The Islander. Find her here.
SS Waitangi
Patea beach, South Taranaki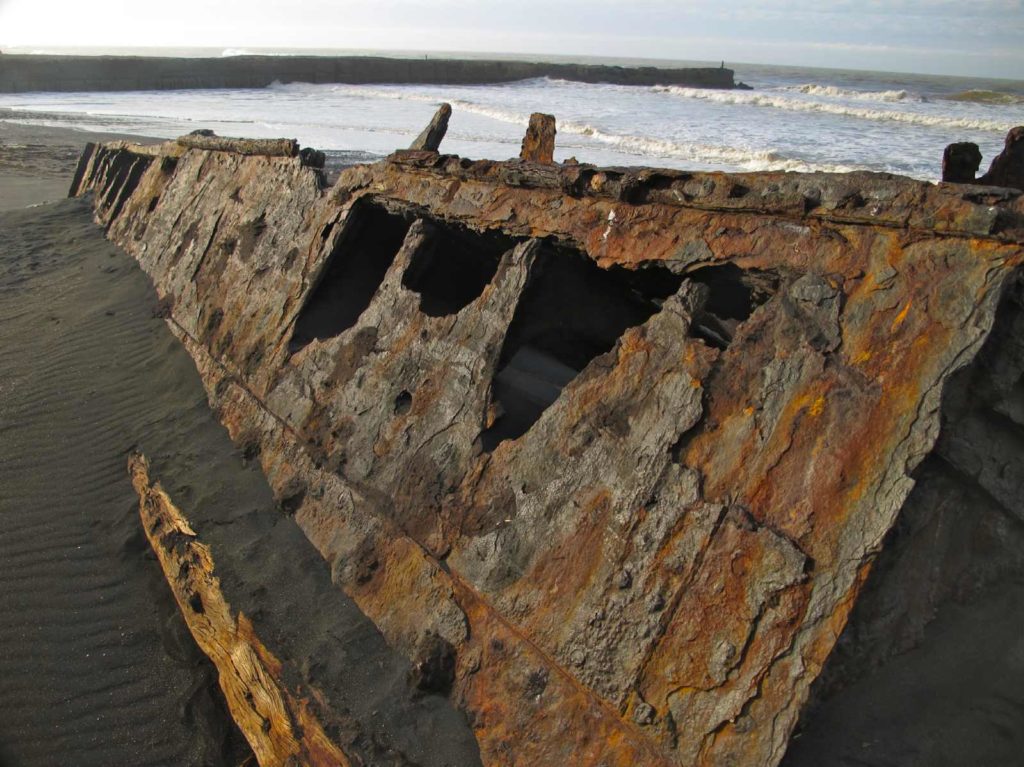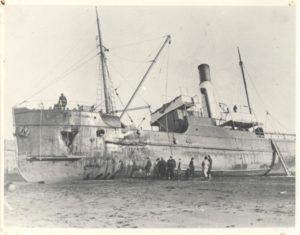 Built in Grangemouth, England in 1889 as the Banks Peninsula, she was 120 feet long, 192 tonnes and had a top speed of 12 knots. She began her brief, somewhat patchy career in New Zealand in 1919, when she was purchased by the Patea Co-operative Freezing Company and renamed Waitangi.
On 5 May 1923, Waitangi was entering Patea, a busy river port. To protect the river mouth from cross-currents and shifting sands two stone walls projected out into the sea from each side of the entrance. Swept suddenly off course at a critical moment, Waitangi slammed heavily into the end of the western breakwater, doing plenty of damage to herself and the wall before pivoting around and going ashore. It was thought she would be easy to refloat, but delays caused by poor weather allowed her to settle deeper into the sand, and by late June Waitangi was declared a wreck.
Within a few years the sands had consumed her completely, until a severe storm in 1937 exhumed her. Again she was covered over, but was revealed in 1978, and again in 2010. Until she submerges beneath the ever-shifting black sands, she can be seen here.
Hydrabad
Waitarere beach, Manawatu
Launched in Port Glasgow in 1865, Hydrabad was a large (229′) three-masted sailing ship built of iron. Leaving Lyttleton in June of 1878, she was bound for Adelaide with a manifest which included three broad-gauge railway locomotives, plus various carriages and trucks. New Zealand's railway system had been standardised to narrow gauge, so these superfluous goods had been sold to the South Australian government. She was struck by a hurricane which shredded her sails, leaving her virtually uncontrollable. With the coastline looming through the darkness two anchors were hastily deployed, but both chains parted in the violent conditions. All his options exhausted, her master Captain Holmwood ran her headlong onto Waitarere beach near Levin in an effort to save his ship and crew. No lives were lost, and the cargo was unloaded (some months later), however two attempts to refloat Hydrabad were aborted, and three years later a fire gutted the wreck and buckled the iron plating, putting the kibosh on any further salvage plans.
For well over a century she remained a local attraction, but more recently the encroaching sand dunes have covered what was left of the hulk, although shifting sands occasionally allow us a glimpse. I include her in this post partly out of tribute to one of New Zealand's greatest, and longest lasting beach wrecks, partly in the hope that nature may unveil her once more, and also as a reminder that many of these wrecks – our vanishing fleet – will not be around forever. Her location is well signposted, and is here.
SS Gairloch
Oakura, Taranaki
The three masted steamer Gairloch was built in 1884 for the Northern Steamship Company (whose building still exists on Quay St, Auckland) who, when she was only two years old, had her lengthened from 165' to 181'. She was put to work on regular west coast runs from Onehunga down to Wanganui, or north to Hokianga.
On Monday the 5th of January, 1903, she left Kawhia for Opunake with a cargo of kauri timber, sugar and sundry goods, and ran hard aground on the Oakura reef near New Plymouth at about 2am the next morning. Her crew managed to launch a boat and rowed some 8 miles (13kms) to safety. The wreck was inspected the next day and declared a total loss.
The remains of Gairloch have wasted away to the point where the tip of the bow is, at first glance, the only obvious memento. However, with some wading around among the rocks at low tide you can still find her engines, boiler, and bottom plates. The place to look is here.
SS Paiaka
Fitzroy Bay beach, Wellington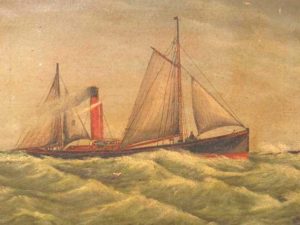 Between Pencarrow and Baring Head lighthouse above a rather bleak shingle beach lies rusty shell of SS Paiaka. A 46' steam launch, she was built in Wellington in 1881 out of steel – atypically, as most boats this size would have been wood. In the winter of 1906 Paiaka found herself in a storm, and her 10hp steam engine was unable to make headway against the gale. She tried to anchor, but the cable broke and she washed ashore in Fitzroy Bay. A few weeks later her owner, a Mr E Seagar, was fined for operating the vessel without a Certificate of Seaworthiness, although whether that directly related to the stranding is not recorded.
Over many years the little ship gradually became entombed under the shingle, until 1987 when the Eastbourne Historical Society arranged for it to be excavated and shifted to a safer spot. 110 years of rust have taken their toll on the hull, but some of the mechanical components are still in place. Although next to a road, this is not accessible by vehicles, visit the lighthouses and walk, or bring your mountain bike! Paiaka is located about here.
Freetrader & Rawhiti II
Waikato River, Mercer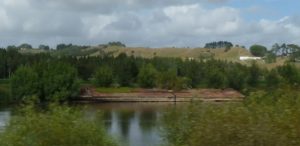 On the west bank of the Waikato River between Meremere and Mercer lie two rusting hulks. These are the carcasses of towboats, once workhorses of the Waikato and its tributaries. Both were owned by Roose Shipping Co., whose founder Caesar Roose built an empire based in his tiny hometown of Mercer, and are all that's left of his substantial fleet of boats and barges.
Caesar was born in 1886 on Tuoro island, the middle of the Waikato River. Borrowing money against his income as a photographer he bought a single boat at 16 years old, but quickly proved to be a gifted entrepreneur, purchasing a second boat at 18 and a flax mill at 20. His boats carried freight, passengers and vehicles between Cambridge, Hamilton, Ngaruawahia and Huntly, and down to Port Waikato where cargo would arrive by sea. As well as shipping and trading on the river, Caesar eventually owned timber mills, engineering workshops, an open-cast mine, a trucking firm, and patented the Roose-Atkins Grab, a device for loading cargo. He helped build several bridges in the area, was active in competitive rowing, donated generously to community projects, and served on the Auckland Harbour Board in later life.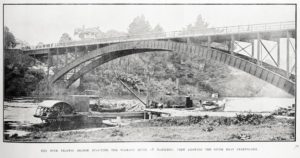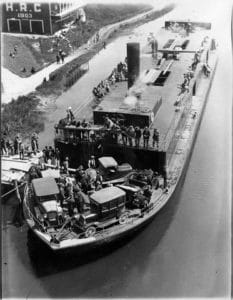 The largest of the two hulks is Rawhiti II, a 190 foot stern-wheeler which was built in Glasgow for Roose Shipping in 1925. It was the largest boat ever to operate on the Waikato, running until 1948 when it was stripped, used for a while as a barge, then finally hauled ashore near the Roose family homestead at Tuoro Island and carved into three sections. The wreck of the Rawhiti II joined the remains of Freetrader, built locally in 1890 as a barge, but later equipped with the stern paddle wheel and machinery from the steamer Rangiriri, which went aground on the river in 1889. The pair of wrecks are here.
SS Opua
Tora Inlet, Southern Wairarapa
En route from Gisborne to Wellington in thick fog during the early hours of October 2, 1926, the master of the Opua misjudged his position and ran ashore in a tiny inlet about 20km north of Cape Palliser. As with most beach strandings, the crew were able to reach the shore safely and with relative ease. Two tugs were dispatched from Wellington later that morning, but the Opua was already badly holed and would have sunk if towed into deep water. In the week or two following the mishap heavy seas breaking over the vessel forced her further up the beach and she was abandoned.
Opua was 184 feet long, and built in Glasgow in 1902 as the Ramornie. She was owned by the Anchor Shipping and Foundry Co. and fortunately for the insurers was empty at the time of the wreck, having been on her way to Wellington to receive a cargo of coal. Her boiler and other remnants are here, close to the Tora Coastal Walk.
Part two, the visible shipwrecks of the South Island, is posted here.