Explore a forgotten but historic stretch of the New Zealand wilderness at the wheel of your personal rail cart.
This is very, very cool.  If the romance of vintage rail travel is your thing, then picture yourself clattering along miles of disused, overgrown tracks.  If rambling through New Zealand's native wilderness without even a change of shoes appeals, then this unique self-drive rail journey is well worth checking out.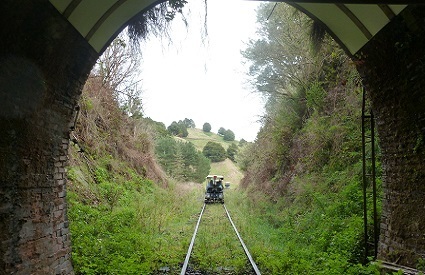 More than a century ago New Zealand's pioneers cut and blasted through bush-clad countryside to lay our rail network, the arteries of a young nation.  Using only hand tools, dynamite, horses and teams of oxen, they chiselled out supply lines for the emerging industries of farming, oil, gas, coal, and logging.  The building of the railways themselves often drew hundreds of workers and their families to a region, and minor towns and local shops sprang up to cater to them.  Now, modern trucks and modern roads meet these needs, modern passengers have cars, and the unwanted railway lines and townships were often simply bypassed, to be slowly reclaimed by nature.
   Construction of the Stratford – Okahukura Line (SOL) began in 1901.  Inching northwards from Stratford, Taranaki at a pace of less than three miles a year, it was hugely expensive and challenging to build.  It was finally completed in 1932, when it reached Okahukura, near Taumarunui.  When the local coal mine closed in 1936 however, the area went into a decline.  Passenger services ceased in 1983, although freight trains ran until 2009.  Of the 15 stations once in operation, concrete platforms are all that remain of most.
   Forgotten World Adventures have re-opened a total of 142 kilometres of this retired line, including 24 tunnels and 47 bridges and viaducts.  To see it all you can take the two-day "Ultimate" package, however several smaller tours departing from Taumarumui, Whangamomona and Stratford are available.  The big point of difference is that this is no train ride, tour-goers instead drive converted golf carts.  These two or four passengers "rail carts" are petrol powered (limited to a speed of 20 km/h), and give you the opportunity to stop often for photos and sightseeing.  A tour guide leads the group and provides some historic context, as well as trimming back vegetation and clearing rocks and debris as required.
   Depending on your choice of tour, points of interest can include the abandoned townships of Matiere and Tangarakau, and almost-abandoned Whangamomona.  Lying 61 kilometres north of Stratford, this is New Zealand's only republic.  No school, no post office, but they do have a President!  Currently that office is held by Murt "Murtle the Turtle" Kennard, a local garage owner. 
   For more information and bookings see the excellent Forgotten World Adventures website.  They also have a frequently updated Facebook page.