Auckland is a fun-packed, bustling city with so much to do and see, but it can get a bit much if you like peace and quiet or want to relax on your trip. So we reckon you should hit the road and head out west to explore the Waitakere region for a scenic walking adventure among pristine native forests. If you need transport grab an affordable Auckland rental car from NZ Rent A Car – we offer a great range of affordable vehicles to help you get around at your leisure.
Your first stop should be the Arataki Visitors Centre which is the proverbial crossroads of the Waitakere region. Once there you will not only find a stunning view of the Waitakere Ranges from the Lower Nihotapu Reservoir to the Manukau Harbour, but also an extensive collection of maps detailing the trails and tracks that cover the Waitakere Ranges.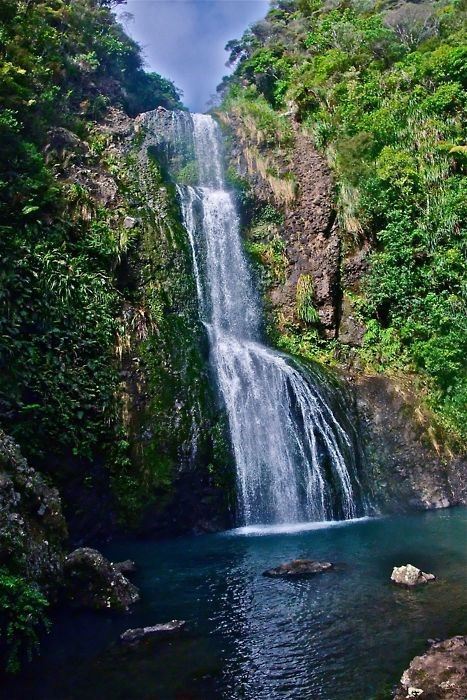 The visitor centre staff are extremely helpful and their knowledge of the area is extensive. My friend and I drove out there and the lady behind the counter asked us what we wanted to see. We wanted a walking track with a waterfall and she gave us three options, factoring in the remaining time of good light and what provisions we had, we didn't even need to look at a map!
Some trails are better for summer and some for winter but all are well marked and have a variety of things to offer; such as spectacular waterfalls, crystal clear pools, old excavating equipment, picnic areas and lots of native birds and bush. The walks are all well maintained, each has a tale to tell and they are free for all. Magnificent vistas open up within the forests, offering views to the beautiful coast. Some of the tracks are steep and are better suited to fine weather with a higher level of fitness required. You can take your dog with you on most of these tracks, just check with staff at the Arataki Centre.
Walks through native bush such as these are, I believe, the only way to get a feel for how New Zealand would have looked before the timber trade started in 1794. The visitors centre has more historical information about this and is worth looking into. For an escape from the city and crowds, especially if you have been on a cruise ship and need some space this is the place to go as it's only a 35 minute drive from the centre of Auckland.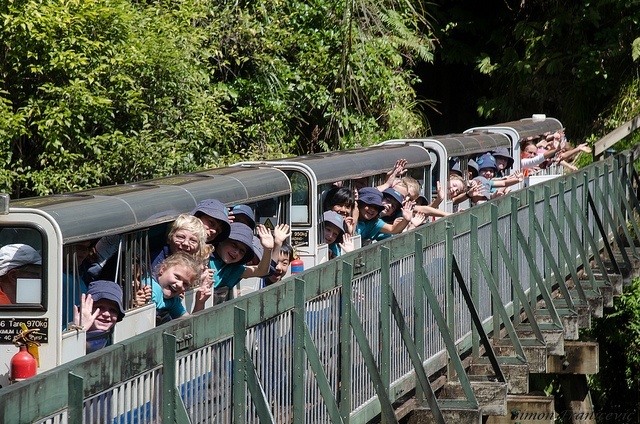 If you have children to entertain there is also the Rain Forest Express which is a really enjoyable way to experience the forest without too much physical exertion.
When it's time for a pit stop, there are some great cafes to visit in Titirangi either on the way there or back, or check out the local cafe at Piha, where you can walk the famous black sand beach. The Refreshment Room on Scenic Drive is especially nice in the evening, with lovely views of the Waitakeres and back towards the city.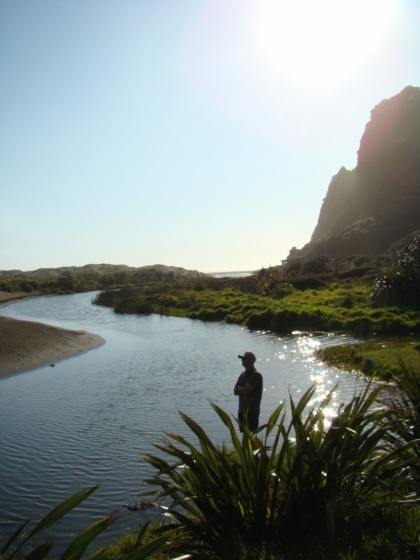 The Waitakere Ranges descend onto the black sand of Karekare Beach, the spectacular location of Oscar winning film The Piano, which provides access to the stunning Karekare falls, well worth a visit.
Happy travels!
Heather
New Zealand Rent a Car