Part Two: Cornwall Park, The Gift That Keeps On Giving
   In the shade of  One Tree Hill, Sir John Logan Campbell's legacy remains as he intended: a conscious intervention against Auckland's City's viral suburban sprawl; a true eye in the storm.  As one of our first citizens, businessmen and politicians, the gift of his massive personal property, its avenues of mature trees, stone-ringed paddocks, and unbroken tides of greenery, is at the heart of Auckland's largest park.  We remember a man who came to be known as the "Father of Auckland".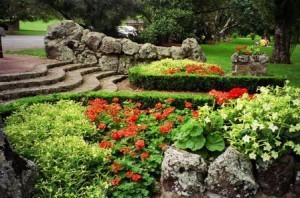 John Logan Campbell was a young Scottish doctor when he immigrated to New Zealand in 1840, aged 22.  Landing initially at Coromandel with his companion, lawyer William Brown, they made their way to what became Auckland, and are regarded as the first European settlers in the district.  Having already purchased the small, scrub-covered Browns Island in the Waitemata Harbour, they soon decided to base themselves on the mainland for business reasons, and built Auckland's first house, Acacia Cottage, in downtown Shortland Street.  The modest wooden home was later shifted to Cornwall Park and preserved as a museum piece.  It can be visited from 7am to dusk in summer, and 7am to 4pm in winter.  Acacia Cottage is just across the road from the Cornwall Park Restaurant & Kiosk, on the northern side of the mountain.
The partnership of Brown and Campbell was one of the young cities great success stories, amassing business operations and properties valued at 110,000 pounds by the mid-1850's.  Both partners had intended to retire and live abroad, however Campbell became involved, reluctantly, in local politics, delaying his departure.  In 1856 he finally left New Zealand, his business portfolio in the care of a manager, with no intention of returning, but was back in 1871 to tend to his various companies.  William Brown was now happily settled in England, and had no interest in ever coming back to New Zealand, which led to Campbell buying out his share in their enterprises.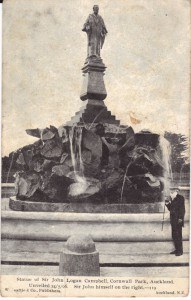 Among the many assets was a large property at One Tree Hill, which he and Brown had purchased in 1853 (the peak itself remained Crown property).  On this he hoped to build his dream home and finally retire with his wife, Emma, however she preferred a more central location.  True to her wishes, John Logan Campbell's final house was constructed in Parnell (demolished 1924) on land which is now part of Dove Myer Robinson Park, more commonly known as the Parnell Rose Gardens.  During this period Campbell held several prominent positions, including Director of the Bank of New Zealand, the New Zealand Insurance Company, the New Zealand Loan and Mercantile Company, and many other related interests.  He also founded Auckland's first school of art in 1878 and supported it financially for many years.  Meanwhile the One Tree Hill land sat undeveloped and unoccupied, and so, bemused by the rate of Auckland's suburban spread, Campbell planned to donate the space to the city upon his death.
 Fate was to present him with a golden opportunity though, when in 1901, aged 83, he was asked if he would take on an honorary title of Mayor of Auckland, during the occasion of the royal tour of the Duke and Duchess of Cornwall.  This temporary post was to fill the shoes of elected Mayor David Goldie, who was a teetotaller and temperance advocate.  Goldie's objection to toasting the royal visitors with alcohol was potentially a source of embarrassment for the city, so Campbell agreed to stand in.  During this brief tenure as Mayor, John Logan Campbell donated his One Tree Hill property to the city of Auckland, and named it Cornwall Park in honour of the Duke and Duchess.
For this gesture, his hospitality to the royals, and his many other services to the city, Campbell was knighted in 1902.  He died in 1912 and is buried on the summit of One Tree Hill, underneath a 33 metre obelisk that he commissioned as a memorial to the (then) dwindling Maori race.  This was finally unveiled in 1948.  A bronze statue of Sir John Logan Campbell himself, completed in 1906, greets visitors entering the park from Manukau Road.
 One Tree Hill Domain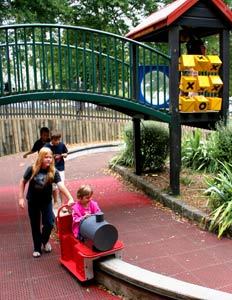 Adjacent to Cornwall Park is One Tree Hill Domain, accounting for about 20% of the total park area.  Sheep and cattle are still farmed in some parts, amongst the stone walls and wooden fences, just as they have been for several hundred years, and this area also includes the Sorrento in the Park Restaurant, a playground with flying fox, and the Stardome Observatory and Planetarium.  Although the two parks are maintained by separate administrations, there are no obvious boundaries between them, and most Aucklanders know them as one park.
Here is a useful map of Cornwall Park, One Tree Hill, and it's many attractions, and here is Google's one if you need directions.