Once upon a time, when we were kids, it was all about the car. What car your family had, what your friends had, what it sounded like, and what it smelt like. A highlight of any weekend was helping to wash it, and going anwhere in the car felt like a special treat. Shopping, visiting family, it didn't matter. Like dogs eager for a walk, the destination was of little importance, the voyage itself held the promise of great adventure, games of I Spy, and licence plate spotting.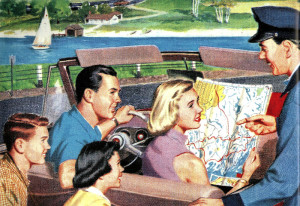 Unfortunately the modern family car seems to hold no such charm. For all its improvements in reliability and efficiency, it has been demoted to an anonymous shuttle. Gone is the summery odour of scalding-hot vinyl seats, and the satisfaction of polishing hubcaps to mirror perfection. Gone too is the innocent escapism of the weekend drive. We invite you to "revive the drive", and consider prising the kids away from their playstations for a day trip.
   Strictly speaking, the day trip doesn't need a purpose, but in case your passengers need some motivation we've done some homework on your behalf. There are many family-friendly attractions within an hour or two's drive of Auckland City, here are some that may be new to you.
Don't forget: petrol, music, GPS (or maps, if you really must relive your youth), snacks, a camera, appropriate clothing, maybe first aid if contemplating an outdoor activity. By all means take a phone, discourage multiple smartphones, video games or iPads.
Four points of the compass: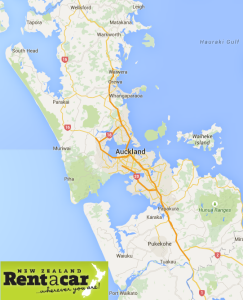 Hit the southern motorway and make for the Drury off-ramp.  Head west, and less than an hour south of the city you can find Glenbrook Vintage Railway, which features preserved train stations and equipment, and you can take a ride through the countryside aboard one of their restored steam or diesel locomotives. They have several in service but many more in storage awaiting restoration.  I'd pay to see the unrestored hulks myself, it's a pity that isn't an option.  Close by, in Patumahoe, you may want to check out the site of an old quarry, now reinvented as Wright's Water Gardens. Kids will love the turtle colony, and there's the historic Mauku waterfall, which once helped power a 19th century flax mill.
   Kingseat is also nearby, famous for the large mental institution which closed down in 1999.  Part of the old hospital now houses the haunted theme park: Spookers.  Spookers also operate NZ's largest cornfield maze, the Amazing Maze 'n Maize.  From there you can take a 45 minute drive up the peninsula to see the Manukau Heads Lighthouse, a 140 year old wooden structure overlooking the Manukau Harbour.  Stand on the lighthouse keepers balcony and perhaps spot a rare dolphin, or look out toward the notorious Manukau bar, which claimed the Orpheus, New Zealand's worst shipwreck, in 1863.
   The west coast is sheltered by a long, heavy belt of forest, which seems to go on forever.  Just abreast of Auckland, the western suburbs disappear into the Waitakere Ranges, 16,000 hectares of bush, including kauri trees and many other spectacular unspoilt native fauna.  As well as beaches like Bethels, Piha, Titirangi and Laingholm, there are dozens of marked bush walks along Scenic Drive and other roads. Obviously suitable footwear is advisable, but some of the paths are fairly short and undemanding – fine for those with young families.  North-west of the city is Woodhill forest, where you can explore the Woodhill Mountain Bike Park's trails, and even hire bikes if you didn't come prepared to ride.  Again, there are courses suitable for all ages.
   Only about 40 minutes drive east of Auckland is Omana Regional Park, a large, gently sloping beachfront site with views of the Hauraki Gulf and Rangitoto Island.  The beach is great for swimming at high tide, while low tide exposes shallow pools which children enjoy investigating.  The park itself is divided into farmland and recreational space, with picnic areas, barbecue facilities, a playground, and a walking track.  Areas such as Clevedon also make for fine cruising territory, with good roads, picturesque farmlands, and boutique vineyards.
   Northbound on SH1 it is worth taking the turnoff to Whangaparaoa Peninsula.  The charming and serene Whangaparaoa Miniature Railway, or Shakespear Regional Park (New Zealand's most visited) are notable attractions, the latter having three sheltered beaches, walking tracks, and barbecue and picnic areas.  Further north, but not too much, is the tiny – but growing – settlement of Matakana.  Every Saturday they have a farmers market, and many shoppers commute from Auckland just to pick through the huge range of organic produce, local baking, and wines.  Consider having lunch here, maybe in Warkworth on the the Mahurangi River, or take a short drive out to Leigh for lunch at the Sawmill Cafe.  Trips to Omaha or Sandspit will give you a fine smorgasbord of east coast scenery, too.
   Clearly this is the tip of the iceberg, there are scores of beaches, regional parks, low-cost family activities to discover, depending on the weather, age and attention span of your traveling companions.  Sometimes the best idea is just to pick a direction you aren't familiar with, turn down an interesting looking road, and follow your nose.  In this age of satellite navigation the risk is minimal.  The main thing is to get behind the wheel, and do something different.