Anyone who has been to Taupo remembers…let's see, the lake, the hot springs…oh, and a McDonalds in a plane!  Not just any plane, but a mighty Douglas DC-3, the aircraft that made commercial passenger flights a viable business.  In New Zealand they were once the backbone of our postwar domestic fleet, but their useful lifespan has proven to be longer than perhaps any other commercial craft.  Known for their durability and flexibility, hundreds of these iconic planes are still in use around the world 70 years after the last ones were built.  In researching the Taupo McDonalds plane I discovered that not one, but several retired DC-3's have been similarly re-purposed.  When no DC-3's remain in service (there is only one operating now), these static displays are survivors of a sort, allowing these elegant, historic airplanes to be marveled at by generations to come. 
DC-3's in New Zealand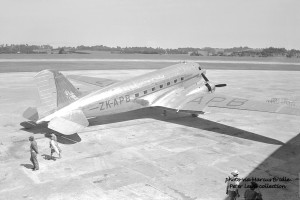 The introduction of the Douglas DC-3 in 1936 was a true turning point in the aviation revolution. It's advanced but rugged design, reliability and range made it an instant success as a passenger craft. The sun was setting on the age of the ocean liner, long distance train, and airship.  A few hundred were built before America joined WWII, but their suitability for various military applications led to a further 10,000 being assembled between 1942 – 45, these badged as C-47's (the "C" standing for "cargo").  However, the moniker of DC-3, or sometimes Dakota, was unofficially reassigned once the war was over.  In peacetime, they were adapted to innumerable tasks in innumerable countries, having a particular talent for landing on short, rough landing strips. New Zealand purchased 42 ex-US Army Air Force C-47's for use in the Royal New Zealand Air Force during the latter days of the war, and these went on to dominate our domestic airline fleets of the 50's and 60's.  
The Mangaweka Skyliner
SH1 Mangaweka, Manawatu-Wanganui Region.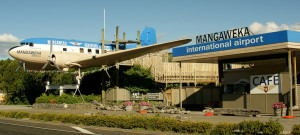 ZK-APK was delivered to the RNZAF in August 1945, then sold to the newly-formed National Airways Corporation (NAC) in 1947 and given the name Poaka. NAC was New Zealand's domestic airline company until 1978, when it was amalgamated into the international airline Air New Zealand.  In 1964 Poaka, along with many of the NAC DC-3's, was uprated with more soundproofing, a revamped interior, and larger windows.  These planes were designated Skyliners, and Poaka was renamed Kaikohe.  Kaikohe was very briefly leased to Fiji Airways in 1967, then spent the 1970's as a topdressing plane. She finally retired in 1981 having logged 42,764 flying hours.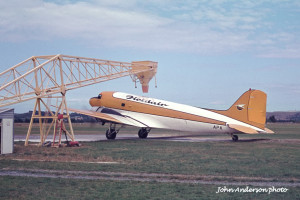 Stored for years in Palmerston North, Kaikohe was purchased by Rangitikei River Adventures, tarted up and transported to Mangaweka. She was craned onto a pedestal on November 1, 1986 to begin her new career as a cafe. The tiny township south of Taihape has a population of only 200, and the large airplane suspended in a permanent holding pattern (road signs warned drivers to beware of low-flying tearooms) was far and away its most notable feature. In early 2000 the Poaka/Kaikohe was removed from its pedestal for refurbishment and repainted as a Cookie Time biscuit billboard before being lifted back. More recently it has happily been returned to a more conventional finish as the Mangaweka Skyliner.  Visitors can board the aircraft, but in the interests of preservation you no longer eat and drink aboard the plane, or enter the cockpit.  The cafe is now in a building below the DC-3, serving double duty as a base for the Mangaweka Adventure Company.
High Calorie Diet
McDonalds, 16 Roberts St, Taupo
   ZK-CAW Delivered to the USAAF in October 1943, the aircraft was later sent to Australia and between 1947 and 1961 was owned by a succession of Australian airlines. Purchased by SPANZ (South Pacific Airlines of New Zealand, competition for the government-run NAC), it was imported to New Zealand and named George Bolt. When SPANZ went out of business the aircraft passed to rivals NAC, who leased to Fiji Airways and then to Mt Cook Airlines, until it finally became part of Feildair's topdressing fleet in 1972.
   The aircraft was withdrawn from service in 1984 having completed 56,282 hours. In 1989 the aircraft was towed to Taupo where it was refurbished, painted, and displayed as a feature of the Aeroplane Car Company's car yard. By late 1990 George Bolt had become an extension of the McDonalds restaurant next door, 25 years on you can still consume some dead cow and over-salted fries aboard ZK-CAW, washed down with a view of the lake.
Smash Palace
24 Banks St, Gisborne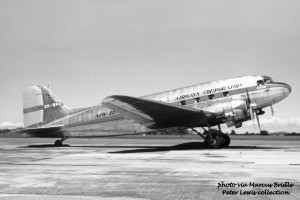 ZK-BKD was delivered to the USAAF on June 6, 1944, going to Australian National Airways after its war service.  DC-3's were so popular in postwar NZ that within a few years the demand had used up most of our local ex-military examples. National Airways Corporation looked to Australia for supplies, buying this one in 1955, and naming her Kotare. In 1961 NAC leased her to the Mt Cook and Southern Lakes Tourist Company for scenic flights.  The lease ended in 1970 and NAC immediately sold her to Feildair for topdressing duties.  
   Kotare was retired in 1983 and stored in Palmerston North, eventually being trucked up to Rotorua to be part of a planned agricultural museum.  The project stalled when the owner died (in a plane crash), and the aircraft was moved once again in 1992, this time to Gisborne, where it joined a number of derelict cars and parts at the Smash Palace Wine Bar (named in tribute to the Bruno Lawrence film, which was set in a scrapyard).  For many years customers could lounge in the DC-3, but for whatever reason this is no longer so.  The stairs have been removed, and Kotare looks a little neglected, the fuselage partially overgrown with foliage.
Tractor of the Skies
Mystery Creek Events Centre, 125 Mystery Creek Rd, Hamilton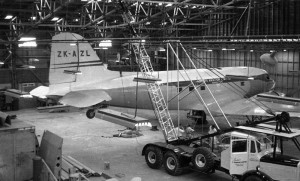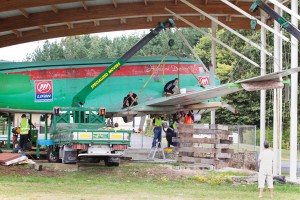 ZK-AZL was taken on charge by the RNZAF at Rukuhia in June, 1945, and served time in Malaya and as a baggage carrier for the 1953 Royal Tour. Once the royal duties were completed it was purchased by James Aviation in 1954 and converted for heavy topdressing work. Ossie James hoped that one big plane would be more efficient than numerous small ones, and this was the first DC-3 in New Zealand, and possibly the world, to be used for agricultural purposes.  Until then aerial fertilising had been carried out by small, single-engined aircraft. Named Hi Land Duster the big topdresser was extremely successful, spreading up to 100 tons of superphosphate a day.  The aircraft was chartered by other companies, and in 1959 was converted for single pilot operation – another first.
   When retired in 1974, the aircraft was donated for display at the National Field Days site at Mystery Creek, Hamilton where it remains today.  Having deteriorated over the decades AZL was finally given a cosmetic overhaul in 2012, and moved under cover.  Unfortunately it is only accessible when the centre is opened for events, although there has been some word that the plane may be moved again to a fully enclosed building outside the centre, giving better long-term protection as well as public access.
Museums With DC-3's On Display 
RNZAF Museum in Christchurch has NZ3551, which was initially used by the RNZAF as a freighter. Converted for the 1953 Coronation tour, the interior was split into two cabins with seating for eight, and subsequently the Air Force retained it as VIP transport. Given it's special history, it was an ideal choice to represent the RNZAF DC-3 fleet in the museum. The aircraft made its final flight from Ohakea on January 25, 1978, and it is still in remarkable condition.
Ferrymead Heritage Park , Christchurch, has a former US Navy LC-47H.  This is a DC-3 modified for cold weather conditions, including skis and an extended nose cone.  Operated by the USN in Antarctica during the 1960's, the US government donated the plane to the city of Christchurch in 1971.  It was stored outside at Ferrymead until a hangar was built in 2001.  Due to earthquake damage in 2011, the hangar is not currently open to the public, however.
Ashburton Aviation Museum has ZK-AMY, which was imported from Australia by Vincent Aviation in 1994, and they operated it from Wellington. From 2001 it was operated by Pionair, and was finally retired at the end of January 2014.                                                            
MOTAT in Auckland has ZK-BQK, an RNZAF plane operated as Koreke by NAC, later New Plymouth. From 1969 NAC leased BQK to Polynesian Airlines, but finally retired it in 1973 and donated it to MOTAT. The aircraft is displayed outdoors in its former NAC colours.    
Gisborne Aviation Preservation Society has ZK-BYF. Built in 1943 and brought to New Zealand in 1960 for topdressing work, entirely based on the success of James Aviation's Hi Land Duster.  Named Kotuku the aircraft worked as a top-dresser until it was withdrawn from use in January, 1981. Work on restoring the aircraft to wartime configuration was started by the Silverstream Aeronautical Society in Lower Hutt. In 1992 the aircraft was moved again, painted as NZ3547 (actually sold to South Africa), and displayed outside the Okahea RNZAF Museum. Purchased by the Gisborne Aviation Preservation Society (GAPS), it was moved – again – to its new home during May 2000. The aircraft is currently under cover and being slowly restored. 
The Real Thing
   With last year's retirement of ZK-AMY only one DC-3 remains in commercial operation in NZ, so if you want to see one of these old birds in action the opportunities are fairly scarce now.  Opportunities to travel in one are almost non-existent, so I was rather surprised to find this rather special package offered by travel agents Pacific Trailways:
The plane is ZK-DAK, and was acquired from Mackay Air Museum in Queensland by a Warbirds Syndicate in the late-80's and restored to fully operational condition. These days it has been repainted to look like NAC NZ3546 (in fact the original NZ3546 was a different DC-3 altogether, that one is now believed to be in South Africa).  Still, fantastic to see that a DC-3 can, presumably, pay its way.  Their classic, romantic ambience, the deep drone of the twin piston engines, and the low altitudes they fly at makes them perfect for sightseeing and short hops.  
   I'll have to admit, I'm not an aircraft enthusiast at all, and prior to writing this article I wouldn't have known what a DC-3 looked like.  What was meant to be a short "look at this" post on the Taupo plane did lead to a lot of further reading!  I also dispute the very existence of the "romance of air travel", but if anything has it, a Dakota/DC-3/C47 does.  If you ever see one of these things, maybe looming over a street near you, do stop and have a look.  Pay your respects to the piece of aeronautical artistry which gave us modern air travel, and thereby changed the world we live in forever.