Travelling south of Auckland on State Highway 2, you are bound to pass through the modest, utilitarian town of Waihi.  Most do.  It's less than two hours from the big smoke on the way to Tauranga, the Mount, and of course the popular summertime hangout of Waihi Beach, which is actually a town in its own right 10 kilometres to the east of Waihi proper.  But Waihi is the gold mining capital of New Zealand, and definitely worth checking out.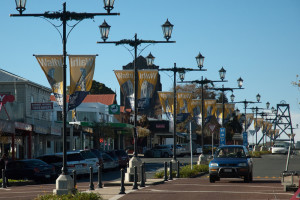 The discovery of gold in the 1850's and 60's beckoned migrants by the shipload to New Zealand, and specifically to the South Island.  There, in quite rapid succession, the rush hit Nelson, Otago, Marlborough and the West Coast.  Within a decade the easy pickings were gone, and in equally rapid succession the southern shanty towns were forced to either find new means of sustenance, or shrivel up and blow away – which many did.  The days of picks and pans had passed, and future mining would require heavy equipment, engineering knowledge, and vast amounts of capital.  This was especially true of Waihi, where gold prospecting began in 1875.  Gold found in the quartz vein known as "Martha" was plentiful, but difficult to recover using contemporary methods. This was overcome and by the dawn of the 20th century Martha was the largest mine in New Zealand.  
Falling gold and silver prices eventually led to the closure of most of New Zealand's mining operations, and even the huge Martha mine ceased business in 1952, leaving an underground labyrinth of temporarily shored-up tunnels and shafts like a vacated ant farm under the crust of the Hauraki District.  At one stage Waihi was home to a TV manufacturing plant run by Philips, but the deregulation of the electrical industry put an end to that.  The plant had employed about 400 workers, so it was controversial, but perhaps timely, when gold prices soared in the 80's and Martha was reopened.  
Now Waihi is home to a massive open-cast pit mine, or the mine is home to Waihi, it's hard to tell.  A 300 metre deep hole yawns open in the middle of the town, in fact from above it looks as though Waihi has been fatally wounded.  Although it's very much business as usual for Waihi, residents probably struggle to see the upside with reports of constant noise, dust, erosion, cracked driveways and flooded basements.  What can't be escaped is that Newmont Mines – who operate the Martha, Favona and Trio mines – employ about 14% of Waihi's working-age populace.  Continued mining may devalue their properties, but closure too would mean an unemployment spike and a negative demand for housing.  Residents really are between a rock and a hard place.
Meanwhile in a shiny office at Newmont Mines it is someone's job to put a smiley big-business spin on their industry, which they do at the Martha Mine Education Centre, where the focus is on their donations to local causes, historical significance, and a million dollars a week in precious metals.  Their website trumpets that the Centre is just across the road from one of Waihi's greatest heritage assets, the Cornish Pumphouse.  Ironically this building had to be shifted in 2006 as the land it was on was deemed too unstable after decades of mining.  They even run very informative tours, and I must say the kids would probably enjoy hearing how gold and silver are extracted, and seeing some of the heavy machinery at work.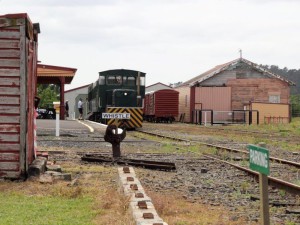 For my two cents worth, go and see the Goldfields Historic Railway.  This operates out of the old restored Waihi Station, and does a daily run the short distance to Waikino on the remaining section of the East Coast Main Trunk Line.  This track was laid over one hundred years ago when the Martha mine operated at its peak, and the 30-minute trip alongside the Ohinemuri River showcases some amazing scenery, and also several historical mining sites.  The railway has been a volunteer run society since the closure and removal of most of the original line in 1980, and several trains and buildings have been preserved through their dedication.
No matter how you feel about the ongoing mining, it's certain that it shaped Waihi's development, and continues to do so.  The main drag has an abundance of cafes and restaurants, and there is history all around.  Definitely worth a day trip.