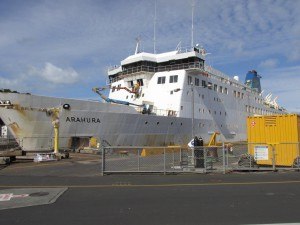 On Saturday afternoon, looking refreshed and resplendent against bruised Auckland skies, the ferry Arahura set sail for Wellington following a three-week stretch in dry dock.  The routine maintenance took place at Devonport Naval Base under the supervision of Babcock (NZ) Ltd, who have a long history of servicing the 148 metre vessel.  Planned repairs this time included overhauling propeller hubs, bow thrusters, and tracks on the ship's rail deck.  A repaint – and she needed one – has her looking fresh for the coming summer season.  According to Wikipedia, she is expected to remain in service until 2016, so given that scheduled maintenance is at 2 – 2.5 yearly intervals, this may see her through to the end of her days on the Strait.
   Arahura is considered by many to be the backbone of the inter-island fleet, and the most well-loved of the three ferries currently in service, even though – or perhaps because – she is the oldest.  She was purpose built in Denmark to meet the demands of crossing the Cook Strait, one of the most notorious ocean passages in the world.  In service since 1983, she has completed over 25,000 return crossings and proven herself extremely seaworthy and reliable, unlike the much newer Spanish-built Aratere, which has suffered various ailments since her delivery in 1999.  The fraught Aratere had major modifications done in a Singapore shipyard in 2011, including a 30 metre mid-hull extension, a new bow section, new interior and propellers.  Shortly after returning from the $52m refit the ship experienced engine failure and was ordered to cease operating until proven to be safe.  In November of last year a tail shaft broke, sending one of the 6-tonne propellers to the bottom of Cook Strait, and demoting her to cargo-only duty throughout the hectic summer months until repairs could be carried out.  
   KiwiRail's remaining vessel, the Kaitaki, underwent a $4.5m refurbishment in Brisbane last year.  Kaitaki has the greatest passenger capacity of the three ships, but lacks the vital rail decks fitted to the Arahura and Aratere.
Arahura resumes service on Monday 22nd, departing Wellington at 10.30am.  For bookings and other information, go to www.interislander.co.nz.  
Sparing no expense as usual, we have some exclusive photos of her Auckland visit below.