From TVNZ News  August 31st: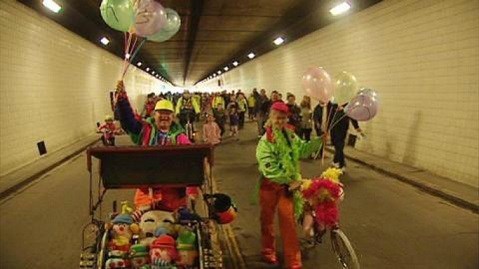 Lyttelton Tunnel was closed for three hours this morning to mark the opening of its new control building.
The tunnel is 50 years old and is recognised for its engineering heritage.
Since 1964 the tunnel has been a critical road link between the Port of Lyttelton and Christchurch, reducing the travel distance by around eight kilometres. It is a vital transport artery for delivering the goods and services needed to re-build a stronger post-quake Christchurch.
Construction of the tunnel was one of the most ambitious new highway projects undertaken in the 1960s, taking four years to complete at a cost of 2.7 million pounds. Around 150,000 cubic metres of rock was removed to create the tunnel.
Operated by the NZ Transport Agency (NZTA), New Zealand's longest road tunnel is designed to handle 2400 vehicles an hour.
Celebrations included the rare opportunity to walk through the almost two kilometre long tunnel for a gold coin donation.