New Zealand has great ski facilities for kids including schools and play areas, meaning children can begin skiing from as early as two years old. It's a good idea for you to spend the time with them to start with, getting them comfortable with their ski gear and helping them up when they fall. If you have never skied before they will quite likely pick it up faster than you, which is great for their confidence. Next they will be holding your hand and encouraging you down the slope! Skiing with children is great for building a positive attitude and bringing you closer together.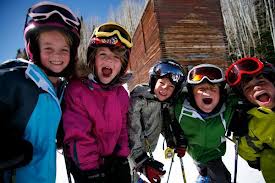 Ski schools are great if you would like some time to focus on your own abilities, or if you think the kids will advance more quickly with more skilled instruction than you can give, but they are not necessary. Most beginner slopes in New Zealand have an easy gradient and spending time on this part of the mountain until they feel proficient is enough. There is always help on the tow ropes or lifts and the ski field staff are great with kids. If you are a beginner yourself you can learn together, and you can gain encouragement from your kids as they fall easier and get back up much quicker. Lessons are often better for adults, who don't always pick it up as instinctively.
But even if your kids have the upper hand, skiing holidays are fun for everyone. As a family you are squashed into a car up and down the mountain, loaded with gear and eager to get there as quickly as possible. You are either exhilarated or exhausted when you meet up for lunch or a drink. As individuals we are stretched and challenged – physically and mentally – sometimes beyond our comfort zone.
How To Make Skiing With Children in New Zealand Awesome:
Leave as early as possible so your car is near the top of the ski field (that way you can take lots of food and snacks and keep it handy in the car)
Bring warm dry clothing – make sure snow can't get up the back of their jackets
Invest in good gloves, plus a spare pair, when learning these get wet from tow ropes and falling over
Take snacks and drinks in a back pack (the more you can take, the less you will have to pay high prices on the ski field)
Bring hot chocolate in a thermos (take marshmallows for extra smiles)
Find goggles that stay put
Don't forget sunblock
Have warm clothes or blankets for coming off the ski fields, especially for young children
Keep a good stock of humour and patience
You will know when they need a break, don't try to get results too fast. If they are having fun they will pick it up much quicker. Having friends for them to ski with helps as they egg each other on, racing and daring each other to do jumps that parents normally don't encourage. It also can make accommodation costs cheaper and meals easier. There are sometimes tantrums on the ski field, sometimes you need to push and other times you need to back off. Lots of breaks for food and hot chocolates work a treat, and then they are restored and ready to go again. Skiing with children can be tiring, but the experience is worth it for both you and them.
Skiing In New Zealand
There are some great deals for skiing in New Zealand available at the moment so get booking your winter holiday soon as these disappear once the ski season is fully underway. For a great deal and lots of handy advice, get your ski car rental from us at NZ Rent a Car – your local Kiwis who are passionate about holidaying in New Zealand.