This may be an international trend, I can't be certain, but in NZ there seems to be a movement towards toilets as tourist attractions.  Don't come for the bungy jumping or the scenery, not the rugby or the skiing, come for the lavatories!
   Most recently designer Bret Thurston made a splash, and received a stream of compliments, when his reptilian toilet block on the Wellington waterfront was recently named as among the top ten public facilities in the world by US website Design Curial, having already won the public category in the 2012 NZIA Wellington Architecture Awards.  Bret and Studio Pacific Architecture were engaged by the city council, who specifically asked for something "highly visible and unusual". 
  The Kumutoto conveniences, located at the southwest corner of the Steamship Wharf Building, were opened in 2011, and created a big stink among some locals, who poo-pooed their lobster-like appearance. I think you will agree they were splitting hairs, and the pair of unisex loos is now a Wellington icon.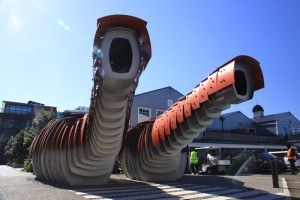 Two-and-a-half hours north of Auckland we leave the rat-race and appalling puns behind us.  We enter the tiny farming town of Kawakawa, which can lay claim to the most photographed toilets in New Zealand.  In spite of the town being host to a vintage railway and some nearby glowworm caves, the Hundertwasser public toilet block has been Kawakawa's principal tourist attraction since opening in 1999.   Reclusive Austrian artist Friedensreich Hundertwasser visited NZ in the early 1970's whilst touring an exhibition of his work and was enthralled by the relaxed, low-key township.  He soon immigrated and was a resident in Kawakawa from 1975 until his death in 2000.  
   Passing through the brightly coloured archways, the interiors are an organic tour de force flush with his design hallmarks: wavy lines, tile mosaics, handmade metal fittings such as door locks and gates, and a live tree incorporated into the architecture. Recycled materials, including the community's spent glass bottles and bricks from a former Bank of New Zealand branch, were used throughout. Nothing went to waste; Hundertwasser even stipulated that any vegetation removed for construction should be replanted on the building's roof. Word has it that they have developed some serious cracks over time, so if not repairable Hundertwasser's vision (and much of Kawakawa's revenue) could be down the drain, as it were.  In the meantime, they are well worth a visit, whether you need to go or not.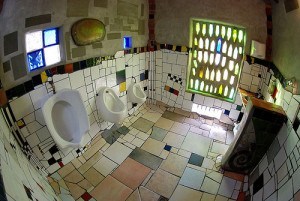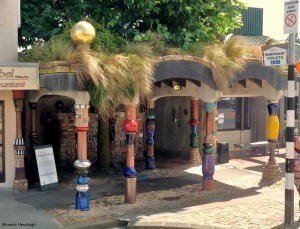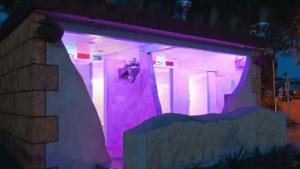 For our next heir to the throne we travel even further north to Paihia, where, at the base of Maiki Hill, stood the plainest, filthiest ablution block you could imagine.  Until August 2012, when a bunch of local tradesmen donated ten days of their time to transform it into the photogenic facilities they are now.  Stainless toilet pans bolted to the walls and roof are now clogged with pot plants and native grasses, and coloured lights add a festive touch at night.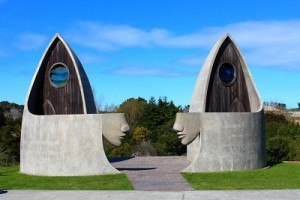 In the booming community of Matakana, one hour north of Auckland, a competition was held to design a new toilet block.  Local art student Steffan de Haan won, in spite of being up against several professional architects.  Aside from those faces, his unisex loos have the appearance of a pair of salvaged ships, and also feature recycled native kauri woodwork in reference to the local boat-building industry.  Stained glass "porthole" windows add to the nautical mood.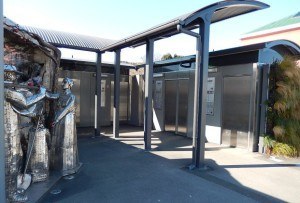 Roxburgh, in the bowels of the South Island, had waited so long for new public toilets that they decided to do it right.  Visitors to the ultra-modern public convenience are met by extraordinary polished steel sculptures depicting the area's history.
   And the Most Disturbing Award goes to the men's urinals at
The Malthouse
, Wellington.  No matter how much you've had to drink, best not to kiss these ones.