"Adventure Capital of the World", the brochures are prone to gush, and for once this is not be the hollow claim of some bean-counting business association. Queenstown truly is packed with hundreds of thrills for thrill-seekers and spectacles for spectators, and in natural surroundings that are most definitely world class.
I've long scoffed at the extreme adventure craze, existing apparently for latte-swilling jet-setters to show their imaginary Facebook friends how impulsive, intrepid and edgy they are when they aren't driving their Prius. However, in less cynical moments I wonder if, with the true hardships of widespread poverty, disease epidemics, world wars, and exploring uncharted territories now generations behind us, it has its place. Maybe, in the Health & Safety regulated 21st century, humans still crave the thrill of putting themselves in harm's way, and the slightly sickening self-smell of adrenaline, even if it's in the most artificial and temporary sense.
I set out to write something resembling a complete, one stop guide to Queenstown's offerings, but quickly realised that this was a bit of a quicksand ambition.  This wouldn't be a blog post, this would be a tome.  In fact, there is already so much stuff online for those who need a phone book list of the local offerings, and a quick snoop around websites like this will give you an idea of the huge number of really unique business concepts there are on hand, and how they virtually all make the most of the local surroundings, or depend entirely on them. So the question facing visitors to Queenstown is not "What to do?", it's "Where to begin?".   There seemed to be more benefit in distilling some of these activities into a hand picked selection of obvious and not-so-obvious highlights, so with the help of the wonderful staff in our Queenstown branch (thanks Jo!), that's what I've tried to do. 
So, where do you begin??  First things first, of course.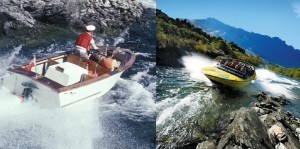 Water Thrills
With Lake Whakatipu as Queenstown's central feature, and several rivers and tributaries feeding into or out of it, it's little wonder that there are so many water-based activities available. Here's a first: in the 1950's local engineer Bill Hamilton developed the jet boat for use in these shallow waterways, and New Zealand can take credit for the widespread use of these craft around the world today. Another first: they were Queenstown's earliest "extreme" tourist attraction when KJet became the world's first commercial jet boat operator in 1960, followed soon after by Shotover Jet. The canyons of the Kawarau and Shotover Rivers still echo with the screams of their passengers, and high speed river tours are also run by Thunder Jet on the Kawarau River, and Skipper's Canyon Jet on the Shotover.  White water rafting is also an exciting way to see the Shotover and Kawarau rivers, check out Extreme Green Rafting for the memorable trips they offer.
Less extreme, but just as exceptional, is Onsen Hot Pools.  These are the perfect antidote to a day of walking, cycling, skiing or driving: the outside walls and roofs of these private pools roll back at the touch of a button, giving you another opportunity to soak in the views as well as the warm, natural waters.  Night bookings are available for those who fancy bathing by starlight.
Local icons don't come much more iconic than the 168′ steamer TSS Earnslaw, a.k.a. "Lady of the Lake".  She was built in Dunedin in 1911, then completely dismantled and railed to the shores of Lake Whakatipu for a six-month-long, plate-by-plate reassembly.  She is the only remaining passenger steamship still in commercial service in the southern hemisphere, and makes several 90-minute circuits a day to Walter Peak High Country Farm.
Fun With Gravity
Bungy: It's what began the whole "adventure tourism" explosion in NZ, and the first ever (there's that word again) commercially operated one in the world opened in Queenstown in 1988. You can still do this original jump from the Kawarau Gorge Suspension bridge, an historic structure built in 1880 but later bypassed and left unused for several decades until it's rebirth as a bungy platform. On hand is the Kawarau Bungy Centre, which contains a café, souvenir shop, and corporate events facility. AJ Hackett Bungy run two other jumps in the area: The Nevis, which is three times higher than the Kawarau Gorge one, and the highest bungy in Australasia at 134 metres, and The Ledge, from a cantilevered platform in the hills overlooking Queenstown. If bungy jumping is what you came for, our Bungy Bible post has details on all the jumps currently on offer in New Zealand.
Swings have also become popular as a slightly less harrowing alternative to the bungy, and Queenstown has the highest of these in the world at Nevis Bungy, mentioned above. This trend of super-sizing innocent playground favourites to a lunatic scale continues with ziprides, which take the flying fox concept higher, further and faster than ever. Less frantic, and more scenic than most, is the sequence of cables run by Ziptrek Ecotours through, and over, the beech forest above Queenstown, giving birds-eye views of the lake, mountains, township and trees.
How Is The Air Up There?
Parasailing is another activity that has found worldwide popularity, but there can be few places as spectacular to do it as here. Paraflights were voted Best Activity in Queenstown in 2012, which is quite an achievement if you consider the quantity, and quality of the competition. Flying either solo, tandem, or threesome, you will ascend gradually to a height of 600 feet (183m), giving you correspondingly stunning views of the lake and its environs.  Hang gliding is also on offer in Queenstown, and Sky Trek run tandem flights from nearby Coronet Peak all year round.
If that's not extreme enough for you, then of course there is skydiving.  It is, frankly, hard to beat the views you get when you fall out of a plane at 15,000 feet (4600m) courtesy of Skydive Paradise and see Mt Aspiring and the Fiordland National Parks hastening towards you at 200km/h.  
There are also many light aircraft tours of the area.  Flights range from purely scenic to the more adrenaline infused, such as Double X Aviation's fighter jets.  Helicopters are even more commonplace.  Swarms of them must come close to blocking out the sun on busy days, as they seem to be packaged in with every conceivable attraction – heli-skiing, heli-wine trails, heli-biking, heli-jet boating.  In case you're wondering, there are heli-heli options for those the occasional oddball punter who just wants to take the kids up in a chopper for 15 minutes. Obviously, these generally operate from Queenstown International Airport.
Roadworthy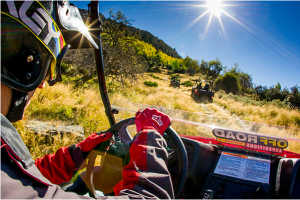 There are several companies running 4WD tours of the region, and all offer an up close look at places that would normally be inaccessible except by days of hiking.  See the remnants of towns, roads, bridges built by these early pioneers, visit Lord of the Rings locations, or .  Nomad Safaris, Off Road 4×4 Queenstown, Private Discovery Tours and Southern Explorer are among the many businesses who specialise in these types of excursions. 
For those interested in driving themselves do have a look at Off Road Adventures, who have a fleet of 2-seater Honda 4×4's, allowing you to personally burrow into the scenery through pre-determined trails and tracks. Heading out to Cromwell, about 50 minutes east of Queenstown, you can also find the Highlands Motorsport Park, a raceway with family activities such as karts, laps in supercars, self-drive circuits, a museum, a restaurant, vineyard….
Cycling is an activity that is also well catered for in modern Queenstown, with bike trails to suit riders of all levels, including an excellent gondoda-accessed bike park, and the 99km Queenstown Bike Trail. Trails such as this, which can be undertaken in sections, will not only take you through varied and breathtaking scenery, but will also take you past many local wonders, so that you can stop and check out historic remains, remote vineyards, or idyllic cafes. For those who wish to explore these trails, but didn't bring their bikes, these and all related gear are hireable locally at places like Vertigo Bikes.
For truly intimate encounters with ancient forestry, flora, fauna, glacier-carved valleys, and the latest ace of spades in New Zealand's deck – Lord of the Rings locations, walking is hard to beat.  The price of walking should also be hard to beat, but of course over and above the type you can do for free (there are many, many Department of Conservation trails to check out), there are guided walks for groups of various sizes, and relatively lengthy, personalised and expensive treks where you get helicoptered into more remote spots.  An example of this would be the 5 day Milford Track, referred to as the "finest walk in the world". 
The Cold Stuff
Queenstown is, of course, fantastically popular as an alpine resort town among its many other attributes. Between early June and early October visitors have their pick of four major ski fields within easy reach – Coronet Peak (25 mins drive), The Remarkables (45 mins), Cardrona (60 mins) and Treble Cone (90 mins) – and there are shuttle services available to each one.  Didn't bring your skis or snowboard?  No worries, there are numerous rental facilities that can equip you from head to toe, including Browns Ski Shop & Hire, Green Toad, Snowbiz and Kiwi Discovery.
For those less athletically inclined there is always the novel option of a snowmobile tour, or you could take the family skating at the Queenstown Ice Arena.
Nourishment
According to Gideon, man does not live by bread alone.  For those seeking sustenance there are choices to suit any taste, occasion, or budget.  Notable are The Lone Star, which is an Americana-themed restaurant and bar with a top notch kids menu and a roaring fire.  Our Queenstown staff also recommend several exceptional restaurants for adult dining.  JSH (the Jervois Steak House) is probably the best of its kind in NZ, with a delectable menu of meats, seafood, and sauces. Michelin starred chef Josh Emmett's Rata reflects and pays tribute to its southern location in both the cuisine and the relaxed dining experience, and the Pacific and Asian cross-pollenation of Blue Kanu is also a standout.  Coffee connoisseurs need to sample the award-winning, freshly roasted beans at Bean Around The World's Espresso and Juice Bar on Athol Street.
Over the last couple of decades Queenstown has also made a global name for itself as a top wine region.  Gibbston Valley Wines have a number of vineyards in the area, plus an excellent restaurant, a tasting room, a cheesery, a wine cave, and now a cafe in nearby Arrowtown.  In between Queenstown and Cromwell, Brennan Wines also have a tasting room and a sumptuous picnic menu, but there are many others to choose from. Remember wine tasting can often be combined with some of the tours listed above, too.  Perhaps the most decadent option would be Heli-Tours scenic helicopter flight, with a lunch stop at Mt Difficulty vineyard and restaurant.  Now that's treating yourself!
But wait….there's more!
And there you have it, Queenstown's incomparable virtues in brief.  And even though we've barely scratched the tip of the iceberg, I'm sure you can see why the visitors return, season after season – there is just so much to take in!  I guess another way to sum up the area's success is that businesses come and go, but an environment like this will always astonish.  Come and be astonished.