Queenstown is internationally renowned for its stunning lakeside beauty and known the world over as New Zealand's adventure capital. An alpine resort town located in the Otago region in the south-west of the South Island, Queenstown is surrounded by majestic mountains and nestled on the shores of crystal clear Lake Wakatipu. There's a huge mix of water-based, mountain and aerial activities available making it a one-of-a-kind destination. Queenstown is a great base for exploring the Otago region so grab your rental car and hit the road to experience some great attractions on a Kiwi road trip.
Queenstown Road Trips
Picturesque Arrowtown is and old gold mining town just a 20 minute drive from central Queenstown where you can enjoy historic buildings, museums and galleries, great restaurants and historic walking tracks.
The township of Glenorchy is a 45 minute drive to the northwest of Queenstown. Set among majestic mountains, Glenorchy has been the place behind many movie scenes, including The Lord of Rings trilogy. Fish for wild salmon in the local rivers or seek out a wide variety of game in the surrounding hills.
Once back in Queenstown, head to the southern tip of Lake Wakatipu and Kingston is within reach. Kingston offers numerous walking tracks and a golf course. Don't miss the historic railway service which is closely associated with the town's Kingston Flyer.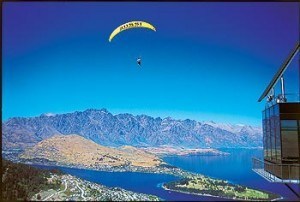 An hour from Queenstown is the rural township of Mossburn – the deer capital of New Zealand. The town is located in a very scenic area, with the mountains of Fiordland creating a beautiful backdrop. Visitors can also enjoy trout fishing, tramping and golfing.
Take a scenic drive to Milford Sound via the South Island's largest lake at Te Anau, located at the boundary of Fiordland National Park, the gateway to a wilderness area famed for tramping and spectacular scenery.
Milford Sound has been previously judged as the world's top travel destination in an international survey and is acclaimed as New Zealand's most famous tourist destination. Prepare yourself for jaw-dropping peaks, waterfalls and sheer rock faces that cannot be found anywhere else in the world.
If you're looking to take a car rental road trip that has an abundance of natural beauty, then Queenstown and its surrounding attractions has to be experienced to be believed.
Queenstown Travel
Getting around Queenstown is easy with a rental car and there are plenty of options for you to choose from.
New Zealand Rent A Car has car rental locations throughout New Zealand and the South Island, including a handy Queenstown car rental depot, offering a range of reliable affordable rental cars to suit your budget.
Related Articles:
Queenstown: Top 5 Tourist Attractions