Once upon a time Port Chalmers was the third largest port in Australasia, and the birthplace of New Zealand's modern export trade. Bypassed for nearly a century, it has benefited from (or suffered from, depending on your viewpoint) commercial rediscovery and reinvestment, but in a sense it is bypassed still, by thousands of cruise ship passengers who disembark onto its wharf then shuttle directly into Dunedin. Knowing the sizable chapter the tiny township fills in New Zealand's history books, we think it deserves a second look.
 Birth of a Nation, Birth (and death) of Port Chalmers
 Otago Harbour is an unhealed gash in the South Island's thorax, slicing inward and downward into the east coast, finally tapering to a dead end after some 20kms. A kilometre or two further and it would have snipped Otago Peninsula off from the mainland. The wedge-shaped inlet is almost blocked at its halfway point by outcrops of land from each coast, and in between them two islands: Goat Island, and St Martin Island. From a distance you might think you can hopscotch all the way across to Portobello, but not quite. Goat Island is just a bushy knoll, but in the late 19th century St Martin was once home to a quarantine hospital for immigrants arriving with flu or smallpox, and it is still commonly referred to as Quarantine Island. The islands, peninsula, and the surrounding geography are all the result of ancient volcanic eruptions, however there are flatlands near the head of the harbour. These seemed an obvious place to build a city, so in the 1830's the settlement that would eventually become Dunedin was established there.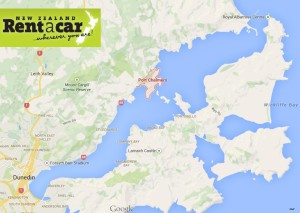 The harbour was already bustling by that time, being home to the Weller Brothers whaling station on the peninsula, as well as numerous sealing, fishing and milling operators, and by the 1840's the region boasted the largest assembly of immigrants anywhere south of the Bay of Islands. More than half of these settlers were Scots escaping the hardships of their own land, and starting anew in the wake of a bitter divide which befell the Church of Scotland. Furious at state interference with their church, about 400 clergy and one-third of the patronage split from the established denomination and formed the Free Church of Scotland, with Thomas Chalmers as their leader. Once it was agreed that Otago would be an ideal home for the Free Church, the original vision of a "New Edinburgh" was hijacked in the name of religious enterprise, and the flock set sail for New Zealand. The first boatload arrived aboard the John Wickliffe on March 23rd, 1848, and they immediately named the anchorage Port Chalmers, and their "New Edinburgh" was christened Dunedin. This date is still celebrated as Otago Anniversary Day.
   A roaring trade in meat export from the surrounding sheep and cattle stations meant that Dunedin was the very definition of a boomtown, and shipping was busier than ever. But there was a serious fly in the ointment, as Otago harbour was too shallow for large ships to come within miles of the wharves. Instead, the big freighters and coasters were forced to dock at Port Chalmers, and goods were hauled to and from Dunedin by road. A small community of workers sprang up on the hill overlooking the docks, and by the time the Otago Gold Rush hit in the early 1860's, Port Chalmers was the third largest port in Australasia, the birthplace of New Zealand's modern export trade, and a boomtown in its own right.
   In spite of all this, the port was probably viewed as a temporary solution and an inconvenience, after all the round trip to Dunedin was three or four hours by horse and wagon. The long term plan was to improve access to the Dunedin docks. This was to be a horrendously expensive project, but by 1881 ratepayers had stumped up enough money to have a narrow trench dredged along the northern side of the harbour, right to their doorstep. Named the Victoria Channel, it enabled larger vessels to cautiously negotiate their way to Dunedin without having to stop short at Port Chalmers. Suddenly, a town that had been a vital industrial hub became a sideline, and remained so for almost a century. The wharfies and labourers soon followed the ships, moving back into Dunedin, leaving behind a shrinking colony of artists and retirees.
 The Age of Exploration  
   During this lull Port Chalmers sustained a long association with Antarctic expeditions. In November 1894 it was host to the Antarctic, a Norwegian whaling and sealing ship soon to be credited with the first substantiated landing on the Antarctic continent. Docked in Port Chalmers for repairs and restocking, several of her crew refused to continue with the voyage, and four Kiwis were recruited days later at Stewart Island. In January 1895 17 year-old New Zealander Alexander Von Tunzelmann is thought to be the first man to set foot on the frozen continent, holding the ship's boat steady for his Norwegian superiors to alight. The landing site, at Cape Adare, is now named Von Tunzelmann Point.
   Having their tiny community in the international spotlight once more must have been quite a buzz for Chalmersians, and the Otago Harbour Board sought to attract many subsequent explorers, extending generous hospitality by way of coal, food, and complimentary use of the harbour facilities. Docks, sheds, and frozen storage were on the house in return for another 15 minutes of fame. This dangled carrot drew Robert Falcon Scott, who visited with both the Discovery (December 1901) and his final, doomed Terra Nova expedition (November 1910). It attracted Ernest Shackleton's Nimrod and Endurance expeditions. American Richard E. Byrd used Port Chalmers as the base for his Antarctic operations in 1928, Lincoln Ellsworth did likewise in 1933, and so did a number of other American, French and New Zealand explorers over the coming decades.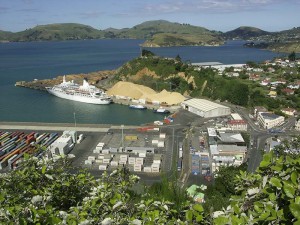 Rebirth and Present Day
  Heavy industry did return in 1977 however, with the development of a large container terminal, re-establishing Port Chalmers as the South Island's major commercial port – much to the dismay of the locals, who had enjoyed several generations of bohemian tranquility by this point. Plans to construct an aluminium smelter in neighbouring Aramoana shortly after this were successfully opposed by residents. As the traffic in and out of Port Chalmers continued to increase, the growing demands of progress were frequently at odds with the ideals of the community. In 1989 the town was embraced by the DCC and became merely a suburb of Dunedin.
   Much of the new business over the last two decades has been from cruise ships, as many as 25 a year, which pick their way up the east coast during the summer months. Although the Victoria Channel has been gradually widened, and kept dredged to a depth of 8 metres, modern cruise ships often draw in excess of this.  Factor in the tedium of the approach to Dunedin – large vessels must be nursed along the channel by tugs – and it's easy to see why Port Chalmers has experienced a return to form.
   Understandably, but perhaps sadly, the cruise operators generally contract coaches to meet the ship and shuttle passengers into Dunedin for the day, in some cases informing their passengers, apparently, that Port Chalmers has nothing worth seeing. Certainly there are no cinema multiplexes or chain stores, but for those interested in something off the well trodden tourist trail the answer may lie within walking distance of the wharf. The area still has a vibrant arts culture, and is home to painters, potters, musicians, jewellers and sculptors and writers. There are local tours available, or you can just amble around the numerous cafes, quirky shops, pubs, admire the many examples of Victorian architecture or take photos from the surrounding hills.  Portchalmers.com is a great site to consult.  The following places may be of particular interest:
Iona Union Church. This historic church was built 1871-83 of local bluestone, and overlooks the town from its Mount Street site. It is currently undergoing restoration but still well worth a visit.
Robert F. Scott Memorial Cairn. This 30 foot high stone monument to the great explorer can be seen in Port Chalmers Reserve, overlooking the harbour. The local cemetery also has a monument in memory of Discovery crewman Charles Bonner, who fell from a masthead in Lyttleton Harbour and was buried when the ship reached Port Chalmers two days later.
Maritime Museum. Situated on Beach Street, in the towns original stone Post & Telegraph office which was built in 1877. The museum acknowledges the areas extraordinary ties to the sea, and houses several collections of shipping and fishing memorabilia, as well as showcasing the local characters who were at the heart of the community.
Orokonui Ecosanctuary. A short distance north of Port Chalmers, this sanctuary covers three square kilometres of regenerating bush, some of it over a century old, containing the tallest tree in New Zealand. An 8.7km of predator-exclusion fence protects reintroduced native animals, including breeding pairs of the very rare saddlebacks, tuatara and skinks. For cruise ship visitors staff can organise a one or two hour guided tour at a time to suit your schedule.
There are a number of short, easy walks you can do.
   Of course the town of Dunedin and the Otago Peninsula offer plenty of other joys for those with a bit of time on their hands, but that will have to wait for another day. If you are considering renting a car, our Dunedin team can deliver and collect a suitable vehicle from Port Chalmers by prior arrangement. Our cruise ship rates, including free delivery, are here.