Against one wall of the NZ Academy of Fine Arts in Wellington is a memorial for Paddy the Wanderer.  It consists of a bronze plaque and image, and a drinking fountain for both human and canine passers-by.  But who was Paddy, and how did he earn himself a memorial on the Wellington waterfront?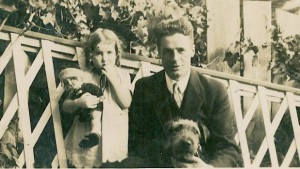 Paddy was a dog, an Airedale Terrier to be precise, and although his start in life is not known for certain, he is believed to have been once called Dash.  According to his biographer Dianne Haworth he was the pet of young Elsie Marion Glasgow, daughter of a seaman, until her death from pneumonia in 1928 at the age of three.  Confused at the loss of his puppy-hood companion, Dash ran away from home and, being familiar with the Wellington docks, settled in amongst the familiar faces of the sailors and workers.
   He was quickly befriended by cabbies, watersiders, and seamen alike, who began referring to him as Paddy.  The dog traveled extensively, often stowing away or befriending the crew of coastal steamers.  In this way, Paddy visited many other New Zealand ports, and is thought to have crossed the Tasman on more than one occasion. Some say he went as far as San Fransisco, but he always found his way back to Wellington.
   Just as Paddy adopted the waterfront, the community adopted him.  Taxi drivers and dockyard employees passed the hat to raise money for a collar and registration.  This went on for years until finally the Wellington Harbour Board took responsibility for Paddy and bestowed on him the title of "Assistant Night Watchman In Charge of Pirates, Rodents and Smugglers".
   Paddy would often make his way about town by hopping on and off trams or riding with taxi drivers, and it was reported that Paddy had travelled "in every form of conveyance, public and private, except in an aeroplane and a submarine", and so in 1935 he was taken up in a Gipsy Moth bi-plane.  Placed in the forward cockpit, he was held by one of his friends – a taxi driver – to ensure he didn't panic and jump out.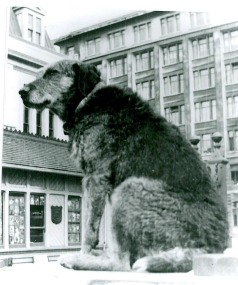 In his later years Paddy was less inclined to roam, and stayed near the waterfront.  In July 1939 he became ill and local taxi drivers clubbed together to put him in kennels to recuperate.  However, when one of them went to visit him he jumped in the back of their taxi and wouldn't come out.  They returned him to the docks and made a bed for him in one of the sheds, where he died on the July 17th – 76 years ago this week.
   "Paddy was extraordinarily intelligent," The Evening Post reported on the day he died. "For instance, he knew the traffic lights and would not cross a street until the green showed."
   His body was wrapped in a shroud and put in a coffin with the words "Paddy the Wanderer – at rest", then driven by a procession of twelve taxis, bringing downtown Wellington traffic to a standstill.
   "Fifty or sixty watersiders and seamen watched the cortege start on its short journey from Queens Wharf to the incinerator. A traffic officer led the way" The Evening Post continued.  It was "no mock affair but a touching tribute to a good comrade".
   Six weeks after Paddy's death WWII broke out, however in 1945 a collection was taken up and a memorial erected on Queens Wharf, using several granite stones salvaged from London's first Waterloo Bridge, which had been demolished before the war to make way for a replacement. A statue of Paddy in the Queens Wharf Museum also remains popular with visitors.