Have you visited Rotorua lately? This geothermal wonderland is a great place to take the kids for a few days during the school holidays and is an excellent winter holiday destination. The spectacular geysers, bubbling mud pools and hot thermal springs make Rotorua popular with tourists and locals alike. There are so many activities for kids and adults of all ages, great places to eat, lots of accommodation choices and some pretty cool shopping to be had. Our Rotorua car rental branch has all the information you will need to find your way around and discover the highlights of the region.
Rotorua on a Budget
If you're travelling on a budget, why not get together with some friends and hire an 8 or 12 seater minibus and travel together? This way you can make the most of group concessions for activities and share your travel costs. Rotorua Superpasses have some great deals if you combine different activities. One of the best things about Rotorua is that a lot of the accommodation outlets come with their own hot pools, which are great for keeping the kids entertained for hours, so you can relax a little at no extra cost. The larger hotels also usually have fantastic buffets for breakfast which sets everyone up up for the day.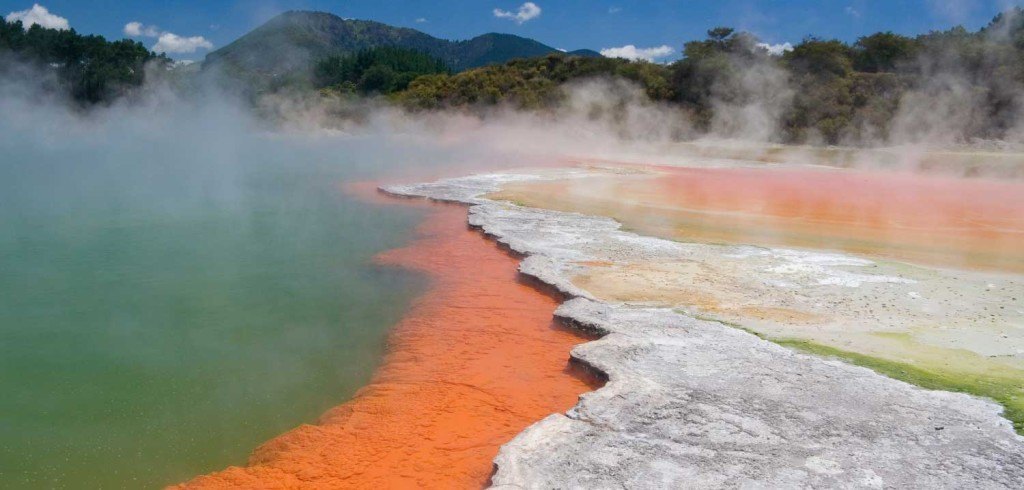 Rotorua Travel Highlights
Te Puia is a great place to introduce you to the boiling mud pools and spouting geysers that the area is famous for. Rotorua has a sulphur smell that can take some getting used to so head here to become acclimatised to the smell. Also on site is the Māori Arts & Crafts Institute, where the traditional crafts of weaving and carving are taught. Cultural performances are also included in the ticket price. It's like a 101 class on all things Rotorua.
If you have small children the Agrodome is a must. Just 10 minutes from Rotorua town centre and set in 350 acres of lush farmland you can take a farm tour and also help to feed the animals. Your kids will enjoy cuddling the baby animals, and you can see plenty of sheep and dogs on this real working farm. While you are there head to the Adventure Park for some thrill-seeking activities for the older kids (including you!) Try the Zorb, Bungy, Jet Boat Rides, Swoop and Shweeb.

The Luge is a favourite for all ages and for children under six as they can be carried in tandem with siblings or parents. Older children especially love this, racing each other down the mountain. We would recommend that you buy the best concession ticket with as many passes as possible as the kids never seem to get tired of this. You also get to ride the gondola up the mountain for some great views. There is a nice warm café where you can watch from the sidelines, smile and wave to the kids and take a few photos.
Alongside the Luge is the ever popular Rainbow Springs. This is a beautiful setting with trout in the streams, beautiful native bush and a big splash ride to take you through the evolution of New Zealand. The Kiwi Encounter, also part of this attraction is the most successful kiwi conservation centre in New Zealand. This facility is educational and entertaining.
Quad bike riding is also another favourite with teenagers, or try Cart Racing for kids 14 years and over. The Huka Jet and Prawn Farm are also popular.
If you like animals Paradise Valley Springs is great, with lots of animals, from New Zealand wildlife species, farm animals, birds and lions and also a Treetops walk.
If you want to relax, popular hot springs are the Polynesian Pools with sumptuous adult pools and spa facilities and the family friendly Waikite Valley Thermal Pools.
Capers Epicurean on Eruera Street is a great cafe for the adults to enjoy delicious breakfasts, lunch, dinner, coffee or a take home meal. Another favourite is Lime Café, on Whakaue St. For evening dining there are some great places to eat and entertainment is easy to find. Rotorua is not dubbed 'Rotovegas' by the locals for nothing, so find a babysitter if you need one and head out for a night on the town. 
Rotorua is a great place for a New Zealand family winter holiday with lots of activities and attractions available for everyone. Give your friends a call, find a suitable hire vehicle from our selection of affordable rental cars and get on your way.
Happy Travels!